IRON MAN 3
Author: Bill "Jett" Ramey
May 1, 2013

SYNOPSIS: Marvel's IRON MAN 3 pits brash-but-brilliant industrialist Tony Stark/Iron Man against an enemy whose reach knows no bounds. When Stark finds his personal world destroyed at his enemy's hands, he embarks on a harrowing quest to find those responsible. This journey, at every turn, will test his mettle. With his back against the wall, Stark is left to survive by his own devices, relying on his ingenuity and instincts to protect those closest to him. As he fights his way back, Stark discovers the answer to the question that has secretly haunted him: does the man make the suit or does the suit make the man?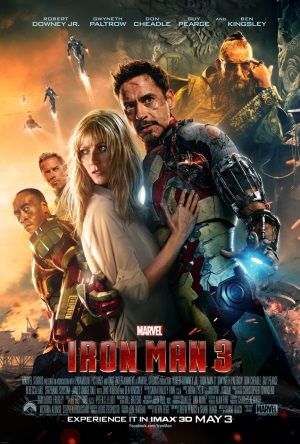 I LOVED IRON MAN.
I'm not particularly fond of IRON MAN 2.
So, what do I think of IRON MAN 3? Well, it's better than IRON MAN 2...I guess.
IM3 takes place after the events we all witnessed last Summer in THE AVENGERS. Apparently, battling the Earth-invading aliens in TA, Tony Stark (Robert Downey, Jr.) has been left a shaken, shell of his former arrogant self. To cope, Tony turns to his suits and technology and shuts out the rest of the world. While his reclusiveness might be doing Tony good, it's also doing major damage to his relationship with the lovely Pepper Potts (Gwyneth Paltrow). Eventually, Tony is shaken to his senses when a new villain – "The Mandarin" (Ben Kingsley) – shows up to destroy not only our hero, but America as well.
My first impression of this film is that it feels different when compared to the previous two IM installments. I'm not sure if that's because they wanted to do something "different" this time around, or due to the fact that there's a new director (Shane Black replacing Jon Favreau) at the helm. My guess is it has more to do with having a new captain steering the ship.
If you're familiar with Mr. Black's work from back in the 80s and 90s (LEATHAL WEAPON, LAST ACTION HERO, THE LAST BOY SCOUT, etc.), I figure that you will, like me, picked up on the vibes from the director's previous endeavors that are found in this outing. That's because at its core, IM3 is an over the top, wisecracking buddy action film. Frankly, this is a flat-out comedy. A comedy filled with outrageous, CGI-created chaos.
The review continues after the jump!

Trust me, the film is NOT this DARK!
As great as Robert Downey, Jr. is a Tony Stark, his "act" (let's be real here – Tony Stark in these film is really RDJ being RDJ), is starting grow a little tired. Now, he does say some funny stuff here (remember, this IS a comedy), but it comes off here as if RDJ's (and I guess Shane Black as well) like, "Let's see how many cool one-liners we can cram in this thing!"
Recently, RDJ has said that IM3 might be his last solo outing as Iron Man, sans for the upcoming THE AVENGERS 2 in 2015. If his turn as Stark is coming off tired to folks like me, one has to wonder if RDJ isn't feeling the same way.
On a positive note, I totally dug the performances of Guy Pearce and Ben Kingsley as film's villains. Pearce plays an intellectual, as well as romantic, rival to Tony Stark. Kingsley, on the other hand, is the film's classic "comic book bad guy," The Mandarin. While their combined "dastardly plan" is preposterous, these two dudes are so good, that one can overlook it.
Despite the way it sounds, I didn't hate IRON MAN 3. Is it one of the genre's best? Absolutely not. It is what it is: A "fun" superhero flick that's full of popcorn which, I'm sure, many fans and filmgoers will eat up. As for me, it felt like it was made in 1987, but with better special effects. Botton line: It was OK…I guess. Chalk me up as being a bit disappointed and definitely underwhelmed. - Bill "Jett" Ramey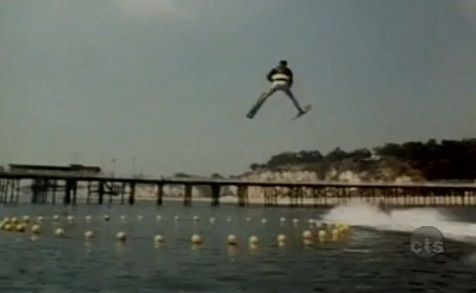 OVERALL GRADE: C+
A life-long Batman fan, "Jett"
is the founder of
BATMAN-ON-FILM.COM.
He resides in the great state of Texas with his wife, three kids, and two Boston Terriers.



comments powered by