GHOSTBUSTERS
Author: JoAnne Hyde
Date: July 15, 2016

SYNOPSIS: Ghostbusters makes its long-awaited return, rebooted with a cast of hilarious new characters. Thirty years after the beloved original franchise took the world by storm, director Paul Feig brings his fresh take to the supernatural comedy, joined by some of the funniest actors working today -- Melissa McCarthy, Kristen Wiig, Kate McKinnon, Leslie Jones, and Chris Hemsworth. This summer, they're here to save the world!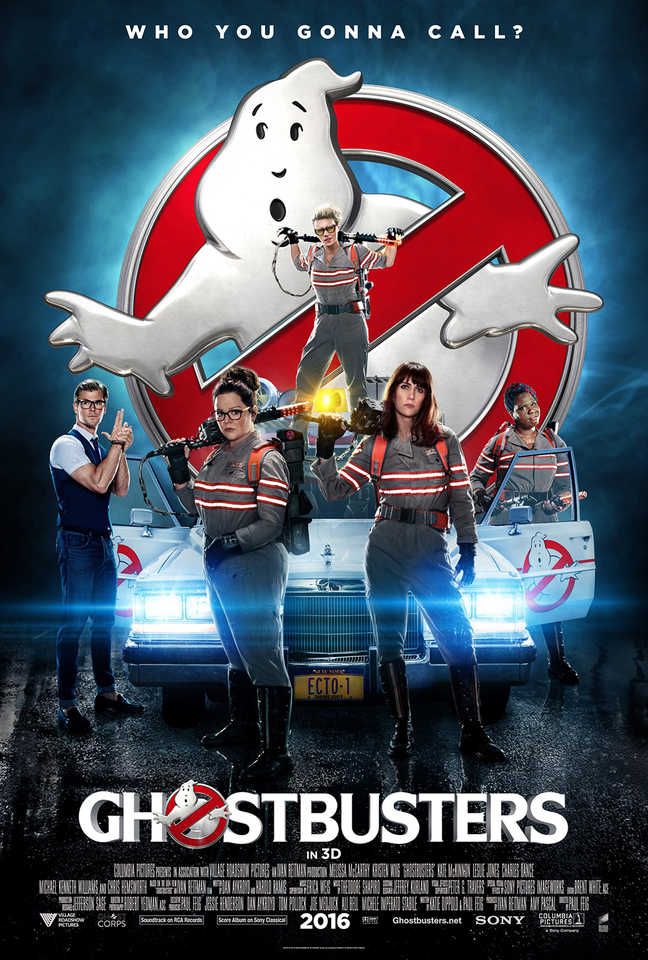 Why mess with perfection? I would say, "Don't."
It's been 27 years since the release of Ghostbusters II, the sequel to the brilliant Ghostbusters, and for some reason, director Paul Feig decided to make a new Ghostbusters with female protagonists. How you react to the film will probably depend on how you feel about the originals. For the preview audience, it was very much a like it or hate it response.
The cast, heavy with Saturday Night Live alumnae, has an uneven, contrived script to work with, and to their credit, they make some parts of it work anyway. Melissa McCarthy, whom Feig previously directed in Bridesmaids, Spy, and The Heat, stars as Abby Yates. Yates is a die-hard researcher of the paranormal. She's joined by Erin Gilbert (Kristen Wiig), her former research partner and childhood friend who's now trying to ignore her past interest in the paranormal. She's working as an assistant professor of physics trying to get tenure at Columbia University. Working with Yates in her make-shift lab, is loose cannon nuclear engineer Jillian Holtzmann (Kate McKinnon). Added to the mix is Leslie Jones as Patty Tolan, a subway worker who encounters a specter in a subway tunnel.
Male cast members include Chris Hemsworth as Kevin, the group's hunky but exceptionally stupid receptionist. Villain-wise, Neil Casey plays Rowan North, janitor at a luxury hotel who is secretly building a device to unleash the entire supernatural world on New York in revenge for being bullied and discounted his whole life. Hemsworth is nice to look at, but his character is too exaggerated to really be funny. Casey is appropriately creepy as Rowan. Andy Garcia takes a turn as the clueless NYC Mayor Bradley.
The opening bit seems promising as a tour guide (Zach Woods) at an historical, "haunted" restored mansion encounters an actual, and particularly nasty, ghost. It's well done, both creepy and funny, but its energy isn't sustained during the film's story. With the plot line set in motion, Erin finds that her former friend Abby has resurrected a book they wrote together, "Ghosts from our Past" and is selling it on Amazon to raise money for her research. Erin is horrified, fearing she'll be denied tenure if her involvement with the paranormal comes to light. She seeks out Abby to try to persuade her to take the book off the market and finds her, along with her apparently unstable lab partner, Jillian, working on the kinds of devices they'd once dreamed about producing.
Soon enough, however, they encounter the real ghost, and Erin receives a full-body sliming. She's on board again, and they set out to re-establish their ghost hunting and eradication business. They set up office above a seedy Chinese restaurant, hire Kevin, and soon have their first client – subway worker Patty. Patty ends up joining them, and they come up with their name "Ghostbusters" and the famous logo from the first films. Interspersed throughout the film are cameos from original cast members, "in jokes", and the original musical score.
Bill Murray appears as Martin Heiss, a paranormal debunker. Dan Ackroyd shows up as a ghost-savvy cab driver. Sigourney has a moment as Rebecca Gorin, Jillian's mentor. Annie Potts plays a salty hotel desk clerk, and Ernie Hudson shows up as Patty's Uncle Bill. The audience went wild with each cameo, as they did with every reference to the original films
The story lopes along until the women discover evil Rowan's plot to usher in the Fourth Cataclysm, and revs up as they act to defeat him. The special effects, however, aren't particularly impressive – made me think of Disney's The Haunted Mansion. The original films interjected a bit of seriousness from time to time which helped flesh out the characters and give some depth to the story. The new Ghostbusters doesn't bother with such things, so it seems disjointed – not surprising considering all the Saturday Night Live influences. The film often feels like a series of skits hooked together.
Even though I found the film to be mostly annoying, I predict that it will do well at the box office. It's silly enough to appeal to a younger audience, and I think many older folks will see it out of curiosity. - JoAnne Hyde
GRADE: C

comments powered by