FANTASTIC BEASTS AND WHERE TO FIND THEM
Author: JoAnne Hyde
Date: November 17, 2016

SYNOPSIS: The year is 1926, and Newt Scamander (Eddie Redmayne) has just completed a global excursion to find and document an extraordinary array of magical creatures. Arriving in New York for a brief stopover, he might have come and gone without incident, were it not for a No-Maj (American for Muggle) named Jacob, a misplaced magical case, and the escape of some of Newt's fantastic beasts, which could spell trouble for both the wizarding and No-Maj worlds.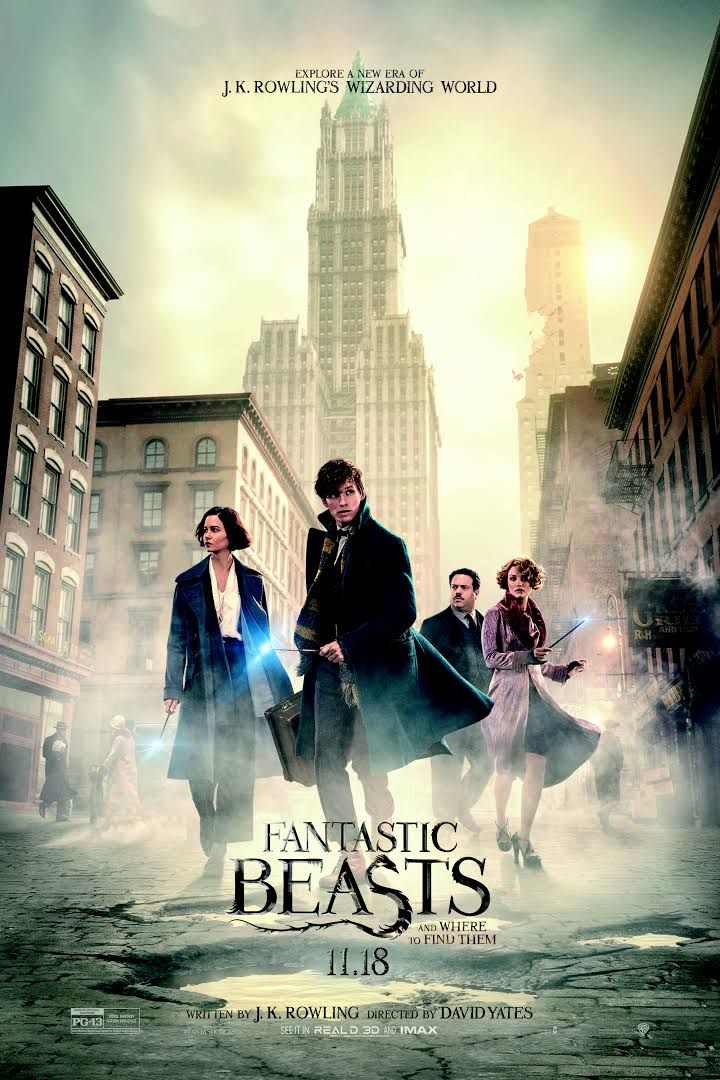 Fantastic Beasts and Where to Find Them, directed by David Yates and starring Eddie Redmayne, aims to beguile audiences with new wizards and witches and CGI magical creatures. The screenplay is written by J.K. Rowling, based on her own 2000 novel of the same name. She has stated that it's not to be considered a prequel or sequel to the Harry Potter series, but rather a spin-off adding new dimensions to the wizarding world stories. So, is it fantastic? That probably depends on your expectations.
It's New York City in 1926 when Newt Scamander (Eddie Redmayne) gets off a ship carrying a non-descript, tan suitcase. You'll know immediately that this is no normal suitcase, which will be reinforced when Scamander activates the "muggle-safe view" at Customs. He's been travelling the earth looking for magical creatures to add to his collection and protect from the non-magical world. He doesn't notice that he's being watched by a young woman, Tina Goldstein (Katherine Waterston), a demoted investigator for the American equivalent of Hogwarts. She hopes to regain her position by cracking an important case, and Newt Scamander looks like a promising possibility. The action continues from there, and as you might expect, adversaries become allies later in the story.
The unleashing of some of the creatures happens when a No-maj (the American name for muggles), Jacob Kowalski (Dan Fogler), picks up Newt's suitcase by mistake since his own suitcase is identical. Jacob's, however, contains samples of pastries he hopes will convince a banker to lend him money to start up a bakery. It turns out that Tina has a flirtatious sister, Queenie (Alison Sudol) who has eyes for this No-maj. By the way, Fogler and Sudol steal every scene they're in!
There are, of course, bad guys. The root of all evil in American wizardry is Gellert Grindelwald, played by Johnny Depp in what amounts to a cameo. The others who provide screen-time conflict are Percival Graves (Colin Farrell), and Credence (Ezra Miller). The twists and turns are many, and a few more interesting characters make brief appearances, notably Ron Perlman as the speakeasy-owning fantasy creature Gnarlac.
If you are a fan of Rowling's alternate universe of wizardry, you'll probably enjoy these new characters. Indeed, there were a number of fans dressed in costume in the audience. I personally found Redmayne's and Waterston's characters annoying for the first half of the film, but, fortunately, they evolved into more likeable sorts for the second half. My biggest complaint concerns the enormous amount of CGI work required for a film of this type. The CGI work is not as well done as it was in the Harry Potter films, and, at times, was distracting. When it's obvious, it's just not as effective.
Fantastic Beasts is long at 133 minutes, but it manages to hold the audiences' attention. The preview audiences' reactions were largely positive, but I wouldn't say enthusiastic. Nevertheless, the film will probably do well due to J.K. Rowling's avid fan base. There are 4 more films planned, and the first sequel is already in pre-production, to be released in 2018. Assumptions about its popularity would seem to have already been made. It will be important for fans to see it. - JoAnne Hyde
GRADE: B

comments powered by