FANTASTIC FOUR
Author: J.A. Hyde
August 6. 2015

SYNOPSIS: FANTASTIC FOUR, a contemporary re-imagining of Marvel's original and longest-running superhero team, centers on four young outsiders who teleport to an alternate and dangerous universe, which alters their physical form in shocking ways. Their lives irrevocably upended, the team must learn to harness their daunting new abilities and work together to save Earth from a former friend turned enemy.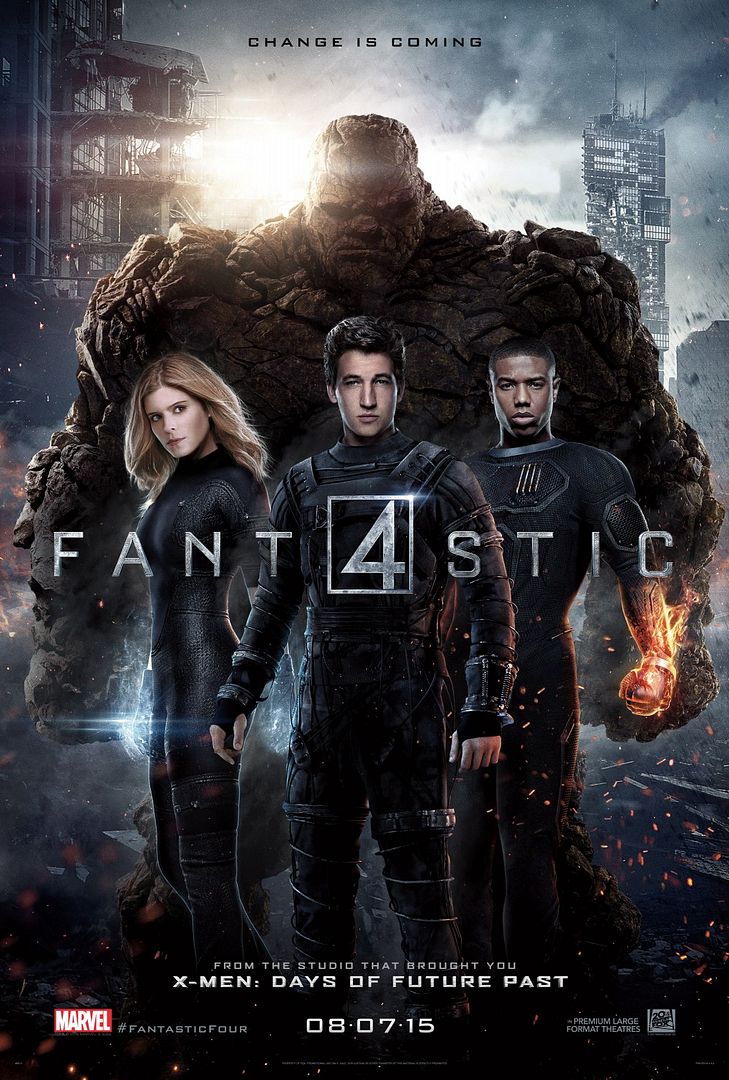 "Fantastic" is not the word I'd use to describe Fantastic Four.
"Redundant" is more like it.
I really didn't know what to expect from the film, given the rich, 60-year history of the characters in the comics. What I didn't expect was a lengthy exposition of how they came to have their "super" powers.
Yeah, THAT happened.
Miles Teller plays Reed Richards, the child/teen prodigy who invents the quantum accelerator that can transport matter and humans to another dimension. Michael B. Jordan portrays Johnny Storm, and Kate Mara plays his adopted sister Sue. Rounding out the group of four is Jamie Bell playing Ben Grimm. In this film version, the characters do not go by their familiar titles of Mr. Fantastic, The Invisible Woman, The Human Torch, or The Thing. They're simply called by their given names.
After spending an inordinate amount of time on Reed and Ben's childhoods, the story jumps forward to teen Reed's time at the Baxter Institute where he meets Dr. Franklin Storm's son and adopted daughter, Johnny and Sue. Sue is a brilliant scientist at the Institute, while Johnny has been wasting his time on street racing. Added to the mix is Victor Von Doom (Toby Kebbell), the rebellious – but-brilliant Institute drop-out. He's easily the most interesting character although none of them are really developed much despite the ˝ of the running time spent on exposition. The four also lack chemistry, and so do not make a believable alliance.
Once the characters are transformed into their super-power alter egos, the military wants to use them as weapons. That sub-plot really goes nowhere. They are only interested in trying to return to "normal" and then with defeating the heinous villain that Victor has become. I'll leave all the details for you to discover should you decide to see the film. The special effects are adequate although it's really difficult to care seeing that none of the characters is really sympathetic. Add that to weak dialogue and you might wonder why this film was even made. - JoAnne Hyde
GRADE: D-

comments powered by