CREED
Author: JoAnne Hyde
Date: November 24, 2015

SYNOPSIS: Adonis Johnson (Michael B. Jordan) never knew his famous father, boxing champion Apollo Creed, who died before Adonis was born. However, boxing is in his blood, so he seeks out Rocky Balboa (Sylvester Stallone) and asks the retired champ to be his trainer. Rocky sees much of Apollo in Adonis, and agrees to mentor him, even as he battles an opponent deadlier than any in the ring. With Rocky's help, Adonis soon gets a title shot, but whether he has the true heart of a fighter remains to be seen.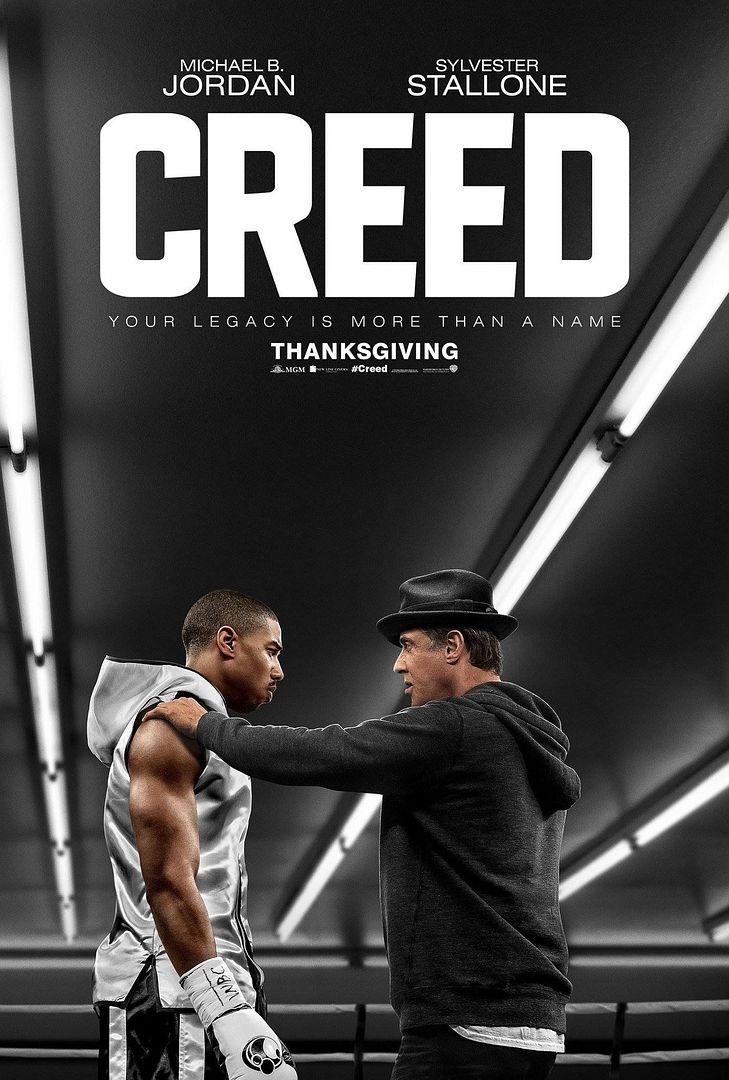 Howya doin'?
If you're watching CREED, you're probably doing great! The next chapter in the ROCKY saga – the first one not written and directed by Sylvester Stallone – is a crowd-pleaser. Sylvester Stallone returns as the iconic Rocky Balboa in the Ryan Coogler-directed film, but not as a fighter. Now he's the mentor/trainer for Adonis Johnson, love child of his former opponent and friend Apollo Creed. Michael B. Johnson gives a spot-on performance as Adonis, who doesn't learn of his true parentage until he's a troubled pre-teen.
As the film opens, a young Adonis (Alex Henderson), has been shuffled from foster home to juvie and back when he's taken in by Apollo Creed's widow, Mary Anne, well played by Phylicia Rashad. Fast forward to his young adulthood when he's well-educated and successfully working in finance. However, most weekends, he's sneaking down to Tijuana, Mexico, to box in small bar venues. He's a winner there and has a duffle bag full of pesos to prove it. His decision to leave Los Angeles and the lavish Creed mansion and move to Philadelphia to pursue formal training doesn't set all that well with Mary Anne, but she realizes she can't fight Adonis's heritage. He still doesn't use the Creed name, but boxing is obviously in his blood.
In Philadelphia, Adonis seeks out the aging Rocky Balboa to ask his help in training. Rocky hasn't seen the inside of a gym in many years and spends his time running his restaurant, named for his beloved Adrian, and visiting her grave. He's reluctant to get involved and initially refuses, but, of course, ends up mentoring Adonis. Adonis quickly finds out that he has much to learn, and the training sequences that follow are reminiscent of the first ROCKY film. That famous theme music shows up from time to time in the film, but fortunately is not over-used. Stallone also underplays his character nicely and lets the spotlight fall, deservedly, on Johnson.
There are numerous, well-choreographed boxing scenes, but the audience is really waiting for the main event: a fight with a superior opponent that Adonis is not expected to win. In fact, he's not expected to last 2 rounds. Sound familiar? Adonis and Rocky travel to Liverpool to face "Pretty" Ricky Conlan, played by real-life champion boxer Tony Bellew. Rocky has been approached by Conlan's manager Tommy Holiday, played by Graham McTavish. Conlan is facing prison time for gun-running and wants to go out in a blaze of glory.
The lovely Tessa Thompson appears as Adonis's love interest, would-be singer Bianca. She and Johnson have good chemistry, plus she's a really good singer! She also faces a challenge: she's suffering from progressive hearing loss – not a good thing for a musician. Every character in the film faces some kind of challenge, either from illness, the law, or misplaced pride/anger.
The film isn't perfect. It's paced a bit slowly until the build-up to the Conlan/Creed fight, but the "main event" is worth the wait. I don't know how the actors make the fight seem so real, but I give them kudos for doing so. It couldn't have been easy. The preview crowd broke into spontaneous applause at several points in the story, and there was even a bit of cheering. I'm not going to reveal the outcome of the fight, but I will say that it may not be what you expect. With that in mind, if you choose to see CREED, you'll have a nostalgic good time. - JoAnne Hyde
GRADE: B-

comments powered by