BLACK MASS
Author: J.A. Hyde
September 17, 2015

SYNOPSIS: In 1970s South Boston, FBI Agent John Connolly (Joel Edgerton) persuades Irish mobster James "Whitey" Bulger (Johnny Depp) to collaborate with the FBI and eliminate a common enemy: the Italian mob. The drama tells the story of this unholy alliance, which spiraled out of control, allowing Whitey to evade law enforcement, consolidate power, and become one of the most ruthless and powerful gangsters in Boston history.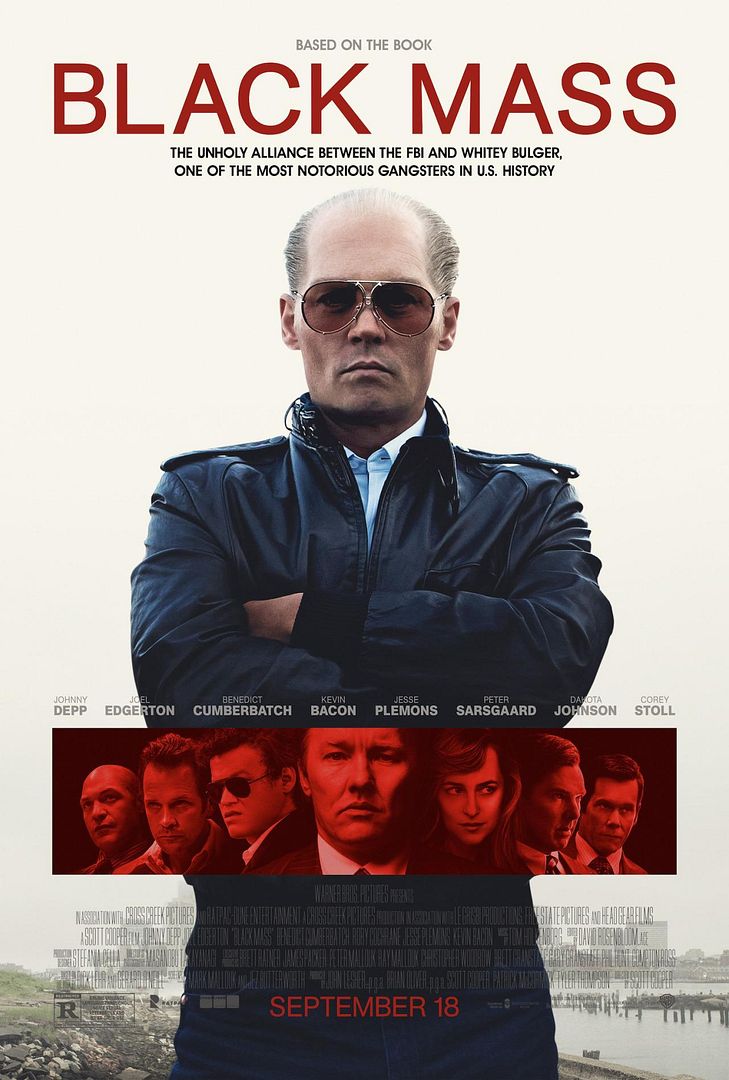 Good news Johnny Depp fans! Mr. Depp has finally decided to return to actual acting!
After a string of lackluster performances over the last few years, Depp hits it out of the park with his portrayal of James "Whitey" Bulger in Scott Cooper's BLACK MASS. The film is based on the book by Dick Lehr and Gerard O'Neill, Black Mass: The True Story of an Unholy Alliance Between the FBI and the Irish Mob. By the way, that title pretty much sums up the plot of the film.
The film's underlying theme, friendship and loyalty sometimes obscure reason, plays out through the childhood friendship of Jimmy Bulger (Depp) and John Connally (Joel Edgerton), growing up in South Boston and taking opposite roads in adult life. Bulger is a feared member of the Irish mob even though his younger brother, Billy (Benedict Cumberbatch), is a powerful state senator and as clean as they come. Connally, on the other hand, is an FBI agent. The relationship among the three survives on a kind of "don't ask, don't tell" basis.
Bulger was a fairly small-time'er until Connally decided to use him as an informant to take down the Italian mob. Despite the suspicion and disapproval of his superior, Charles McGuire (Kevin Bacon), and his fellow agent, John Morris (David Harbour), the deal gets done. In time, the Italian Mafia does get put away, but with his FBI-authorized free hand, Bulger has now become the center of organized crime in Boston with expansion interests in Florida.
And the rest, for both Bulger and Connally, is history.
BLACK MASS is an extremely violent film, with several real-life murders filmed where they actually happened. The story begins in 1975, and the tackiness of that era is well-evoked. Johnny Depp's chilling performance is well-supported by the excellent performances of his cast mates. Especially noteworthy, Joel Edgerton gives a spot-on performance of a street kid who rises to success but can't rise above childhood loyalties, however misguided.
Rory Cochrane gives a wonderful, sad-eyed performance as Bulger's second in charge. Even though he never makes a move to leave his position as Bulger's main clean-up guy, his whole demeanor indicates regret. David Harbour also shines as the straight-laced agent who feels increasing panic as he realizes the ruthlessness of their "informant."
BLACK MASS is basically a boy's club, though several women make brief, but effective, appearances. Dakota Johnson skillfully portrays Bulger's girlfriend and mother of his son. Julianne Nicholson does well as Connolly's increasingly suspicious and agitated wife, and Juno Temple shines in her brief screen time as prostitute Deborah Hussey.
Bottom line: This isn't the sort of film that you enjoy. It's a film you see for Oscar-worthy performances and the beautifully executed re-creation of an era. If you're at all curious about Whitey Bulger, you should see this film. It hammers out a brutal truth: If you dance with the devil, you may never again see the light of day. - JoAnne Hyde
GRADE: A

comments powered by