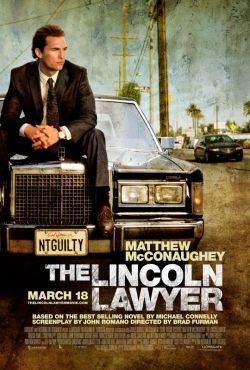 First of all, history buffs,
The Lincoln Lawyer
has absolutely nothing to do with Abraham Lincoln. The "Lincoln" of the title is a town car, the back seat of which serves as a mobile office for Mick Haller (Matthew McConaughey), a slick attorney whose specialty is getting acquittals for an assortment of low-life clients. In fact, his license plate reads "NTGUILTY". Mick is smart, charming, successful at what he does, but has a serious drinking problem. That's why he has a driver for his Town Car; he's lost his license for DUI's. His world includes his ex-wife Maggie (Marisa Tomei) who's an assistant D.A., their daughter Hayley (Mackenzie Aladjem), his investigator Frank (William H. Macy), assistant investigator Lorna (Pell James), and his driver Earl (Laurence Mason). Haller's world is about to be rocked by a new client.
McConaughey is perfect for the part of Mick Haller. He has the cockiness and smooth-talking charm to handle his rough-hewn clients – mainly bikers, drug dealers, and prostitutes – juries, judges, and his ex-wife. No one looks better in a wife-beater than McConaughey, but he's best in this film when he looks drawn, red-eyed, and dissipated – either drunk or hung over and living on Alka-Seltzer. Marisa Tomei does a great job as Maggie, kind of a booze-hound herself, who's not above a drunken hook-up with the ex. The one thing they agree on is their daughter. No matter how hard the night was, Mick is there for every soccer game. Laurence Mason steals the show as Earl, Haller's former client and now his driver. He underplays the part perfectly which complements McConaughey's over-the-top character.
Everything changes for Haller when his bail-bondsman connection Val Valenzuela (John Leguizamo) calls him with a lead on a new kind of client – a rich one. The son of a very wealthy family, Louis Roulet, has been charged with felony assault and battery of a high-priced prostitute. Ryan Phillippe is creepy-good as Roulet who may or may not be innocent. As Val says, "They all say they're innocent", and Mick cynically believes they're all guilty. But, he has doubts about Roulet's guilt. He has always feared that he will lose his ability to recognize innocence. Louis's mother, Mary Windsor (Frances Fisher), will spare no expense to free her son and righteously proclaims his innocence. Louis also indignantly proclaims that he didn't do it, but as time goes on, Mick begins to have doubts, this time about Louis's innocence. They're up against a new, ambitious prosecutor, Ted Minton, played with delicious smarminess by Josh Lucas. He's a perfect foil for Mick; it's as if Minton is a dart board, and Haller gets closer to the bulls-eye with each dart.
At about the mid-point of the case, Haller makes a connection to an earlier case involving a rape and murder in which the victim had similar facial injuries. He had advised his client Jesus Martinez (Michael Pena) to plead out because, even though Martinez swore up and down that he didn't do it, Haller assumed he was guilty. Now, he has doubts and wonders if there is any connection between Louis and that previous case. If so, then is Haller being played by his rich and powerful clients? Haller knows he has to win the case, but there is a difference between innocent and not guilty. If he believes that his client is actually guilty, then how does he make that right? He realizes that he is facing evil and the danger extends to his family and friends, so desperation sets in and he struggles to stay a step ahead of the enemy.
The pace is suspenseful and intense, but I figured out a couple of things in advance, and I don't like to do that in a thriller. Even so, it's an engaging film, and you will be entertained.