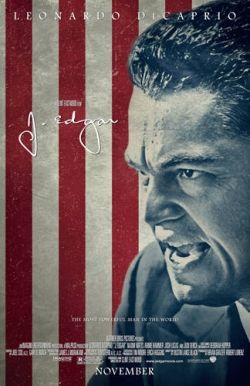 Clint Eastwood's
J. EDGAR
is a taut, complex biopic on the life of FBI founder and longtime director J. Edgar Hoover that kept me riveted, but I walked away thinking of what might have been. Eastwood's sensitive, but honest treatment of the title figure, was intriguing, but incomplete, leaving the viewer with far too many questions.
The problem might have been the sheer scope of Hoover's lengthy career in public service spanning over 50 years, along with his incredibly enigmatic personality. Screenwriter Dustin Lance Black (MILK) tries to touch all of the bases, but even at 137 minutes, there is simply not enough time to answer all of the questions about Hoover.
Another issue may have been the many unknowns about Hoover -- an exceedingly private man with many personal demons and issues. Hoover's relationship with his controlling, domineering mother, with whom he lived until her death is the most well-drawn in Black's script. His relationships with women and his longtime associate and close personal friend Clyde Tolson, as well as Hoover's sexuality are less well-defined. Eastwood treats the relationship between Hoover and Tolson maturely, but open-ended, leaving much to the viewer's imagination.
Where Eastwood and Black really seem to drop the ball is on Hoover's professional career, which is curious, since his professional life is much more a matter of public record than his personal life. While Hoover's propensity toward covert surveillance of public figures and his use of private files and blackmail to maintain power are explored, little of the conflicts between the FBI director and the eight Presidents he served makes the screen. The film leaves one wondering how this strange little man managed to maintain control of the bureau for so long without being taken down.
Leonardo DiCaprio is an interesting Eastwood choice to play Hoover. The boyish DiCaprio is a bit challenged to portray Hoover over the course of his five decade career in Washington, but with the help of impressive makeup work, he manages to be believable as the aging director. DiCaprio is in fine form throughout, playing Hoover as intense, conflicted, pugnacious, and yet insecure.
Armie Hammer's portrayal of the clearly smitten Clyde Tolson -- who would spend his life as Hoover's assistant and companion -- is both sensitive and touching. Judi Dench turns in a bravado performance as the controlling and domineering mother of J. Edgar Hoover. Naomi Watts does what she can as Hoover's longtime personal assistant/secretary Helen Gandy, though little effort is made to explain why the Gandy character tolerated or stayed loyal to Hoover for five decades.
Among the rest of the cast, Ken Howard does a great turn as Attorney General Harlan Fiske Stone, while Christopher Shyer is notable in a brief appearance as Richard Nixon.
Overall, I found J. EDGAR to be an interesting film, but after spending almost two-and-a-half hours watching Eastwood's effort, I have far more questions than answers.