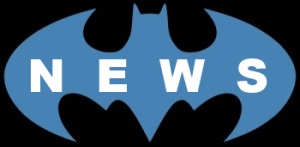 SDCC '14 Batman-Themed Bags Revealed
Posted by: Bill "Jett" Ramey (Follow @BATMANONFILM)
July 14, 2014

If you're going to Comic Con International San Diego '14 - like yours truly - here are the Batman-themed bags you'll be able to acquire while there...
BURBANK, CA (July 17, 2014) — The bags are back! Comic-Con 2014 attendees hoping for a colorful and commemorative keepsake bag to hold their best swag are once again in luck. For the fifth year running, Warner Bros. Entertainment and Comic-Con have teamed up to produce and distribute the official bag of Comic-Con, which will be distributed to fans when checking it at the Con. The highly coveted bag, which can also be worn conveniently as a backpack, has been called a "must-have" by VARIETY and Comic-Con's "ubiquitous accessory" by ENTERTAINMENT WEEKLY.
Very nice! I'm personally going to try to snag all three - even if it takes the pulling of strings!
And as I've been saying, if you see me, Mrs. Jett, and Jett Spawn #3, come say hello and we'll hi-fave together in honor of Batman's 75th! I'll be that guy sporting a Batman T-shirt and cap, FYI.



comments powered by