Is Jared Leto the New Joker?
Author: Bill "Jett" Ramey (Follow @BATMANONFILM)
November 7, 2014

Wow.
According to THE HOLLYWOOD REPORTER, Oscar winner Jared Leto "...may be under consideration for the role of The Joker" in director David Ayer's upcoming SUICIDE SQUAD film for Warner Bros.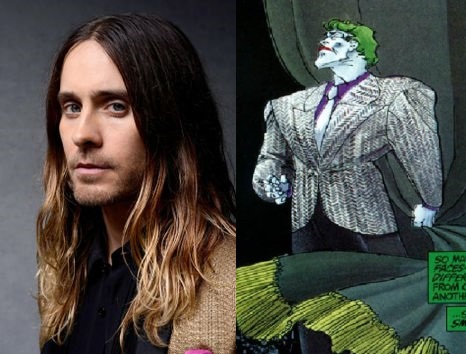 OK, here's what I think...
I've long wanted and campaigned for a Suicide Squad movie – so the fact that it's happening makes me more than happy.
When it comes to this new DC on film's Joker, Mr. Leto would be one hell of a casting get – you know what I'm sayin'? HOWEVER…
My only issue is that Warner Bros. and co. are going to try to kinda/sorta poach off of Heath Ledger's take on The Joker in THE DARK KNIGHT.
They're probably not, but still, it makes one raise an eyebrow.
Regardless, if Mr. Leto ends up being the new Joker on film, then that would be a damn casting coup by Warner Bros. and Zack Snyder - who is WB's DC on film guru.
Here's hoping we see him square-off against Batfleck in a future solo Bat-film directed by Ben Affleck - which I do believe will ultimately happen. If I had to guess, The Joker appears in a cameo in SUICIDE SQUAD and will be featured in future DCU films, including the next solo Batflick with Batfleck. The only question is...
Will he take the role? Remember, the cat is very picky about the roles he chooses and he's also a full-time rock star with 30 Seconds To Mars. However, here's why he recently said in an interview with THR...
"I do [have my eye on one project]. I am excited about what's happening. There are incredible opportunities and I'm very grateful for them. I'm looking forward to making films again now that the tour is wrapping up. It's going to be an exciting 2015. I've sworn to keep my mouth shut but I think that very shortly there will be something to talk about, that's for sure."
Stay tuned.



comments powered by