Michael Ulsan is one of my heroes.
And I told him that…
In person…
Finally!
From where I sit, this man is directly responsible for not only Batman on film (the film series, not my website), but pretty much the superhero movie genre. In other words, M.U. is the Godfather of comic book films. So…
I had the great privilege of being able to sit down with Mr. Uslan at the New York Comic Con 2009 and visit with one of my personal heroes. Below is part one of my chat with Michael about, well, Batman on film.
BATMAN ON FILM: In the last interview I did with you (CLICK HERE to read BOF's 2005 interview with Michael Uslan), you told me the story about the ten year process it took to get BATMAN '89 made. It's a fantastic tale and there's GOT to be a book there, don't you think?
MICHAEL USLAN: (smiles) I'm writing it as we speak.
BOF: When I say "THE DARK KNIGHT," what comes to mind?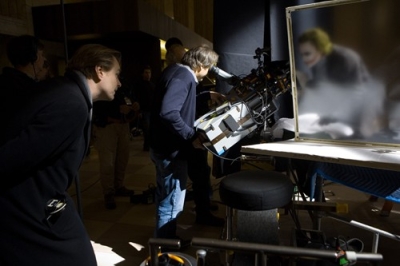 MU: There's only one thing…Chris Nolan is a genius. He proved with BATMAN BEGINS that he gets it. All we need to do from this point on is to stand back and let him do his thing. I've had the great privilege in my career to have worked with three geniuses: Tim Burton and the late Anton Furst on the first BATMAN, and now Chris Nolan.
The wonderful thing about THE DARK KNIGHT is that people -- Batman fans, comic book fans, the mainstream -- people are simply referring to it as "a great film" instead of "a great comic book film." We've come a long way and THE DARK KNIGHT has raised the bar for all of us….for all comic book films.
For me, this film represents the fight I've been waging since 7th grade to have comic books accepted as a legitimate art form -- not some genre that's hot one year and cold the next, you know?
I'm a comic book geek. I was there at the very beginning of fandom. Like I said in the panel today -- you were there -- I came to the very first comic book convention here [New York City - Jett] 45 years ago. I was "date challenged" at 15, 16 because everyone knew I still read comic books. And now, they're our biggest movie blockbusters….they're huge in animation, video games, and on TV.
Bill, we win. (smiles)
BOF: (laughs) Exactly! You know, as a Batman fan, I was very happy that THE DARK KNIGHT got the eight Oscar nominations and I'm pulling for all those guys. But at the same time, I was tremendously disappointed that it didn't get a "Best Picture" nod as well as one for "Best Director." Your thoughts?
MU: Let me talk about directors for a second. And if you doubt me , go to any top film school anywhere and ask them. Of all the directors out there -- nominated or not -- there's one who is hailed as being cutting edge and innovative. His methodology as a director is being taught everywhere. This guy considered one of the great directors of the 21st century. It's Chris Nolan. I rest my case.
Look, I've been fighting this battle almost all my life…to get comic book film to be considered "legit." Most of the members of the Academy are probably my Dad's age and still think that comic books are fluff entertainment for children and will never vote for a movie based on a comic book. Now we've tricked them, you know, with ROAD TO PERDITION and A HISTORY OF VIOLENCE (laughs). The burden is not on them Bill, it's on US. We need to get back there in the trenches and keep fighting and keep punching and get to the day that they CAN NOT turn us down.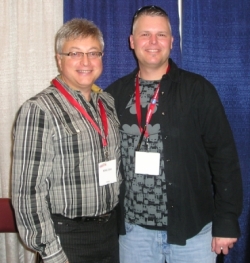 Michael Uslan (left) and BOF's Jett (right)
BOF: Are you happy with where the BATMAN film franchise is right now? I mean, the very reason I started BATMAN ON FILM was that I was hoping to see a BATMAN BEGINS and now THE DARK KNIGHT. So I -- as a fan -- am very happy. Really, THE DARK KNIGHT is arguably the greatest comic book film of all time, you know?
MU: I think it is. It's the reaching of the mountain top. With that said, I still believe the best is yet to come for Batman on film (smiles).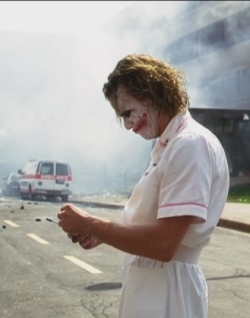 BOF: Heath Ledger's Joker. Michael, his casting back in '06 reminded me a lot of when Michael Keaton was cast as Batman…the backlash. Then the ridiculous "permawhite" nonsense where fan boys complained about The Joker wearing makeup. Then they saw the film and haved shut the hell up (laughs). He was great…just phenomenal.
MU: I've got to go back to 1987 when Tim (Burton) cast Keaton as Batman. Did you flip out?
BOF: Yes (laughs)!
MU: I did too. I was just like the fans…I didn't believe it for the first half hour of my conversation with Tim Burton when he told me [that Keaton was cast as Batman].
Bill, I kept thinking…he doesn't have a square jaw…he's not muscular enough…he doesn't have the dark, thick, wavy hair. I had just spent the last decade trying to get a dark and serious Batman film made, and now they had cast "Mr. Mom" as Batman!
So as I talked to Tim -- and this is one of the reasons why I call him a genius -- he explained to me that we had to get the audience to believe in Gotham City and that Bruce Wayne is someone who would dress up as a giant bat and fight crime…because if the audience didn't believe it, it was over. And Tim believed that Michael Keaton was someone that the audience would buy putting on the costume. And I had seen him in CLEAN AND SOBER and told I [Tim], "Yeah, the guy do a serious film, etc., etc." But I still wasn't convinced.
He then said to me, "Michael, a square jaw does not a Batman make." And he was right.
So with Heath being cast as The Joker, I see what you are saying. He was "The Joker," right?
BOF: Most definitely!
MU: (smiles) Geniuses know better than us.