CATWOMAN
Author: Cary Ashby

(EDITOR'S NOTE: While we aspire to be historically as accurate as possible, rumor is used at times when it is of historical significance. There also may be an element of the author's opinion found at times in these articles. All pictures and images of said characters are &copy DC COMICS.)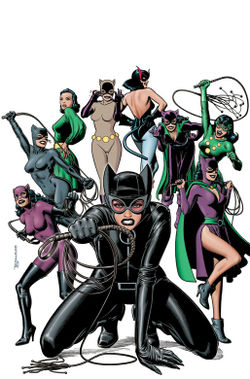 She has been a burglar, a villainous seductress, one of The Dark Knight's allies and even a prostitute. Now she's a loving mother. Variations of the same character has been featured in three movies, one TV show and various cartoons/animated series.
Catwoman made her first appearance in BATMAN No. 1 (spring 1940). Created by Bill Finger and Batman creator Bob Kane, she was first called The Cat. The character made three subsequent appearances in the first three issues of BATMAN.
Catwoman (a.k.a Selina Kyle) has tested The Batman's patience in her 66 years of existence. The character has been portrayed as a seductive villainess as many times as writers have shown Catwoman as a good girl who does bad things. In virtually every appearance with The Dark Knight, the sexual tension is apparent.
Another "common" factor with Catwoman is the way she tiptoes the line between good and evil. Is she a villain? Does she mean to cause people harm and create chaos? Or is she an emotionally tortured woman who can't quite seem to stay out of trouble (or out of The Batman's path)?
The Cat revealed her unwillingness to kill in BATMAN No. 2 when The Joker threatened to poison Robin the Boy Wonder. Known for stealing jewels, the villainess gave up the gems to save Robin's life.
Her affection for The Dark Knight becomes evident in "Batman" No. 3 by giving the Caped Crusader a kiss. The Cat not only escapes custody, but that small display of affection may have stolen The Batman's heart.
The Cat officially becomes Catwoman in 1942 in BATMANNo. 10 with the secret identity of high society woman Marguerite Tone. Catwoman started showing an early tendency to change costumes with her third outfit in four appearances. In BATMAN No. 15 (February - March 1943), Catwoman goes by the name Elva Barr.
She has red hair in BATMAN No. 35 (1946), but starting with DETECTIVE COMICS No. 122 (April 1947), Catwoman has brunette/black hair. In recent comics, Catwoman's hair is cut short, virtually shorn, but most times artists have depicted Selina Kyle as a Caucasian with flowing, dark hair.
There are several notable exceptions:
Selina Kyle, as played by Michelle Pfieffer, has blond, curly hair in the 1992 Tim Burton film BATMAN RETURNS.
Subsequent appearances in BATMAN: THE ANIMATED SERIES also featured a blonde.
The third variation of the series included a brunette Selina Kyle with very short hair, similar to the recent comics appearances.
The appropriately named actress Eartha Kitt was the first Black woman to play Catwoman in the final season of the 1960s BATMAN ABC television series. Halle Berry played a "Catwoman" loosely based on the character in the 2004 film CATWOMAN, which is not part of DC Comics' continuity. This Catwoman's secret identity is Patience Phillips. Fans and critics alike consider the film a bomb and an embarrassment to the Batman mythos.
In 1946, Catwoman first uses her cat-o-nine-tails bullwhip (a standard weapon in film and animated series) in BATMAN No. 35. Other firsts include: Catman (Selina's brother Karl Kyle) appears in BATMAN No. 69 (February-March 1952); The Dark Knight takes Catwoman to the Batcave for the first time in BATMAN No. 324 (June 1980); and Catwoman is the first person to realize Jean Paul Valley has replaced the temporarily handicapped Bruce Wayne as the Caped Crusader in BATMAN No. 503 (January 1994).
Catwoman calls herself Madame Moderne in the June-July 1948 issue of BATMAN (No. 47). Her true alter ego is revealed to be Selina Kyle in 1951 in BATMAN No. 62.
Three issues later, Catwoman assists the Dynamic Duo for the first time in nabbing the crime czar "Whale" Morton. She also helps the Batman in issue No. 69 in 1952, but returns to crime in DETECTIVE No. 203 (1954). Batman and Catwoman collaborate for one year's worth of issues in BATMAN and DETECTIVE in 1986.
Catwoman, from 1979 until the mid-1980s, was a romantic interest of Bruce Wayne/the Batman and often assisted the Dynamic Duo in fighting crime. Selina Kyle also knew Wayne was The Batman. By the late 1980s, this changed and writers used Catwoman as a character generally considered a "bad guy," but one who couldn't be pigeon-holed easily as purely "evil."
In 1966, actress Julie Newmar becomes the first of several sexy actresses to portray Catwoman onscreen in the campy BATMAN ABC television series. Newmar showed off Catwoman's curves in a tight-fitting, black leather costume - an outfit seen in BATMAN RETURNS, the 1990s animated series, and recent comics.
By the 1960s or so, Catwoman sports a purple dress and mask with a green cape in the comics. She appeared in most issues in this costume up through the 1980s. She appeared in different outfits from 1967 through 1975, when she returned to the classic costume.
In the self-titled 1989 limited series, Catwoman has a dark gray body suit with a tail on her bottom and whiskers on her mask. Selina Kyle has had variations of this costume in the comics since then. The most recent costume has no tail.
DC SUPER-STARS No. 17 (November-December 1977) tells the story of the Earth-2 versions of Bruce Wayne and Selina Kyle getting married. The same story depicts Earth-2 Catwoman's death after being blackmailed don the costume again. The final issue of THE BRAVE AND THE BOLD (No. 200, 1983) features a story of the Earth-2 Batman and Earth-2 Catwoman.
DC in the 1970s decided the adventures of Golden Age characters would take place on Earth-2. After the alternate Earth concept was addressed (and essentially eliminated) in the 1985 limited series CRISIS ON INFINITE EARTHS, alternate Earth heroes are the focus of the 2005 limited series INFINITE CRISIS.
In January 1993, Catwoman gets her first ongoing series which depicted Selina Kyle as "an international thief with an ambiguous moral code," according to the online encyclopedia Wikipedia. Deathstroke the Terminator was believed to kill Catwoman in the final issue, no. 96. A second volume started in January 2002.
Catwoman, by the time the "One Year Later" storyline happens, is Holly Robinson. (She has been a part of Catwoman's origins since Frank Miller's classic limited series BATMAN: YEAR ONE). Selina Kyle is using the name Irena Dubrovna ( a nod to the main character in the 1942 film CAT PEOPLE) and is caring for her daughter Helena. The girl's name seems to refer to Helena Wayne, the Earth-2 Huntress who was the daughter of that Earth's Bruce Wayne and Selina Kyle.
What's next for Catwoman and/or Selina Kyle? Who knows, but it sure won't be boring.
BOF contributor Cary Ashby writes a twice-monthly comic book column for the "Norwalk Reflector." He is the newspaper's crime reporter. Cary has an extensive collection of Batman comics and has been an avid fan for nearly 30 years. He can be reached via e-mail at ashby@goreflector.com.
RESOURCES
1. Catwoman: The Visual Guide

2. The CATWOMAN entry on Wikepedia.
3. IMDB.COM
4. Cary Ashby's personal comic book collection.
&copy 1998-present BATMAN ON FILM. All rights reserved. Material from BOF may not be reprinted without permission. "BATMAN" and all elements are the trademarks of and &copy DC COMICS. NO COPYRIGHT INFRINGEMENT IS INTENDED. All film promotional stills/artwork copyright their respective intellectual property holders. Comments and news should be sent to BatmanOnFilm@msn.com. BATMAN created by Bob Kane.