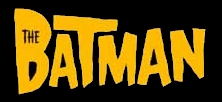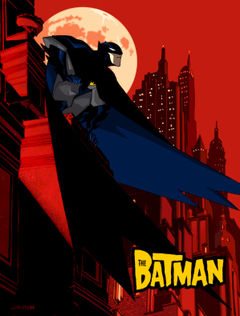 THE BATMAN was an animated TV program produced by Warner Bros. Animation based on DC COMICS' Batman. The origin of the name of the series is that the character is more often than not referred to as "The Batman" in the comic books and other media. The show appeared on the CW Television Network -- known as "The Kid's WB" on Saturday mornings.
Michael Goguen and Duane Capizzi served as supervising producers.
The Batman was voiced by Rino Romano. Major characters included Alfred Pennyworth (Alastair Duncan), Commissioner Gordon (Mitch Peleggi), and Barbara Gordon (Danielle Judovits). Villains that appeared on the show included The Joker, The Penguin, Bane, The Ventriloquist/Scarface, The Riddler, Mr. Freeze, Firefly, Catwoman, and many others.
The series made its debut (in the U.S.) on September 11, 2004 and to date, there have been 4 complete seasons of THE BATMAN and season five begins in September 2007.
THE BATMAN's version of Robin was introduced into the show at the beginning of Season 4. The series' take on "The Justice League" was seen during season 5, with Superman appearing in the first two episodes.
THE BATMAN was not set in the continuity of the previous animated Batman series -- BATMAN: THE ANIMATED SERIES -- or its spinoffs. It also does not totally adhere to the Batman mythos established in the comic books. For example, many characters -- notably The Joker -- were "re-imagined" for the series. But overall, THE BATMAN was an accurate and loyal interpretation of The Batman and his universe.
The series spun off into other media as well. THE BATMAN STRIKES is a monthly comic book published by DC COMICS set in the continuity of the TV series. THE BATMAN VS. DRACULA is a animated, straight to video movie based on THE BATMAN television program.
THE BATMAN's final episode aired on March 8, 2008.
EPISODES & REVIEWS
SEASON 5 (2007-2008)
"THE BATMAN/SUPERMAN EPISODE, Part 1"
"THE BATMAN/SUPERMAN EPISODE, Part 2"
"VERTIGO"
"WHITE HEAT"
"A MIRROR DARKLY"
"THE JOKER EXPRESS"
"RING TOSS"
"THE METAL FACE OF COMEDY"
"THE TERRIBLE TRIO"
"THE END OF THE BATMAN"
"WHAT GOES UP...."
"The Lost Heroes"
SEASON 4 (2006-2007)
"A Matter of Family"
"Team Penguin"
"Clayfaces"
"The Everywhere Man"
"The Break Out"
"Strange New World"
"Artifacts"
"Seconds"
"Riddler's Revenge"
"Two of a Kind"
"Rumors"
"The Joining"
"The Joining, Part 2"
SEASON 3 (2005-2006)
"Batgirl Begins, Part 1"
"Batgirl Begins, Part 2"
"A Dark Knight to Remember"
"A Fistful of Felt"
"RPM"
"Brawn"
"The Laughing Cats"
"Fleurs du Mal"
"Cash for Toys"
"The Apprentice"
"Thunder"
"The Icy Depths"
"Gotham's Ultimate Criminal Mastermind"
SEASON 2 (2005)
"The Cat, the Bat and the Very Ugly"
"Riddled"
"Fire & Ice"
"The Laughing Bat"
"Swamped"
"Pets"
"Meltdown"
"JTV"
"Ragdolls to Riches"
"The Butler Did It"
"Grundy's Night"
"Strange Minds"
"Night and the City"
SEASON 1 (2004-2005)
"The Bat in the Belfry"
"Traction"
"Call of the Cobblepot"
"The Man Who Would Be Bat"
"The Big Chill"
"The Cat and the Bat"
"The Big Heat"
"Q & A"
"The Big Dummy"
"Topsy Turvy"
"Bird of Prey"
"The Rubberface of Comedy" (1)
"Clayface of Tragedy" (2)

comments powered by