"Criminals are a superstitious, cowardly lot.
So my disguise must be able to strike terror into their hearts.
I must be a creature of the night.
Black. Terrible.
I shall become A BAT!" --
Bruce Wayne, DETECTIVE COMICS #33 (November 1939)
BATMAN BEGINS
Author: Jett
(EDITOR'S NOTE: While we aspire to be historically as accurate as possible, rumor is used at times when it is of historical significance. There also may be an element of the author's opinion found at times in these articles.)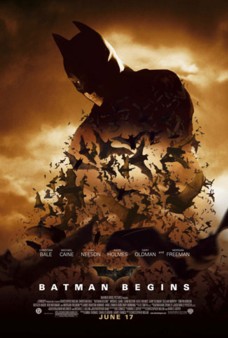 Sometime in 2002, or perhaps early 2003, director Christopher Nolan (MEMENTO, INSOMNIA) entered the world of The Batman. Nolan had heard that Warner Bros. was interested in reviving their BATMAN movie franchise and the possibility of doing just that peaked his interests.
Nolan had made INSOMNIA for Warner Bros. and that enabled him to go to the studio and lay out what he would do if he was in charge of reinventing the character on film. "From the beginning," the director said on the BATMAN BEGINS special features disc, "my intention was to do a superhero film, but treating it in a realistic fashion."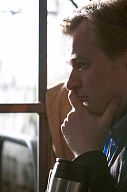 Nolan says that he was a fan of the character, but he was not a "comic book expert," if you will. He felt that he needed a writer who knew the character inside and out. This led to Nolan pursuing screenwriter, director, and comic book aficionado David S. Goyer.
Goyer, who says that it had always been his dream to write a Batman movie, was in the midst of pre-production on BLADE TRINITY, which Goyer was writing and directing. In fact, filming was to begin on BLADE in about eight or so weeks at the time Nolan's agent first contacted Goyer, and the scribe didn't think he would be able to do it. Goyer did tell Nolan that if he was going to write a Bat-film, "this is what I would do, and you can have my ideas for free." The ideas that Goyer relayed to Nolan in fact became most of what is BATMAN BEGINS.
Thinking that his chance to do a Batman film had passed, Goyer was again contacted by a persistent Nolan who told him "You have to do this." Nolan says, "I guess he [Goyer] was just too big of a fan not to do it," so Goyer agreed to join Nolan in writing the first draft of the film.
Goyer and Nolan would meet at the latter's house in his office/garage and work on the screenplay. Goyer says, "It was clear to me if they [Warner Bros.] was going to restart the BATMAN franchise…something different would have to be done." Goyer continued, "In my opinion, we'd have to go back and tell Batman's origin story." In fact, the origin of The Batman had never been done on screen before. Movie goers had yet to see just how and why Bruce Wayne decided to don the guise of a bat and fight crime in Gotham City.
Joining Goyer and Nolan in the director's garage was production designer Nathan Crowley. Says Goyer, "It was a very interesting way of working because we [Nolan, Crowley, and Goyer himself] could feed each other." So while Goyer and Nolan were hammering out the script, Crowley was able to say "I've got an idea," and they were able to incorporate it into the script. "It was a wonderful symbiotic relationship," says producer Charles Roven of the trio's working arrangements.
Work on the script was top secret. Says Nolan, "It was very important to me that nobody see anything until we were ready to show [it]." Goyer couldn't reveal to anyone what he was working on. Not even the Warner Bros. brass knew the details - they were not allowed to look at the script until it was done and even their first look was in Nolan's garage! The project also had a fake name -- "The Intimidation Game." In fact, many people (including this author) believed that the actual name of the film was to be BATMAN INTIMIDATION or BATMAN: THE ITIMIDATION GAME. "It had nothing to do with the title of the film," says Nolan's wife and BATMAN BEGINS producer Emma Thomas, "but people thought that it was the title…which was a little bit strange."
After years and years of "development hell" trying to get Batman back on the silver screen, Nolan had stepped up to the plate and hit the ball out of the part, so to speak. Warner Bros. OK'd the script and a new BATMAN film had begun.
FINDING THE BATMAN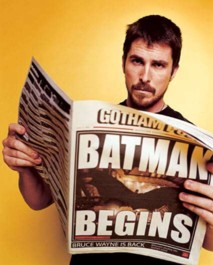 Christian Bale had been what one would call the "fan favorite" for the role of The Batman since the late 1990s. Bale, a former child actor, had displayed "Bruce Wayne-like" qualities in the cult hit AMERICAN PSYCHO. In the film, Bale portrayed Patrick Bateman -- Wall Street broker by day, serial killer by night. As a result, message boards on various websites across the Net, constantly called for Bale to play The Batman if and when another Bat-film was made.
Although Bale says he did not grow up a fan of The Batman, he became interested in playing the character as well. At various times, Bale was linked to the Darren Aronofsky/Frank Miller YEAR ONE project, as well as the Wolfgang Petersen BATMAN VS. SUPERMAN. In graphic novels such as THE LONG HALLOWEEN and ARKHAM ASYLUM, Bale found a dark, complex, and more interesting character than he realized.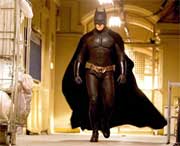 When word broke in early 2003 that a new BATMAN film was in the works, Bale's name immediately topped fan's lists as a potential Batman. But Bale would have to work for the role, as Chris Nolan looked at and tested several actors for the part. As David Goyer said, "There are a lot of people who would make a good Batman. And there are a lot of actors that would be a good Bruce Wayne. But there are very few who can do both." It seems that not only was Bale the fan's fave, but the director's as well. "Christian was the first actor I met with, actually…the script hadn't even been written yet," said Nolan. "It was clear to me that when you looked into his [Bale's] eyes, he was someone who could make you believe in the possibility of someone devoting their lives to something this extreme."
By the latter part of 2003, Nolan had narrowed the field down to a few actors; among them were Bale, Jake Gyllenhaal, Cillian Murphy (who so impressed Nolan, that the director cast him as the villain The Scarecrow), Joshua Jackson, and Eion Bailey. Scuttlebutt says that it was then narrowed down to Bale and Gyllenhaal with the former getting the part. The choice of Bale as the new Dark Knight was made public on September 11, 2003.
An interesting note on Bale: When he was testing for the part, he was extremely thin, due to his work on THE MACHINIST. Bale lost a ton of weight for lead part in that film, and would now have to put it back on -- and more -- to play The Batman. So Bale proceeded to "stuff his face" as he put it and lift weights non stop, eventually putting on nearly 100 lbs right before filming started! Bale -- at Nolan's suggestion -- had to cut down just a bit weight before going in front of the camera. "He [Nolan] didn't think I was going to get that big," says Bale. 'It was a tight schedule," said Bale of slimming down and cutting up, "but I just managed to do it."
CASTING AND FILMING
With the most important role now in the hands of Bale, the remaining cast would now be added to the mix. Nolan said that he believed that Batman deserved the casting of great actors -- just like had been done years back for Richard Donner's classic SUPERMAN. Over the next several months, it was revealed that the cast would include Michael Caine as Alfred, Ken Watanabe as Ra's Al Ghul, Katie Holmes as Rachel Dawes, Liam Neeson as (Henri) Ducard, Cillain Murphy as Dr. Jonathan Crane, Morgan Freeman as Lucius Fox, and Gary Oldman as Sgt. Jim Gordon. Filming was set to begin in February of 2004 in Iceland.
BATMAN BEGINS was a long shoot, starting in February of 2004 and ended later that year in September. Filming took place in Iceland, the United Kingdom, and on location in Chicago in the U.S. Fans scoured the Net looking for news and pictures from the film. They were especially interested in seeing the new Bat-suit and how Christian Bale looked in it. Warner Bros. obliged and released the first look of Christian Bale as The Batman in April of 2004.
With filming ending in late 2004, Nolan and company worked on putting the film together in post-production. On the other hand, the studio began to promote the film in a very low-key manner. This approach to marketing the film was criticized by many fans, but that argument became a moot point once the film hit theaters in June of 2005.
The first teaser for the film hit theaters in summer of 2004 while filming was still in full swing. Only lasting 30 seconds, it was designed so that no one realized it was for a new BATMAN film until the very end. The first full trailer was shown to movie audiences during the 2004 holiday movie season. A commercial for BATMAN BEGINS was shown during the Super Bowl in February of 2005, and several spots for the film aired during the NCAA Men's Basketball Tournament in March. One thing was clear, marketing of the film would not be shoved down people's throats. The film's quality -- and the "Batman" brand -- would be allowed to sell itself.
THEY LIKE IT! THEY REALLY, REALLY LIKE IT!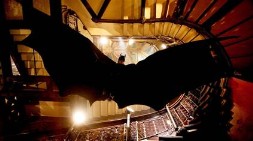 BATMAN BEGINS hit theaters domestically (U.S. and Canada) on Wednesday, June 15, 2005. It was originally scheduled to be released on the 17th, but was pushed back two days to help generate a little more "buzz" heading into the weekend. Between the 15th through its first weekend, BEGINS took in roughly $72.9 million. It topped the $100 million mark by the first day of its second weekend (Friday, June 24th) and surpassed $200 million on Thursday, August 11th. By the time it ended its theater run on the 30th of October, BATMAN BEGINS had taken in a little over $205 million and finished as the #8 movie of the year in 2005. In addition, BEGINS took in another $166 million overseas.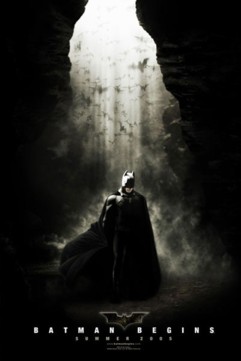 Critical reaction was quite positive as well. Film critics were enthusiastic -- for example, Roger Ebert of the CHICAGO SUN-TIMES (who didn't care for the previous live-action BATMAN films) called it one of the "best films of the year." BEGINS was also received quite favorably by audiences and many fans, earning the highest rating of any film released in 2005 by users of BOXOFFICEMOJO.COM and garnering an "83% Fresh" score at ROTTENTOMATOES.COM. The film is currently on the IMDB's list of the Top 250 (#104) films of all-time. A recent poll at IMDB.COM marked the film #1 as the "Best Summer Movie of 2005." It would be fair to say that overall, BATMAN BEGINS is considered to be the favorite BATMAN film for both critics and audiences alike.
On October 18, 2005, the BATMAN BEGINS DVD was released in three formats: Widescreen, Fullscreen, and a Two-Disc Deluxe Edition. The success and buzz of its theater run carried over, as the BEGINS DVD was one of the most successful DVD's of the year in both rentals and sales.
LEGACY
While the success of BEGINS financially and critically is obvious, perhaps another achievement of the film is not. BATMAN BEGINS had eradicated 1997's BATMAN AND ROBIN from the minds of moviegoers and fans. The BATMAN franchise was now back on solid ground. And the cinematic future is as bright as it has ever been for The Dark Knight.
NEXT: The Dark Knight's Cinematic Future

"Jett" is the editor-in-chief of BATMAN ON FILM and BATMAN IN COMICS.

RESOURCES
1. Ramey, William E. BATMAN ON FILM (website).
2. INTERNET MOVIE DATABASE, accessed on January 27th - February 17th, 2006.
3. "Special Features" on the BATMAN BEGINS DELUXE EDITION DVD.
4. "BATMAN 5: WHAT IT IS AND HOW IT CAME TO BE," by Bill Ramey, BATMAN ON FILM.
5. "BATMAN BEGINS," WIKIPEDIA.COM, accessed on January 27th - February 17th, 2006.
6. "BATMAN BEGINS," ROTTENTOMATOES.COM, accessed on January 27th - February 17th, 2006.
7. "BATMAN BEGINS," IMDB.COM, accessed on January 27th - February 17th, 2006.
8. "BATMAN BEGINS," BOXOFFICEMOJO.COM, accessed on January 27th - February 17th, 2006.