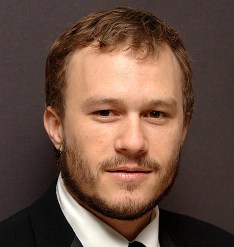 3:59 PM: Good God this is terrible news and it saddens me more than I can put into words here.
According to various reports, A New York Police Department spokesman says the actor Heath Ledger has been found dead at a downtown Manhattan residence.
Ledger found in his bed in one of his residences in Soho by his housekeeper today at 3:35 PM Eastern Time. SOURCE: MSNBC.COM.
More as this horrible story develops.
Personally, I'm totally sickened by this news. My condolences got out to his family, friends, and the entire cast and crew of THE DARK KNIGHT.
UPDATE: TMZ.COM (which I despise, but I digress) is now reporting that Heath was sick with pneumonia.
UPDATE: TMZ.COM is reporting that they were told by NYPD that it was accidental.
UPDATE: Per CNN.COM, "'Pills were found in the vicinity of the bed,' police spokesman Paul Browne told CNN. 'This is being looked at as a possible overdose, but that is not confirmed yet.'
Ledger was found by a housekeeper who had gone to wake him for an appointment with a masseuse in the Soho apartment."