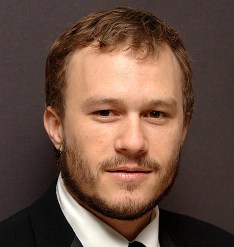 9:55 AM: The autopsy performed on Heath Ledger in NYC was inconclusive, and a cause-of-death determination will take about 10 days.
Ledger was found dead Tuesday by his housekeeper in his Manhattan apartment.
NYPD spokesman Paul Browne told CNN, "Pills were found in the vicinity of the bed....This is being looked at as a possible overdose, but that is not confirmed yet."
Ledger's family released the following statement via his father, Kim Ledger:
"Heath has touched so many people on so many different levels during his short life, but few had the pleasure of truly knowing him."
Ledger's will be seen on screen for the last time this summer as The Joker in the Chris Nolan-directed film, THE DARK KNIGHT.
SOURCE: CNN.COM.