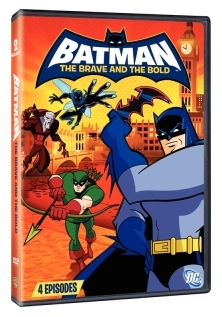 If you are a Batman fan and have not took in the
BATMAN: THE BRAVE AND THE BOLD
animated TV series yet, you're really missing out. I was one of those who dismissed the show as being too light, funny, and definitely not "My Batman." Now all of that's true, but the show is done so well, that none of that really matters. Anyway, that's
a discussion for another time
...
The show's second DVD release -- BATMAN: THE BRAVE AND THE BOLD, VOL. 2 -- includes the following four episodes from Season One:
* "Day of The Dark Knight!" - A story set in Medieval times in which Batman travels into the past to stop Morgaine Le Fay from conquering Camelot and defeating King Arthur. Green Arrow, Green Lantern, and The Demon guest-star.
* "Enter the Outsiders!" - Batman teams up with his old mentor Wildcat to bring down super-powered teenagers known as "The Outsiders." B'wana Beast and Black Manta are also featured.
* "Dawn of the Deadman!" - Batman and Deadman take on the Gentleman Ghost and an army of criminal zombies.
* "Fall of the Blue Beetle!" - Blue Beetle and Batman team-up to battle robots. Blue Beetle takes a look at the history of "The Blue Beetle" and meets the original.
Truth be told, none of these four episodes are what I would consider the best of Season One. They're good, but there a several better ones. If I had to pick, the one featuring Deadman is the best of this lot.
I recommend this particular DVD to folks who want to introduce their young kids to Batman. However, if you are fan of the show (like me), I'd suggest you pass on this one and simply wait for all of Season One to be collected on one DVD.
BATMAN: THE BRAVE AND THE BOLD, VOL. 2
will be released on November 10, 2009. Read BOF's coverage of BATMAN: THE BRAVE AND THE BOLD -- with episode reviews and previews -- HERE.