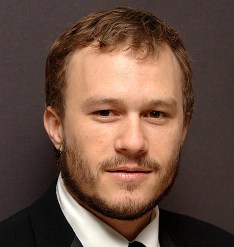 Let me preface by saying today's rundown on the tragic death of Heath Ledger will also include my opinion...
According to various sources, it seems that Heath was did in by a accidental overdose of prescription drugs. Reports say that he was taking Ambien for his sleep problems, as well as Xanax for anxiety and perhaps also Vicodin.
Sadly, Heath's passing was caused by a tragic and fatal mistake.
Hell, I take prescription medication and you have to be careful, trust me. I'm sure any of you out there are also take prescription meds can attest to that was well…
I talked to a friend of Heath's who was a member of THE DARK KNIGHT cast/crew (I won't say which) and he/she was "devastated." Here's what they wanted me to pass along to you as a tribute to Heath:
"Heath was a great friend.
Heath was a great father.
Heath was a great actor.
Heath was a giving person.
Heath was full of life.
Heath had everything to live for.
Heath put everything into his acting, no two films alike, he jumped into every project head first, never for monetary reasons, but for the roles that he felt challenged him. He chose wisely and never made a mistake.
A brilliant mind going in many different directions, acting, music, directing, art, family. He was a great juggler, while most do one thing at a time, Heath had the gift to multi task and be energized with the many areas of his life.
He also had time for anyone, he enjoyed making films, friendly, cordial, never curt. His creativity and acting choices are unparalleled.
He leaves many of us way too early, we will need to heal for along time, for many, it has not sunk in, but I can speak for many in saying, Heath we will miss you, thank you for entering our lives albeit brief, and you always have a place in our hearts."
Well said my friend…
I'm working with a few people from other websites that are organizing a movement to have fans wear "Heath-Joker" T-Shirts to the premiere of the THE DARK KNIGHT this summer. I believe they are coming up with a unique and professionally designed and produced tribute shirt.
I'm totally down with this and plan to participate. LET ME KNOW WHAT Y'ALL THINK OF THIS…
I absolutely appalled by the way the media is handling the story of Heath's passing. In particular, the suggestion that he had been acting like a "junkie" when interviews AND the insinuating that playing The Joker in TDK contributed to his unfortunate demise.
What a bunch of F'n assholes…
Finally, here is TDK producer Mr. Charles Roven's official statement on the death of Heath Ledger (via IESB.NET:
"He was a good friend of mine, both personally and professionally. We did 2 films together one of which was THE DARK KNIGHT. He was really a great guy and an incredibly brilliant actor.
Wherever he is in the universe now I hope he's happy."
As do I as well as Batman fans around the world.