GREEN LANTERN CORPS Have Writers & More
Posted by: Bill "Jett" Ramey (Follow @BATMANONFILM)
Date: January 12, 2017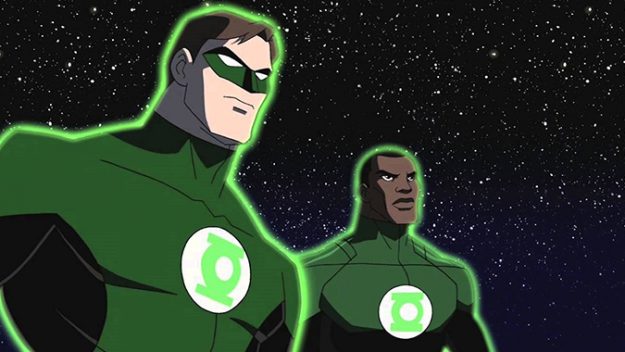 Back in the day – can 2010-2011 be considered "back in the day?" – there was not a bigger cheerleader for WB's GREEN LANTERN movie starring Ryan Reynolds.
I thought – and I told everyone (including the fine folks at Warner Bros.) – that it was going to be WB/DC's IRON MAN.
Hell, I bought my first DC Comics T-shirt that wasn't Batman or Superman-related and went to Wondercon in San Francisco in 2011 just to cover the GREEN LANTERN movie. AND THEN…
GREEN LANTERN sucked. ANYWAY…
DEADLINE.COM is reporting that David Goyer and Justin Rhodes will be writing the script for WB's GREEN LANTERN CORPS. I'll defer to the original report now…
The new version is described as LETHAL WEAPON in space. The focus will be on two characters: Hal Jordan and John Stewart. The latter is an African American Marine sniper before he joined the Lantern Corps and the story very much focuses on his relationship with Jordan and the Corps.
Word.
Look, I know it's NOT going to happen, but I'd have NO problem if Ryan Reynolds returned at Hal Jordan (as he was the LEAST of the problems with that movie). But due to his success with DEADPOOL (which was great!) and all – and WB probably wanting to distance themselves from that film – that ship has likely sailed. AND…
Before anyone starts to bitch about David Goyer co-writing the script, shut the heck up.
Look, while I've had personal (and admittedly petty) issues with Mr. Goyer, I have the utmost respect for him. I totally believe that he's yet to get the due and props he deserves for his contributions to THE DARK KNIGHT TRILOGY. Also, while I didn't care much for BATMAN v SUPERMAN, I did like MAN OF STEEL – which Mr. Goyer wrote.
So what do y'all think? Can the Green Lantern property get a second chance with movie audiences? Post your thoughts in the comments section below!

comments powered by