Patrick Wilson is Ocean Master in AQUAMAN
Posted by: Bill "Jett" Ramey (Follow @BATMANONFILM)
Date: December 12, 2016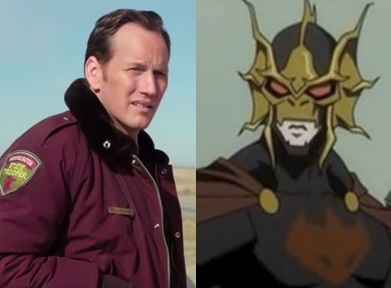 I haven't wrapped my head around it totally yet, but just based on the actor cast, this was a helluva choice!
Via DEADLINE.COM, Patrick Wilson (FARGO, WATCHMEN) has been tapped to play the villain in Warner's AQUAMAN – Orm, AKA the "Ocean Master."
Yessir!
I've been a fan of this dude since WATCHMEN, but he became one of my faves for his turn in season two of FARGO as Low Solverson (and if you've yet to watch the FARGO TV series, you need to ASAP – trust me). ANYWAY…
Despite what you may believe, I'm VERY excited for AQUAMAN and think it's going to be a HUGE hit under the helm of director James Wan. Jason Momoa was a GREAT choice for the part of Arthur Curry/Aquaman. While I'm not too keen to see him mix it up with Ben Affleck's Batman in JUSTICE LEAGUE, I can't wait for the character's solo film. It's my hope that Warner Bros./DC FILMS lets this thing be its own, well, THING, and not shoehorn a bunch of DCEU stuff/cameos in just to "advertise" future DCEU films.
Look, if Aquaman – as a character – doesn't suck (and I don't think he does), there's no reason to have Ben Affleck do yet another cameo as Batman or Bruce Wayne simply to prop-up or sell this film. UNLESS…
There's a scene just like THIS…
AND, does anyone think that Black Manta ISN'T going to end up being in this movie?
So, what do you all think of this news? Sound off in the comments section below!
AQUAMAN hits theaters on OCTOBER 5, 2018!

comments powered by