Review: WONDER WOMAN
Posted by: Rick Shew (Follow @SHEWRICK)
Date: May 31, 2017

SYNOPSIS: Before she was Wonder Woman (Gal Gadot), she was Diana, princess of the Amazons, trained to be an unconquerable warrior. Raised on a sheltered island paradise, Diana meets an American pilot (Chris Pine) who tells her about the massive conflict that's raging in the outside world. Convinced that she can stop the threat, Diana leaves her home for the first time. Fighting alongside men in a war to end all wars, she finally discovers her full powers and true destiny.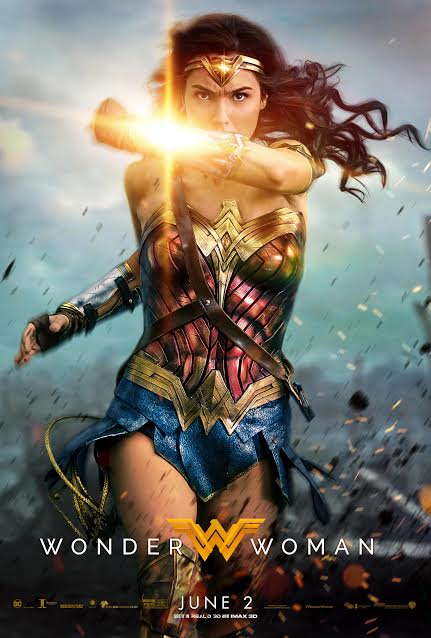 There are scenes in Patty Jenkin's WONDER WOMAN where I am actually taken aback that I am watching a comic book movie about an Amazon goddess warrior from the exotic island, Themyscira.
The imagery is so real, the emotions are so tangible and cinematography is so beautiful, that I don't even feel like I am watching a DC film – or any comic book film, for that matter.
Gone are the moroseness, convolutedness and humorless sequences that defined the previous DCEU films – especially BATMAN v SUPERMAN.
This film has heart. And it's funny as hell.
I don't need this review to serve as a walk thru of the sequence of events- nor do I need this review to exist merely so we can dissect the continuity – or lack thereof – of the comics.
No, I simply want to praise this film for all that is wonderful about it.
For starters, Chris Pines and Gal Gadot have a remarkable on-camera chemistry, that if I wasn't laughing out loud (literally), I was sitting in my comfy, modern day cinema chair with a perpetual smile on my face.
Director Patty Jenkins was able to get wonderful performances from her leads, as well as EVERY single person that spoke on camera. This is a remarkable achievement for a film of this size and this magnitude.
The action sequences were well choreographed and shockingly exciting.
For 90 straight minutes, I was glued to the screen and was watching a nearly perfect comic book film unfold before my very eyes.
Things did to tend to go a little south in the 3rd act. It is as if Ms. Jenkins stepped aside, and Zack Snyder stepped in as director for about 20 minutes. I don't mean this as any disrespect to Mr. Snyder – I simply mean it is a bit of mishmash. Aesthetically speaking, the film suddenly looked and FELT like a Snyder film…literally.
Gone were the raw settings and realistic backgrounds, and suddenly everyone was in front of a painting surrounded by CGI and confusing action sequences.
But no bother – it is a minor quibble. The film rebounds nicely and ends on quite the high note.
Ms. Jenkins said she took much influence from Richard Donnor's original SUPERMAN film, and it shows. But as much as I love SUPERMAN: THE MOVIE, I will have to confess: WONDER WOMAN surpasses even that classic gem as one of the best DC films to date.
By far the best since 2012's THE DARK KNIGHT RISES.
I simply LOVE this film.
As a proud father of only daughters, it is great to see a kick ass female comic book hero get her marquee cinematic debut. And it's even cooler that it is directed by a kick ass director who also happens to be female.
I can't wait to see this film again, my friends.
Believe the hype.
Diana is real. - Rick Shew
GRADE: A-
WONDER WOMAN hits theaters on JUNE 2, 2017!
Rick Shew is a lifelong Batman fanatic and co-host of the BATMAN-ON-FILM.COM PODCAST.
His love for Batman traces back to the ripe age of 5 when he became obsessed with the 1960's TV show and later a diehard Batman bomic book reader (THE KILLING JOKE remains his all time favorite).
As an actor, Rick has appeared in numerous films, local & national commercials and over a dozen theatrical productions. However, his favorite gig of all time was playing Superman, alongside Batman, Batgirl, The Green Lantern & Wonder Woman in the "DC Comics Live" show at Six Flags San Antonio, TX.
Although Rick attended The University of North Texas, he is a diehard Texas Longhorns football fan. He is a HUGE fan of THE Dallas Cowboys as well (#DezCaughtIt).
Other likes include cooking, reading and hosting his left leaning political page LeftShewPolitics.
Rick resides in Dallas with his 3 beautiful women (his wife and their 2 daughters), his kitty cat and his dog, Cooper.
Follow Rick on Twitter @SHEWRICK.

comments powered by