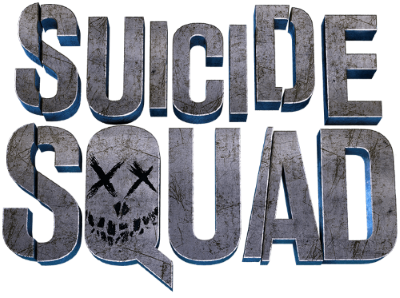 Review: SUICIDE SQUAD
Author: Rick Shew (Follow SHEWRICK)
Date: August 8, 2016

SYNOPSIS: It feels good to be bad.
Assemble a team of the world's most dangerous, incarcerated Super Villains, provide them with the most powerful arsenal at the government's disposal, and send them off on a mission to defeat an enigmatic, insuperable entity. U.S. intelligence officer Amanda Waller has determined only a secretly convened group of disparate, despicable individuals with next to nothing to lose will do. However, once they realize they weren't picked to succeed but chosen for their patent culpability when they inevitably fail, will the Suicide Squad resolve to die trying, or decide it's every man for himself?
David Ayer is directing SUICIDE SQUAD, which stars Jared Leto as The Joker, Will Smith as Deadshot and Margot Robbie as Harley Quinn. Also in the cast are Joel Kinnaman, Cara Delevingne, Viola Davis, Adam Beach, Ike Barinholtz, Adewale Akinnuoye-Agbaje and Scott Eastwood. - Warner Bros. Pictures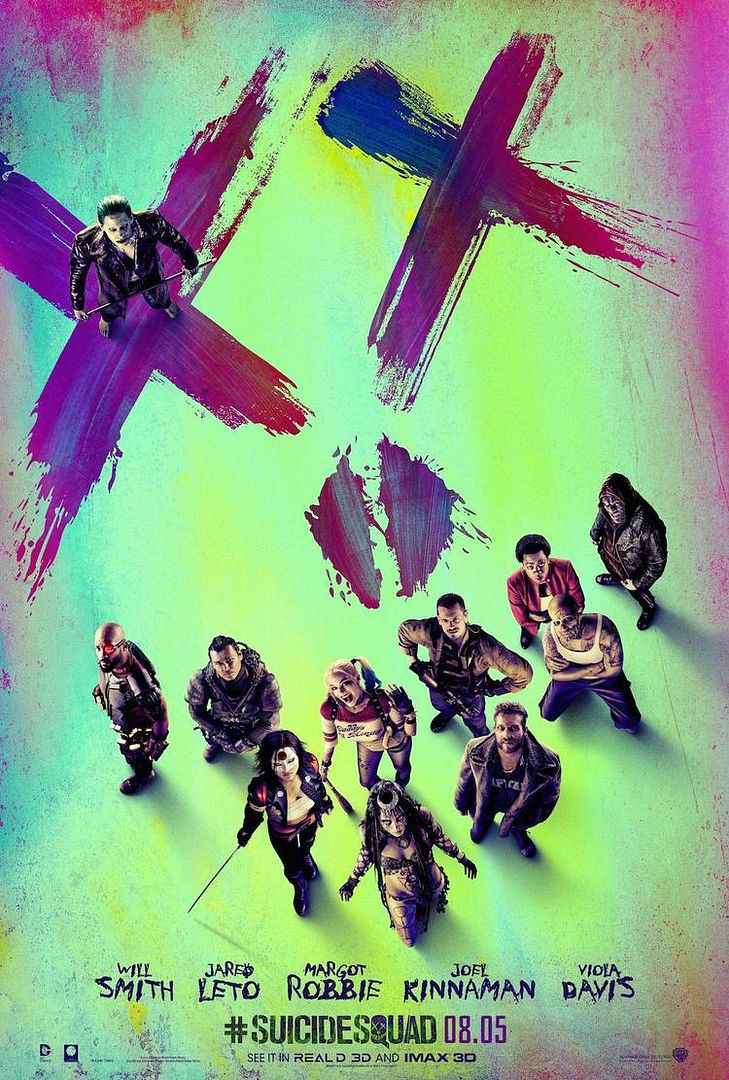 EDITOR'S NOTE: The author erroneously called this film's Ace Chemicals "Axis Chemicals" in his review, and the editor did not correct the mistake in the original edit. Also, due to a typo by the editor, the author's true grade of "C+" has been corrected as well. – "Jett"
"Would you die for me?"
"Yes."
"Would you LIVE for me?"
This scene - which features The Joker (Jared Leto) and his psychiatrist/crazy girlfriend, Dr. Harleen Quinzel (Margot Robbie) at Ace Chemicals - is a scene that lingers in my memory with such seduction, such sexiness, such decadence and such, dare I say "joy," that I wish more of SUICIDE SQUAD centered around the world's most dysfunctional couple this side of Sid and Nancy - rather than the Enchanted Witch and her endless CGI cheese fest.
Ah, what could've been…
Directed by David Ayer, SUICIDE SQUAD is the 3rd installment of the new DC Extended Universe (DCEU). Following Zack Snyder's MAN OF STEEL and BATMAN v SUPERMAN: DAWN OF JUSTICE, SS takes us on a journey through the eyes of some of DC's most unsavory villains.
Former covert agent Amanda Waller (Viola Davis) creates a highly classified team of nefarious characters (which includes meta-humans) to – as Will Smith's Deadshot so eloquently states – "save the world." Others include our first cinematic Harley Quinn, Captain Boomerang (Jai Courtney), El Diablo (Jay Hernandez), Killer Croc (Adewale Akinnuoye-Agbaje) and the Enchantress (Cara Delevingne).
The latter has a tangled love affair with an elite soldier, Rick Flag (Joel Kinnaman), that apparently Waller orchestrated to set up her perfect scenario for success.
Or at least that is how I interrupted it – I don't know, you tell me.
The murky plot is one of many problems I have with this film.
Other issues I have with this film include disengaged editing, a horrible choice for the villain, CGI overkill, and a very disjointed tone.
To elaborate, I feel like there is a tug of war with the post-Nolan DC films. On the one end, they seek to be more grounded than the Marvel outings; yet, they are also trying to be more cartoonish/comic bookie than the THE DARK KNIGHT TRILOGY. And all too often, the result is a mismatch of tone- that inevitably has a cascading negative effect on the entire film.
The review continues after the podcast!

Now, this probably sounds like I hated the movie - and that it deserves its current 26% rating on Rotten Tomatoes - but guess what? Even with aforementioned analysis intact, I still find myself loving so much about the film, that I ultimately LIKED it…in spite of itself.
The reason being has a very simple explanation: The Cast.
Other than wishing Tom Hardy's schedule would have allowed him to play Rick Flag - I cannot praise the cast enough.
Standouts include Davis's Waller, Robbie's Harley Quinn and – wow – Will Smith has NEVER been better!
But the person I had my eye on the most, was none other than Jared Leto and his take on The Clown Prince of Crime, himself, THE JOKER.
His performance deliciously oozes of madness, derangement and that crazy, sick "Joker" confidence that we have all come to love over the years.
I loved every minute he was on screen.
And to come full circle, I wish more of the film FELT like it did when he was present.
It was grittier, funnier and CGI-free.
The much-anticipated pairing of The Joker and Harley for the first time on film certainly delivered the goods.
Affleck's Batman cameos are also a lot of fun -in fact, my favorite scene is actually with The Bat, Deadshot and his adorable daughter! In the end, the film still has too many issues to be great…or even good.
And this seems to be the overall problem with the DCEU. We are now three films in, and all of them were on the verge of greatness; yet, they just continue to fall short. Hell, the part that scares me the most, is that they've progressively gotten a little worse and not better.
WONDER WOMAN…you are our last hope. - Rick Shew
GRADE: C+
Rick Shew is a lifelong Batman fanatic.
His love for Batman traces back to the ripe age of 5 when he became obsessed with the 1960's TV show and later a diehard Batman bomic book reader (THE KILLING JOKE remains his all time favorite).
As an actor, Rick has appeared in numerous films, local & national commercials and over a dozen theatrical productions. However, his favorite gig of all time was playing Superman, alongside Batman, Batgirl, The Green Lantern & Wonder Woman in the "DC Comics Live" show at Six Flags San Antonio, TX.
Although Rick attended The University of North Texas, he is a diehard Texas Longhorns football fan. He is a HUGE fan of THE Dallas Cowboys as well (#DezCaughtIt).
Other likes include cooking, reading and hosting his left leaning political page LeftShewPolitics. Rick helped conceptualize a bar in Dallas (where he also sits as a financial investor), NICKEL AND RYE. So, when in Dallas, please come have a bite and a drink!
Rick resides in Dallas with his 3 beautiful women (his wife and their 2 daughters), his kitty cat and his dog, Cooper.
Follow Rick on Twitter @SHEWRICK, and
listen to him co-host the BATMAN ON FILM PODCAST.

comments powered by