Armie Hammer Talks JUSTICE LEAGUE: MORTAL Bat-Suit
Posted by: Bill "Jett" Ramey (Follow @BATMANONFILM)
Date: October 21, 2010

EDITOR'S NOTE: In light of the images that revealed Megan Gale as Wonder Woman from the never-made JUSTICE LEAGUE: MORTAL (see below), I'm sure that many folks want to know what Armie Hammer's Bat-Suit from the film looked like. From a 2010 post on BOF, below you'll find Mr. Hammer's description of his Bat-Threads. - "Jett"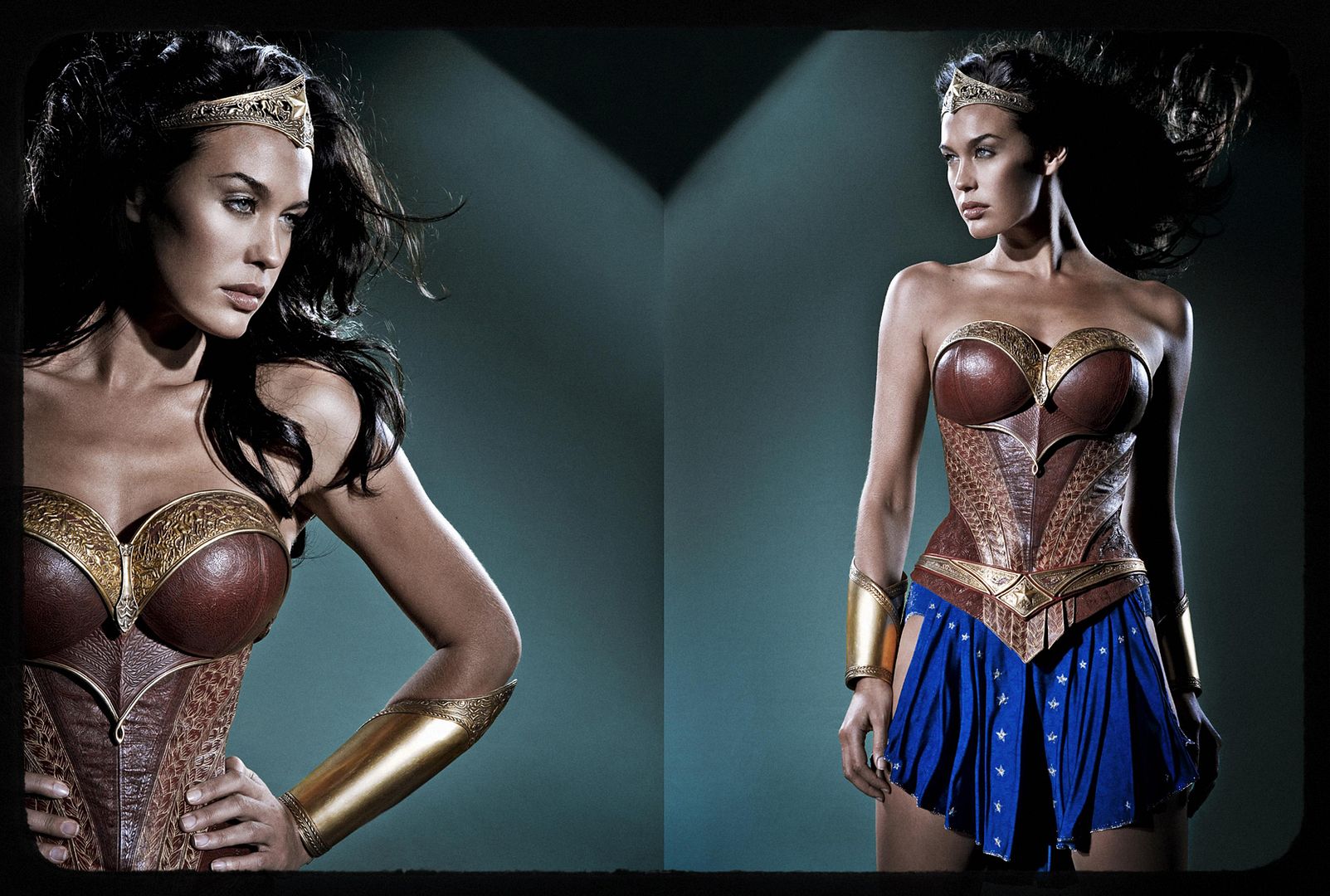 Megan Gale as JUSTICE LEAGUE: MORTAL's Wonder Woman
Back in November of 2007, BOF broke the story that Armie Hammer had been cast as Batman in the now dead-as-a-doornail JUSTICE LEAGUE: MORTAL film. No pictures of Hammer or any other member of the cast has ever leaked online -- or anywhere else for that matter. However, Hammer recently described the Bat-Suit he would have sported in the film during an interview with NYMAG.COM...
"It was very, very character-specific. It did have a semblance of a battle-armor feel, but at the same time, because it was so character-specific, it was all made out of the finest materials. Because Batman has such incredible resources, his utility belt was made from the finest Italian leather and highly polished, and the things that would come out of his forearm, they were titanium but wrapped in very fine leather. I mean, it was all really well-done, very utilitarian. This was before Christopher Nolan's THE DARK KNIGHT had come out, and this was going to be the first movie where Batman would be able to turn his head [in the cowl]. We had the first bat-suit that let the head turn, it just never got the chance to make it onto the screen."
I'll admit, I'd love to see what that that costume actually looked like. ANYWAY...

Armie Hammer
Yes, I was BIG TIME against this film being made and campaigned against it here on BOF. I was especially against one back then as the Batman film franchise had just gotten back on track with BATMAN BEGINS and THE DARK KNIGHT was still in production. The idea of two Batmen on film at the same time was idiotic. Plus, Nolan would've walked away if they had gone through with the film.
I'll admit I was rather hard George Miller and Warner Bros. over the film and the casting of Hammer as Batman, but I've got nothing personal against the guy at all. In fact, I think he'd be more suited for Superman than Batman anyway.

comments powered by