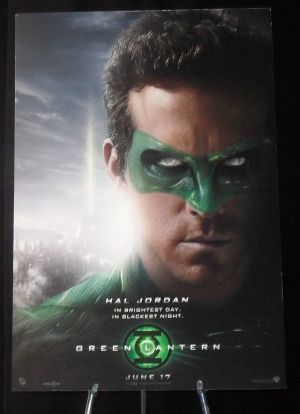 I'm not going to go all "revisionist history" here and claim that I'm a huge, lifelong Green Lantern fan. But I've always thought the character was cool and have long hoped for a great GL film.
Well, that time has finally come my friends.
Mark my words: This Summer's GREEN LANTERN -- starring Ryan Reynolds, Blake Lively, Mark Strong, and Peter Sarsgaard -- will go down as one of the best comic book-based films to date.
I came out to San Francisco to attend Wondercon 2011 for the sole purpose of checking out Warner Bros.' GREEN LANTERN presentation. Stars Ryan Reynolds (Hal Jordan/Green Lantern) and Blake Lively (Carol Ferris) were on stage along with DC Entertainment Chief Creative Officer -- and GL guru -- Geoff Johns who served as moderator.
Before the two actors walked out onstage, 10 minutes -- yes 10 MINUTES! -- of exclusive footage from the film was screened for the audience (FYI: Met some very cool BOF'ers there too!). Essentially, we got to see Hal Jordan's Green Lantern origin story. Here's a quick rundown of what was in the footage (You can check out 4 minutes of it HERE)…
* The villainous smoke/energy being known as Parallax attacks GL Abin Sur (Temuera Morrison) and mortally wounds him.
* Abin Sur sends a message to GL Sinestro (Mark Strong) warning him of Parallax's coming threat to the entire GL Corps.
* Abin Sur's ship crashes in front of test pilot Hal Jordan (Ryan Reynolds). Hal tries to save the alien, but he soon dies -- not before giving Hal a green lantern, ring, and telling him to recharge the ring by "reciting the oath."
* Back at his apartment, Hal tries to do what the "alien with the purple blood told him to do." There's just one problem: He has no idea what "The Oath" is. Hal tries his best with a variation of the "Pledge of Allegiance." All f a sudden, the lantern lights up (it looks really cool) and Jordan instantly delivers the iconic Green Lantern Oath. As soon as he finishes with the word "light," Hal is propelled through space via some sort of energy portal to Oa, which of course is home to the GL Corps.
* Once on Oa, we get to see the Corps with both the aforementioned Sinestro and Tomar Re (voiced by Geoffrey Rush) getting the spotlight.
* The clip ends with a assortment of quick shots from the film ending with GL Hal firing off a ring-created Gatling gun!
If you were one of those who were, *ahem*, "concerned" by what you saw in the first trailer, I can assure you that it's time to stop worrying about this film. What I saw was simply breathtaking -- and I saw it on a big video screen and HD monitor and not in a theater as it's intended to be seen. Also, if there's anyone still thinking that this film is going to be a comedy, just STOP. Really, you're going to look dumb.

Blake Lively, Ryan Reynolds, and Geoff Johns
Oh yeah, here's 4 minutes of it...
After the footage, Lively and Reynolds joined Johns onstage and took questions from the audience. If you've ever been to one of these panels at a Con, then I'm sure you are familar with the sort of stuff that fans ask. Regardless, both Blake and Ryan entertained them with a smile and answered their inquiries respectfully and to the best of their ability.
One thing I've got to point out about Ryan Reynolds: This is one sharp, engaging, funny, and quick-witted dude. When asked how it felt to play a villain like Deadpool and now play a hero like Hal, Ryan deadpanned a classic response: "Deadpool is not a villain. He's an asshole."
It was also quite clear that Reynolds really digs the fact that he's in this film and went to extra mile to deliver a great performance. GL fans should be proud to have him as Hal Jordan. Hell, I'm not even a GL fan per se and I'm proud to have him in the role!
After the panel, I went to an adjoining room for roundtable interviews with Blake and Ryan. Both were very cool, engaging, and displayed quite the passion for the film.
When asked if she knew anything about Green Lantern and the GL mythologies prior to being cast as Carl Ferris, Lively admitted that she was absolutely clueless. Since then, she's become quite the GL aficionado. I also noted how passionate she was about the role and "doing it right" for the fans. She insisted that Carol be a brunette as she is in the comics despite the fact that Lively is a natural blonde. She also seems to have a keen interest in playing Star Sapphire in a potential sequel.
As far as the chat with Ryan Reynolds, I can sum it up best by saying he's a great guy. I'd certainly like to sit down and have a cold beer with him -- which is one of the greatest complements I can pay another dude.
Here's my exchange with Mr. Reynolds…
JETT: How much have you seen of the movie? And is there anything you've seen that really blew you away because so much was done in post?
RR: Yeah. I've been in South Africa the last two and a half months and in GREEN LANTERN months, that's like 30 years in terms of post production. Things happen in leaps and bounds in that amount of time. I got back a day and a half ago and just now got rid of my drool cup because it's a long fight. The footage that I've seen so far has just been incredible. I've not seen anything like I just did now. This is so much further along than when I left.
JETT: So when you see the final product or the finished film, will it be like seeing it for the first time almost?
RR: It's all seeing it for the first time! It's amazing. You go from a soundstage with four walls and a blue screen, and suddenly you're in a whole other world. It's incredible!
JETT: How dark is it, Ryan?
RR: It never goes [THE] DARK KNIGHT or anything like that. It's nowhere near that, but it has moments. I would say it sort of walks that tightrope between those tones, THE DARK KNIGHT tones and some of the more recent iterations of the comic book world with Tony Stark and those kinds of things.
JETT: With so much happening on Oa and in space, how much Earth crime-fighting and kicking ass does Hal get to do?
RR: I'd say, if we want ratios, 50/50. 50% Earth, 50% Oa, 50% other stuff. Other surprises to come. I know I'm terrible at math. I'm an actor.
JETT: Cool, thanks!
Hopefully this report will not only make you feel better about GREEN LANTERN, but get you totally fired-up and psyched for it as well! I'm not kidding when I say that I'm almost, almost as fired up for this one and potential GREEN LANTERN sequels as I am for next year's THE DARK KNIGHT RISES.
Come on July 17, 2011!
(For a more detailed report on GREEN LANTERN, visit our sister site MODERNMYTHMEDIA.COM. Definitely check our Sean's "Getting to know GREEN LANTERN" installments.)