BOF's Coverage of Non-Batman
DC Comics-Based Film and TV Projects!
THE FLASH - First Trailer (UPDATED!)
Posted by Jett on Thursday, May 14, 2014
UPDATE: The first video posted was a teaser trailer for THE FLASH. Here is its full trailer...
Here's the teaser trailer for THE FLASH TV series...
TV's The Flash - Full Costume Revealed!
Posted by Jett on Tuesday, March 11, 2014
Warner Bros. Television has revealed Grant Gustin is his full Flash costume...
The costume designed by three-time Academy Award-winner Colleen Atwood. "I hope the fans who treasure the character are as excited as we are by what costume designer Colleen Atwood has achieved with this latest version of The Flash's iconic suit," pilot director/executive producer David Nutter said in a press release.
First Look at TV's The Flash!
Posted by Jett on Friday, February 28, 2014
Via their official TWITTER PAGE, The CW has released a pic of Grant Gustin as "The Flash."
The Flash is Coming to TV
Posted by Jett on Tuesday, July 30, 2013
According to DEADLINE, The CW TV network is fast-tracking a new series based on DC Comics' The Flash. It also looks like The Flash will be introduced on The CW's ARROW this upcoming season and then spinning the character off into its own series. The site also reports that the series will be written by Greg Berlanti, Andrew Kreisberg and DC Entertainment's Geoff Johns. For the full story -- which includes an update -- click on the link provided.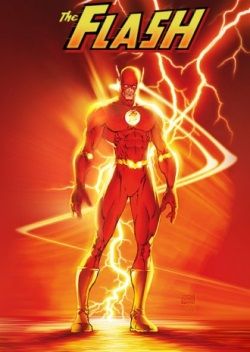 Del Toro Has Big Plans For "Justice League Dark" Movie
Posted by Jett on Tuesday, February 26, 2013
I so hopes this pans out!
Here's the latest on "Justice League Dark" from potential director Guillermo Del Toro (via TOTALFILM.COM...
"I am going to be presenting my storyline to DC and Warners of where I want to take this universe. We do have a writer, but until that is firmed up, I have to keep it a secret. I hope it happens. It's going really really well. I'd love to use the origins that are proper to each character. I love the idea of Jason Blood as a paladin and a knight. I love the entire Constantine mythology, the Dead Man mythology, the Alex Holland Swamp Thing mytholog It's like meeting old friends. I grew up with Demon Etrigan, with Swamp Thing, with Deadman, so these are characters that are near and dear to my heart."
Guillermo del Toro Confirms DARK UNIVERSE (AKA "Justice League Dark")
Posted by Jett @ 10:00 AM on Monday, January 7, 2013

Via
IGN
, Guillermo del Toro has confirmed that he's working on a DC Comics-based film called
DARK UNIVERSE
. The movie's hero lineup includes Swamp Thing, The Demon, John Constantine, Deadman, The Spectre, Zatara and Zatanna.
"I'm working on it. I'm writing the outline and we're already in talks with a writer. A very, very good writer. People are probably going to be happy with who we have chosen. He accepted. I've been courting this writer, who I think is the perfect guy for this job. We're doing it. Hopefully it will happen."
"The movement for this happened before [THE AVENGERS]. They already galvanized to launch JUSTICE LEAGUE and they were galvanized to make their universe cohesive. They are really, really -- with [MAN OF STEEL] -- very, very confident with what they have. They are now feeling they have two pillars. Batman and Superman. There's a foundation that now they can build on."
For the full interview, click on the link provided above.
The news continues after the jump!

Del Toro Hopes HEAVEN SENT (AKA JUSTICE LEAGUE DARK) Happens
Posted by Jett @ 3:00 PM on Friday, November 9, 2012

Via
MTV
, director Guillermo Del Toro is totally on board with a helming a DC Comics-based, "Supernatural Justice League" movie. Check it out...
"When somebody asked me about 'Justice League'…I'm not involved in 'Justice League.' I am discussing…I've been discussing with the fans and I've been very, very open about how much "Swamp Thing" was key when I was a kid. Comics in Mexico came on the first two days of the week. Around Tuesday and Wednesday I would go to the newsstand on my bicycle and I would get "Swamp Thing" every time it was available and I loved Jack Kirby's "Demon". I love Constantine and all that. You know, I've been pursuing doing something with them for many, many years. Hopefully it'll come to pass. But we are still just discussing."
As I've been saying, MAKE THIS HAPPEN WARNER BROS.!
Warner Bros. Planning a "Justice League Dark" Film?!
Posted by Jett @ 3:00 PM on Friday, November 2, 2012

As someone who is a big fan of The Spectre and Deadman, this is great news and I'm already on board!
According to my friends over at LATINO-REVIEW.COM, director Guillermo del Toro is keen on helming a DC Comics-based team-up film called HEAVEN SENT. This film would feature the best of DC's supernatural heroes -- Deadman, The Spectre, Swamp Thing, John Constantine, Phantom Stranger, Zatanna, Zatara, Sargon and Etrigan The Demon -- teaming up to fight, well, some sort of super-evil I'm sure. For the full story, visit LR via the link provided. One more thing...
Listen to me Warner Bros., DO THIS AND DO IT NOW! What a fresh take on the comic book superhero movie genre this would be!
comments powered by