The Flash is Coming to TV
Posted by Jett on Tuesday, July 30, 2013
According to DEADLINE, The CW TV network is fast-tracking a new series based on DC Comics' The Flash. It also looks like The Flash will be introduced on The CW's ARROW this upcoming season and then spinning the character off into its own series. The site also reports that the series will be written by Greg Berlanti, Andrew Kreisberg and DC Entertainment's Geoff Johns. For the full story -- which includes an update -- click on the link provided.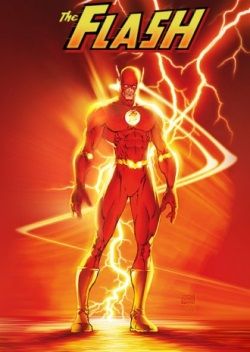 My thoughts? Well, this doesn't bode well for a Justice League film. In my opinion, there's no way that they'll make a JL film and use characters from DC-based TV shows – just like they never would bring SMALLVILLE to the big screen as a Superman movie.
From what I've heard, the second MAN OF STEEL sequel (after 2015's BATMAN VS. SUPERMAN) is going to be a "Trinity" film with Superman, Batman, and Wonder Woman. Wanna bet?
comments powered by
Del Toro Has Big Plans For "Justice League Dark" Movie
Posted by Jett on Tuesday, February 26, 2013
I so hopes this pans out!
Here's the latest on "Justice League Dark" from potential director Guillermo Del Toro (via TOTALFILM.COM...
"I am going to be presenting my storyline to DC and Warners of where I want to take this universe. We do have a writer, but until that is firmed up, I have to keep it a secret. I hope it happens. It's going really really well. I'd love to use the origins that are proper to each character. I love the idea of Jason Blood as a paladin and a knight. I love the entire Constantine mythology, the Dead Man mythology, the Alex Holland Swamp Thing mytholog It's like meeting old friends. I grew up with Demon Etrigan, with Swamp Thing, with Deadman, so these are characters that are near and dear to my heart."
SUPERMAN: UNBOUND Trailer/Details
Posted by Jett @ 12:00 PM on Monday, February 4, 2013

Via Warner Home Video, below you'll find the trailer for and details about the upcoming DCU Animated film,
SUPERMAN: UNBOUND
.
SUPERMAN: UNBOUND is coming to Blu-ray, DVD, On Demand and For Download via Warner Bros. Home Entertainment on May 7, 2013.
Based on the Geoff Johns/Gary Frank 2008 release "Superman: Brainiac," SUPERMAN: UNBOUND finds the horrific force responsible for the destruction of Krypton – Brainiac – descending upon Earth. Brainiac has crossed the universe, collecting cities from interesting planets – Kandor, included – and now the all-knowing, ever-evolving android has his sights fixed on Metropolis. Superman must summon all of his physical and intellectual resources to protect his city, the love of his life, and his newly-arrived cousin, Supergirl.
The film's stellar voicecast is led by Matt Bomer as Superman, John Noble (Fringe, The Lord of the Rings films) as Brainiac, Stana Katic as Lois Lane and Molly Quinn as Supergirl.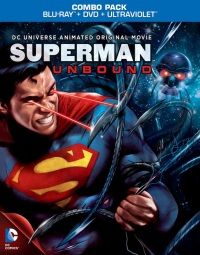 Guillermo del Toro Confirms DARK UNIVERSE (AKA "Justice League Dark")
Posted by Jett @ 10:00 AM on Monday, January 7, 2013

Via
IGN
, Guillermo del Toro has confirmed that he's working on a DC Comics-based film called
DARK UNIVERSE
. The movie's hero lineup includes Swamp Thing, The Demon, John Constantine, Deadman, The Spectre, Zatara and Zatanna.
"I'm working on it. I'm writing the outline and we're already in talks with a writer. A very, very good writer. People are probably going to be happy with who we have chosen. He accepted. I've been courting this writer, who I think is the perfect guy for this job. We're doing it. Hopefully it will happen."
"The movement for this happened before [THE AVENGERS]. They already galvanized to launch JUSTICE LEAGUE and they were galvanized to make their universe cohesive. They are really, really -- with [MAN OF STEEL] -- very, very confident with what they have. They are now feeling they have two pillars. Batman and Superman. There's a foundation that now they can build on."
For the full interview, click on the link provided above.
The news continues after the jump!

The Villain of JUSTICE LEAGUE Will Be...
Posted by Jett @ 10:00 AM on Monday, December 3, 2012

Per "El Mayimbe" over at
LATINO-REVIEW.COM
, the villain for the upcoming
JUSTICE LEAGUE
film will be...
Darkseid. Oh boy! It doesn't get better than seeing Batman on film fighting a god and not regular badguys like Two Face, The Joker, The Riddler or The Penguin. For the full story, hit the link above.
Del Toro Hopes HEAVEN SENT (AKA JUSTICE LEAGUE DARK) Happens
Posted by Jett @ 3:00 PM on Friday, November 9, 2012

Via
MTV
, director Guillermo Del Toro is totally on board with a helming a DC Comics-based, "Supernatural Justice League" movie. Check it out...
"When somebody asked me about 'Justice League'…I'm not involved in 'Justice League.' I am discussing…I've been discussing with the fans and I've been very, very open about how much "Swamp Thing" was key when I was a kid. Comics in Mexico came on the first two days of the week. Around Tuesday and Wednesday I would go to the newsstand on my bicycle and I would get "Swamp Thing" every time it was available and I loved Jack Kirby's "Demon". I love Constantine and all that. You know, I've been pursuing doing something with them for many, many years. Hopefully it'll come to pass. But we are still just discussing."
As I've been saying, MAKE THIS HAPPEN WARNER BROS.!
Warner Bros. Planning a "Justice League Dark" Film?!
Posted by Jett @ 3:00 PM on Friday, November 2, 2012

As someone who is a big fan of The Spectre and Deadman, this is great news and I'm already on board!
According to my friends over at LATINO-REVIEW.COM, director Guillermo del Toro is keen on helming a DC Comics-based team-up film called HEAVEN SENT. This film would feature the best of DC's supernatural heroes -- Deadman, The Spectre, Swamp Thing, John Constantine, Phantom Stranger, Zatanna, Zatara, Sargon and Etrigan The Demon -- teaming up to fight, well, some sort of super-evil I'm sure. For the full story, visit LR via the link provided. One more thing...
Listen to me Warner Bros., DO THIS AND DO IT NOW! What a fresh take on the comic book superhero movie genre this would be!
Will Chris Nolan "Godfather" the DCU on Film?
Posted by Jett @ 7:00 AM on Friday, June 8, 2012

According to a new article over at
VARIETY.COM
, Warner Bros. is actively prepping films based on their staple of DC Comics characters.
We learned earlier in the week that Will Beall is writing a script for a potential film Justice League film, while Michael Goldenberg has been tapped to pen a script based on Wonder Woman.
We already know that Batman on film will be rebooted shortly and it will be produced by Chris Nolan and wife Emma Thomas. Of course, the Nolan's have already served a similar role in bringing Superman back to the big screen with next Summer's MAN OF STEEL. The VARIETY piece strongly hints that Warner Bros. will try to get Mr. Nolan to oversee the DC Universe on film.
Besides JL, Wonder Woman, the Batman reboot, and MAN OF STEEL, Warner Bros. is also developing films based on Lobo, The Flash, Aquaman, the Suicide Squad , Captain Marvel/Shazam and either a sequel or reboot of Green Lantern.
And maybe, just MAYBE, the folks in charge over at Warner Bros. are starting to get it. Check out this quote from the article: "According to sources close to the development process, the studio learned that when making a superhero pic, it needs to tap creatives that genuinely understand the characters the way Joss Whedon was comfortable with THE AVENGERS."
Uh, ya think?! Anyway...
Come on Warner Bros., hire Chris Nolan to "godfather" these films, bring on filmmakers who "get" these great characters and start getting them out there!
Beall Tapped to Pen JUSTICE LEAGUE
Posted by Jett @ 7:00 AM on June 6, 2012

Per
VARIETY.COM
, Warner Bros. has hired scribe Will Beall to pen a script for a potential
JUSTICE LEAGUE
film. According to the report, this hire took place sometime last year (2011). Here's an excerpt...
Beall has yet to turn in his "Justice League" script, though he has become a favorite scribe of Warners. He's writing the studio's "Lethal Weapon" reboot and its remake of "Logan's Run," which is expected to reteam "Gangster Squad" thesp Ryan Gosling with his "Drive" director Nicolas Winding Refn. Warners will release "Gangster Squad" on Sept. 7.
Warners originally tried to mount a "Justice League" movie several years ago, with George Miller directing from a script by Kieran and Michele Mulroney. That iteration was set to star Adam Brody as the Flash, Megan Gale as Wonder Woman and then-newcomer Armie Hammer as Batman. Back in January 2008, the studio cited a lack of tax breaks as the main reason it pulled the plug on the project, which also needed a rewrite that wasn't possible because of the writers' strike.
DC Comics is a vital component of Warner Bros.' intellectual property, as "Green Lantern" scribes Marc Guggenheim and Michael Green were tapped to write "The Flash" for director Greg Berlanti, while another "Green Lantern" scribe, Michael Goldenberg, was hired to write "Wonder Woman." Additionally, Brad Peyton is working on a new draft of "Lobo," while John Kamps and David Koepp are developing "Spy vs. Spy" as a potential directing vehicle for Ron Howard. WB also developed the "Aquaman" property several years ago.
So, will this JUSTICE LEAGUE have a different continuity from the upcoming MAN OF STEEL and the already-announced Batman on film reboot which will be produced by Chris Nolan and Emma Thomas? Interesting to say the least. For the full story, click on the link provided.
Laurence Fishburne is Perry White in MOS
Posted by Jett @ 8:00 AM on 8/3/11

Per
HERO COMPLEX
, Laurence Fishburne has been cast as Perry White in
MAN OF STEEL
. Click on the link provided for the full story.
GREEN LANTERN 2, THE FLASH Still in the Works
Posted by Jett @ 9:00 AM on 8/2/11

According to a report via
HERO COMPLEX
, Warner Bros. is still interested in a sequel to
GREEN LANTERN
and says it needs to be "a little edgier and darker with more emphasis on action." The reports also says that
GL
director Martin Campbell -- though he has a contract to helm a sequel -- probably will not return.
The story also mentions the "in-development" movie based on The Flash saying Warner Bros. has a "solid script." For the full report, click on the link provided.
Cavill Talks MAN OF STEEL
Posted by Jett @ 10:00 AM on 7/26/11

Henry Cavill talked to
MTV
at SDCC '11 about his upcoming turn as Superman in
MAN OF STEEL
...
MAN OF STEEL - Summer 2013 Release
Posted by Jett @ 2:53 PM on 7/21/11

Lennix Joins MAN OF STEEL Cast
Posted by Jett @ 9:36 AM on 7/9/11

Live-Action Wonder Woman Film in 2013?
Posted by Jett @ 3:40 PM on 7/5/11

Meloni in MAN OF STEEL
Posted by Jett @ 8:43 AM on 6/25/11

UPDATED! Via NYMAG.COM, Mr. Meloni is will be playing a "general" in MAN OF STEEL.
Julia Ormond to play Lara in MAN OF STEEL?
Posted by Jett @ 2:25 PM on 6/22/11

Russell Crowe to be Jor-El in MAN OF STEEL?
Posted by Jett @ 9:00 AM on 6/21/11

HAWKMAN Film in the Works
Posted by Jett @ 9:20 AM on 5/31/11

Michael Shannon Talks MAN OF STEEL Audition
Posted by Jett @ 11:39 pM on 4/12/11

Michael Shannon cast as General Zod in MAN OF STEEL
Posted by Jett @ 3:59 pM on 4/10/11

Henry Cavill Talks MAN OF STEEL
Posted by Jett @ 10:00 AM on 4/3/11

Amy Adams Cast as Lois Lane in Superman Reboot
Posted by Jett @ 8:19 AM on 3/28/11

Kevin Costner Confirmed as Jonathan Kent in SUPERMAN
Posted by Jett @ 5:00 PM on 3/19/11

Diane Lane Cast as Martha Kent in SUPERMAN
Posted by Jett @ 1:00 PM on 3/3/11

Kevin Costner Up For SUPERMAN Role?
Posted by Jett @ 2:00 PM on 2/21/11

1st Image of Cavill as Superman...Sorta
Posted by Jett @ 12:00 PM on 2/17/11

Henry Cavill Cast as Superman!
Posted by Jett @ 2:46 ^M on 1/30/11

THE MAN OF STEEL Is Totally Snyder's Baby
Posted by Jett @ 10:33 AM on 12/7/10

An Aquaman Movie Coming...Eventually
Posted by Jett @ 11:33 AM on 12/1/10

DC Entertainment: No Justice League Movie Planned
Posted by Jett @ 12:11 PM on 10/9/10

It's Official: Zack Snyder Lands A SUPER-Gig!
Posted by Jett @ 6:30 PM on 10/4/10


"Jett" and director Zack Snyder at the
SUCKER PUNCH party at San Diego Comic Con 2010
Nolan Looking For Super-Director

Posted by Jett @ 1:58 PM on 9/21/10

Scribe Offers Updates on THE FLASH & GREEN LANTERN
Posted by Jett @ 4:44 PM on 8/2/10

GREEN LANTERN Animated Series Coming Soon,
THE FLASH Movie Close To Greenlight, And a SUPER Holiday 2012!
Posted by Jett @ 10:27 AM on 5/28/10

It's Official: Chris Nolan "Godfathering" THE MAN OF STEEL!
Posted by Jett @ 9:10 AM on 3/10/10

GREEN LANTERN Starts Shooting In March '10
Posted by Jett @ 6:45 PM on 1/6/09