Cavill: JUSTICE LEAGUE Is Not "Around the Corner"
Posted by: Bill "Jett" Ramey (Follow: @BATMANONFILM)
June 26, 2013

Preach on brother!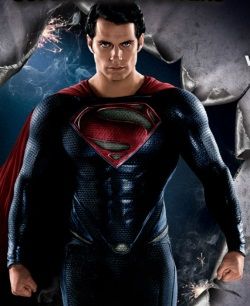 In a recent interview with ABC News (via VARIETY.COM), Henry Cavill -- the star of MAN OF STEEL -- says folks might want to tap the breaks with all the JUSTICE LEAGUE movie talk.
"[A JUSTICE LEAGUE film] a very tough one to do because the DC comic heroes are all god-like in their power. So in this real world universe, real-world setting weíre telling our story in, itís going to be tough to achieve that.It has to be done very delicately with a lot of thought. So, it wonít be right away. I hope itís not, anyway. It may take some time of building up other movies and other characters and introducing them together in one way or another."
Yeah, with the new Superman film series just now starting, wouldn't it be best to let the filmmakers involved -- Zack Snyder and David Goyer -- tell the Superman story they'd like to tell WITHOUT having to "Marvelize" the damn thing for a future JL movie? Anyway, Cavill was also "politically correct" in regards to a future JL film...
"I think it would be great to do, but I donít think itís around the corner."
Here's hoping Warner Bros. and DC on film stays on a straight course and never turns any corners.



comments powered by