Is David Goyer The DC On Film Boss?
Posted by: Bill "Jett" Ramey (Follow @BATMANONFILM)
November 21, 2013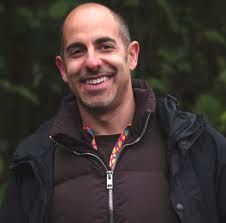 According to several online outlets -- in particular BLEEDINGCOOL.COM's Rich Johnston -- David Goyer is pretty much in charge of DC on film at Warner Bros. Check this out...
Basically, if you want a comic book movie made, you go to David Goyer. And now DC Comics won't have it any other way. I understand that people looking at making films based on the likes of 'Suicide Squad,' 'Booster Gold,' 'Deathstroke' and even 'Team 7' have been told that they have to partner or work with Goyer as producer. Which is why Geoff Johns's 'Sandman' movie project has David Goyer at the helm, and not Gaiman - though it's not certain Goyer will write the screenplay himself, he will be pretty darn hands on. Seems that Goyer's success on Batman and now Superman has resulted in Goyer being referred to by one producer as DC's 'Feige,' after Marvel's Kevin Feige."
As someone who has been publicly lobbying here on BOF for Mr. Goyer to head up DC on film for Warner Bros., this makes me happy as hell if true. I wholeheartedly believe that Warner Bros. needs a "Feige" to oversee any and all DC-based films for the studio going forward. If that dude is DSG, the move has got BOF's support. I've LONG been giving Mr. Goyer the props he deserves for his contribution to "The Dark Knight Trilogy." I also think he did a hell of a job writing MAN OF STEEL. Goyer knows the DCU and does a heck of a job adapting it to cinema.
Trust me – I'm not saying this because I'm pals with Mr. Goyer. Frankly, of all the folks I've met over the years doing BOF – be it at press junkets, film premieres, or parties – Mr. Goyer has come off as the most arrogant and, well, downright rude. So if I were biased and basing my opinion and recommendation simply on who has and hasn't been "cool" with me, Goyer would be at the bottom of my list. I just know that this dude is the best choice for the job.
For the full story, click on the link provided above.

comments powered by