SUPERMAN VS. THE ELITE
Author:
Bill "Jett" Ramey
June 5, 2012
SYNOPSIS: In the film, Superman's effectiveness as a super hero comes into question when a new group of super powerful crusaders, known as "The Elite," appear on the scene. As super heroes, the Elite know no bounds, and are more than willing to kill, even on a massive scale, to stop villainy -- putting them on a collision course with the ever-ethical and decidedly non-lethal Man of Steel.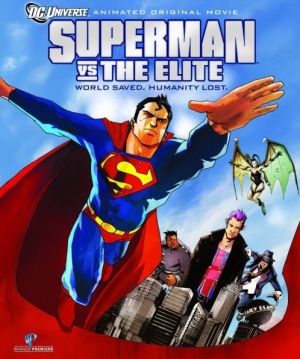 SUPERMAN VS. THE ELITE
is the latest PG-13 animated film from Warner Bros. Home Video/DC Entertainment…
And it just might be the best.
I had to go do some research here to see if was the story was original or an adaptation. In doing so, I discovered that it is, like most of these films, an adaptation of a comic book storyline -- in this case, 2001's "What So Funny About Truth, Justice and the American Way" (ACTION COMICS) #775 by writer Joe Kelly and pencils by Doug Mahnke and my friend Lee Bermejo.
From what I can gather (I've never read the source material), while it's based on a comic book story and the core plot remains the same, it isn't a straight-up adaptation -- like BATMAN: YEAR ONE for instance. It's actually more in line with the last film, JUSTICE LEAGUE: DOOM.
In short, the plot focuses on Superman's effectiveness as a superhero crime-fighter due to the fact that, like The Batman, Superman will not kill. Superman has never killed, so what's the big deal now? Well, a new group of super-powered beings show up in Metropolis, "The Elite," and have no issue in taking a life to stop criminals. In fact, it seems as if they actually enjoy it. Consequently, the ways of these new, young and brash superheroes eventually leads to a confrontation with The Man of Steel.
While we all love Superman and he is the hero of this story, you can't help but to think "Yeah, why doesn't Superman just kill criminals and get rid of 'em once and for all?" Thus, the movie make you question your own morality and sense of what is "right." Pretty heavy stuff for a animated film based on a comic book, eh?
I won't reveal how things turn out, but I will say that Superman holds steady to his beliefs and his core values despite the fact that most of the world -- including Lois Lane herself -- turns on him. But does he win in the end despite the fact that most folks believe Superman is a fossil and his ways are very "1950-ish" and outdated? You'll have to warch the film to find out, but I will say that this film is quite successful in making Superman "fit" into today's world.
Ironically, this is one of the reasons it's been so hard for filmmakers to bring Superman to the big screen and make him "relevant" to today's audience. Word has it that David Goyer and Christopher Nolan were successful in doing so when writing the script for the upcoming live-action MAN OF STEEL starring Henry Cavill and directed by Zack Snyder. We'll find out Summer 2013. Anyway..
Make no mistake, this is one dark and violent film -- one that, to me, pushes the limits of PG-13. In other words, it's not a "kid movie," so don't be buying it for pre-teen! - Bill "Jett" Ramey
GRADE: A
BONUS CONTENT
* Standard and high definition versions of the feature film
* UltraViolet™ Digital Copy
* Sneak Peak at Batman: The Dark Knight Returns, Part 1 -- the next DC Universe Animated Original Movie
* Featurette – "The Elite Unbound: No Rules, No Mercy" – A short documentary focused upon The Elite, and their arc of character throughout the comics. Even the anti-heroes have their own struggles … and triumphs. It's all highlighted in this compelling film that begins with the inspiration of The Authority, and how The Elite became the answer to that book, and a fresh approach for DC Comics in the post 9/11 world. It was an unexpected twist to the pages of Action Comics, and this documentary summarizes the true potency of these Elite.
* Featurette – "Superman and the Moral Debate" – There's a prevailing thought about ending terrorism and ridding our Earth of the maladjusted once and for all – by fighting fire with fire! This is the story of The Elite, a band of fringe Superheroes who were compelled to eradicate the Earth of its scum, its tyranny and evil once and for all, not with words, but with raw unadulterated action, designed to kill their opponents. This is their controversial story.
* Creative team audio commentary
* Two bonus episodes from Superman: The Animated Series handpicked by producer Alan Burnett: "Brave New Metropolis" and "Warrior Queen."
* Digital Comic - Action Comics #775: "What's So Funny About Truth, Justice & the American Way?"
* "All-Star Superman Revisited": sneak peak
* "Batman/Superman: Public Enemies Revisited": sneak peak
* Photo Gallery- The upcoming The Dark Knight Rises Theatrical Release