Film Review - SUPERMAN: UNBOUND
Author: Bill "Jett" Ramey (Follow @BATMANONFILM)
April 30, 2013

OFFICIAL SYNOPSIS: Based on the Geoff Johns/Gary Frank 2008 release Superman: Brainiac, Superman: Unbound finds the horrific force responsible for the destruction of Krypton – Brainiac – descending upon Earth. Brainiac has crossed the universe, collecting cities from interesting planets – Kandor, included – and now the all-knowing, ever-evolving android has his sights fixed on Metropolis. Superman must summon all of his physical and intellectual resources to protect his city, the love of his life, and his newly-arrived cousin, Supergirl.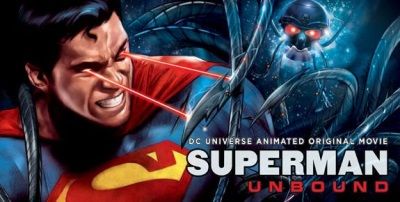 Other than Chris Nolan's "Dark Knight Trilogy," movies based on Warner Bros.' DC Comics assets haven't fared too well of late – well, when it comes to their live-action endeavors (I will say that MAN OF STEEL looks like a kickass winner! *fingers crossed*). However, when it comes to DC-based animated films, they've actually been quite good and successful.
A few days ago, the 16th installment of this series -- SUPERMAN: UNBOUND -- showed up on my doorstep via the fine folks at Warner Bros. Animation for reviewing purposes. After viewing it a couple of time this past weekend, I'm happy to report that it's yet another quality and enjoyable addition to the series.
SUPERMAN: UNBOUND is based on a 2008 story found in Superman comics, "Superman/Brainiac" by Geoff Johns and Gary Frank. Since I've never read this particular Superman comic book tale, I had to do a little research to learn a bit about it before writing this review. From what I can gather, it's not a straight-up adaptation of the Johns/Frank story-arc, but more of an "influenced by" sort of deal.
If you've previously read any of my reviews of the films from this series, I've been a bit critical of the word-for-word/panel-for-panel/comic book brought to life movies – BATMAN: YEAR ONE for example. I'm more in favor of the "loosely based on" stuff – like BATMAN: UNDER THE RED HOOD for example. With all that said, it's good to know that this is more like the latter example than the former – despite the fact that I've never laid eyes on the source material!
When it comes to the story, I found it quite entertaining – even with Supergirl in the mix (I'm not a big fan of sidekicks, FYI). Essentially, this film is full of "Kryptonian Mythology," if you will. Not only is Kara/Supergirl one of the main characters, but the bottled city of Kandor is also prominently featured and the main villain is Brainiac. I'm a fan of Brainiac and was happy to see Superman battle him in this movie instead of Lex Luthor yet again. (In fact, I'm really hoping that Brainiac is the main villain in the inevitable sequel to the live-action MAN OF STEEL.)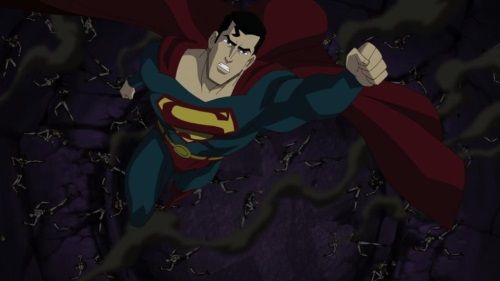 I know that for many, Tim Daly's voice is to the animated Superman the same way Kevin Conroy's is to animated Batman. While I'm definitely a fan of Mr. Daly's and Mr. Conroy's Superman and Batman voice work respectively, I always find it a bit refreshing when someone new gets a shot at providing the voices of DC's two most iconic characters. In this case, fellow Texan Matt Bomer does the talkin' for Superman – and Clark Kent too, naturally. Bomer does one heck of a job and I was thoroughly happy with his performance. In fact, Bomer was damn close to playing Superman/Clark Kent in a live-action film about a decade ago back when Brett Ratner was going to helm the JJ Abrams-penned Superman flick for Warner Bros. (CLICK HERE FOR THE FULL STORY VIA BOMER HIMSELF!)
Kinda cool, eh? Maybe Bill Murray will sign on to voice Batman someday? Probably not. Anyway...
While Bomer and the rest of the voice cast all provided top-notch performances, it was John Noble as Brainiac that stood out for me. While Brainiac does sound "robotic," there's the the slightest bit of, I don't know, "humanity" provided by Noble to give the character some, well, character.
When it comes to the animation, it's pretty much on par with what we've seen previously with these projects. There's nothing really different about the look of Superman – or any of the main characters for that matter. Just a few tweaks here and there that, I'm sure, are to make this one look a little different from what's come before. For example, Superman is a little "slimmer" than in other animated incarnations, but that's OK with me. I never understood why Superman – or Batman for that matter – had to be so "blocky" and disproportioned whenever they're animated. You know what I mean?
The only negatives that I can offer up (I'm not one of those writers/reviewers who love to nitpick and/or focus on the bad, OK?) is that the outcome is a tad contrived -- but what films nowadays aren't? Also, I'd say it feels a bit rushed, but with the 75 minute time restraints for these films, that's something that could be said about all of these projects. Petty criticisms? Indeed.
All in all, SUPERMAN: UNBOUND is yet another feather in the cap for the fine folks behind these animated films. Keep 'em coming!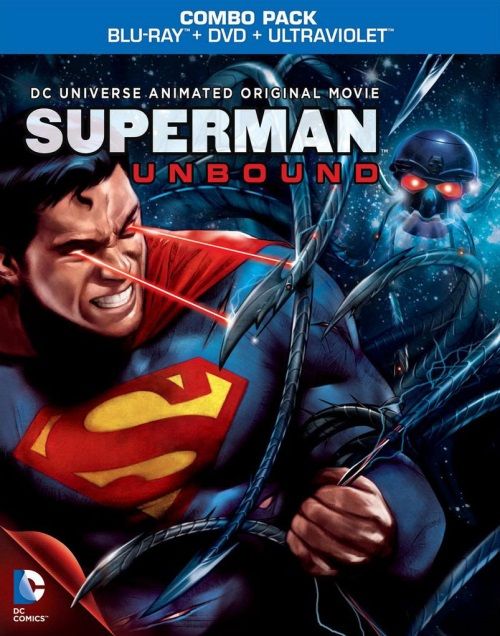 Produced by Warner Premiere, DC Entertainment and Warner Bros. Animation, SUPERMAN: UNBOUND film arrives May 7, 2013 from Warner Bros. Home Entertainment as a Blu-ray™ Combo Pack, DVD, On Demand and for Digital Download.



comments powered by