JUSTICE LEAGUE: WAR - Blu-ray Review
Posted by: Bill "Jett" Ramey (Follow @BATMANONFILM)
February 2, 2014

SYNOPSIS/INFO: When the powerful Darkseid and his massive, relentless forces invade Earth, a group of previously unaligned super heroes – misunderstood and, in some cases, hunted by the authorities – discover the only way to fend off the attack will be to work together as a cohesive unit. Batman, Superman, Wonder Woman, Green Lantern, Flash, Shazam and, in his origin story, Cyborg combine their respective talents in an all-out battle to save the planet. Based on the 2012 graphic novel, "Justice League: Origin," by Geoff Johns & Jim Lee, provides a glance into the world before the Justice League was created, and offers the initial animated incarnation of DC Entertainment's "The New 52."
REVIEW: The latest animated film from Warner Bros. and DC Comics is JUSTICE LEAGUE: WAR which is based on DC's New 52 comic book endeavor, JUSTICE LEAGUE: ORIGIN by Geoff Johns and Jim Lee. The voice cast includes Alan Tudyk as Superman, Jason O'Mara as Batman, Michelle Monaghan as Wonder Woman, Justin Kirk as Green Lantern, Shemar Moore as Cyborg, Christopher Gorham as Flash, Sean Astin as Shazam, and Steven Blum as Darkseid. It was written by Heath Corson and directed by the longtime vet of DC animated films, Jay Olivia.
As I said previously, it's based on a comic book story and one that I didn't read, so frankly, I can't tell you how much has been altered story-wise in this film adaptation – and that's probably a good thing. I can say that when it comes to the character's designs, they do sport their "New 52 Costumes," as opposed to the more "classic" versions we've seen in previous animated movies. (While I love Batman's New 52 design, I'm not thrilled with Superman's new aesthetic. I think it's that turtleneck-looking collar!)
Based on my viewing of JL:W, it appears to me that this is a kinda-sorta sequel to the previously released JUSTICE LEAGUE: THE FLASHPOINT PARADOX. If so – and that certainly appears to be the case – it looks as if WB/DC is moving away from one-off films and creating a unified animated DCU on film. As further proof of more continuity between these projects, Jason O'Mara – who voices Batman in JL:W -- is also voicing The Dark Knight in WB/DC's next film, SON OF BATMAN. If this is indeed the case – continuity between these animated films – I'm not sure what I think about it right now. Perhaps I'll give it some thought and discuss it later on a BOF op-ed piece. Anyway…
To me, JL:W was OK to good – probably somewhere in between. It's set in a world that's close to our own that's just recently become aware of these costumed beings with extraordinary powers – well, except for The Batman. I won't give too much of the plot away, but what you got here is an alien invasion story and these new "superheroes" have to band together to stop it Darkseid (who else?) and his minions from taking over the Earth.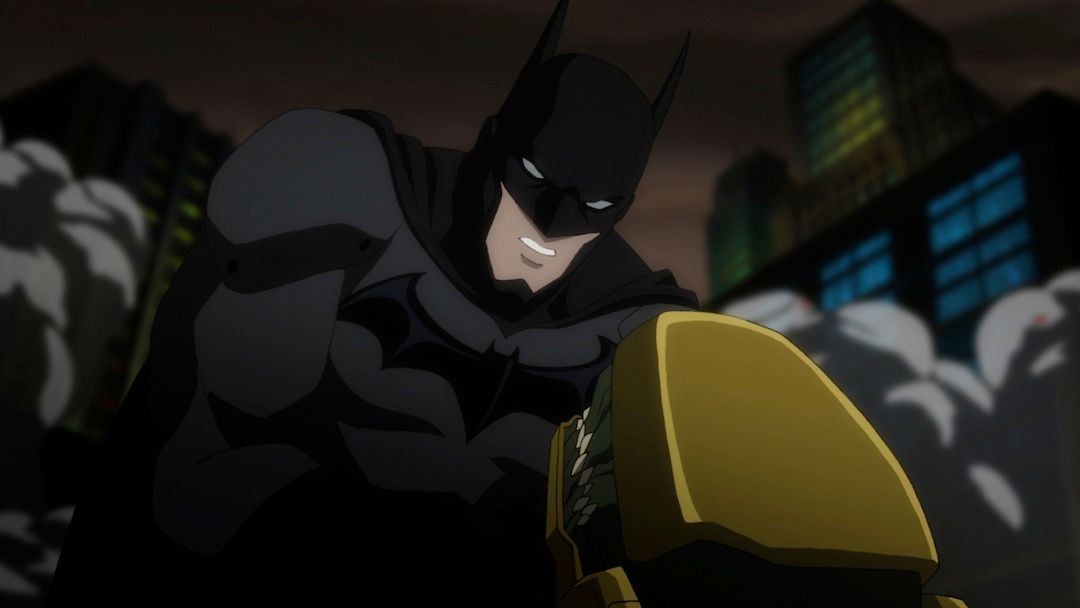 Batman from JUSTICE LEAGUE: WAR
From a Batman point of view, I thought Jason O'Mara did a fine job voicing The Dark Knight. If you were sort of put off by his "Batman voice" via that one short preview clip that featured Batman and Green Lantern (see below), don't worry about it – he's quite good throughout. As far as how Batman is characterized, well, they definitely play up the "Batman doesn't play well with others" angle. To be honest, I'm simply not a fan of Batman alongside other beings with superhuman abilities and crazy powers – it's just not my cup of tea. However, I'm able to accept it much easier when it's animation for some reason as I've enjoyed many of these movies that featured the Justice League – especially JUSTICE LEAGUE: THE FLASHPOINT PARADOX (but that was probably because it heavily featured the Thomas Wayne "Flashpoint" Batman).
Some FYI's...
This IS NOT for kids. I know that most of you all reading this right now realize and understand that, but for the few who might not…DON'T BUY THIS FOR YOUR 8 YEAR OLD! Hey, it's rated PG-13 for a reason. Also, this isn't a "jumping on" point for anyone that's brand new to the DCU. In my opinion, you have to know quite a bit about it as it appears that the filmmakers expect that their target audience has a background in the DCU. And let's be honest here, OK? It's the already established DCU fan that's buying this thing anyway.
All in all, I thought JUSTICE LEAGUE: WAR was entertaining and yet another quality animated DCU original movie. It's not the best, but's definitely pretty good. Therefore, I'm suggesting a buy rather than a rental as I think most will enjoy it and want it in their collection. - Bill "Jett" Ramey
GRADE: B
A life-long Batman fan, Bill "Jett" Ramey
is the founder of BATMAN-ON-FILM.COM.
He likes Elvis, The University of Texas,
Dallas Cowboys Football, and of course...
THE BATMAN!
He resides in the GREAT state of TEXAS with his lovely wife, three kids, and two Boston Terriers.



comments powered by