Leto: The Joker is a "Beautiful Disaster"
Author: Bill "Jett" Ramey (Follow @BATMANONFILM)
February 20, 2015

Via an interview with BILLBOARD.COM, the new Joker on film - Jared Leto - had this to say about playing one of the greatest villains in the history of, well, villains...
"The opportunity to take on this nearly Shakespearean character - that's what graphic novels and comic books are becoming, right? [The Joker is] this beautiful disaster of a character - what a big challenge."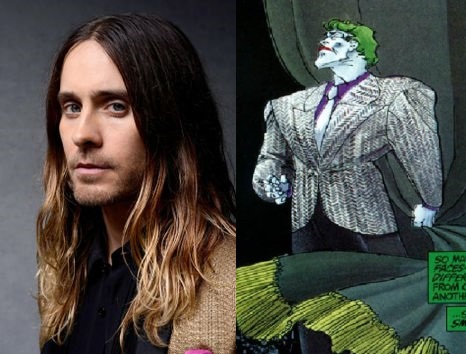 Wow. That's one of the best descriptions of The Joker I've ever heard.
I'm sure that many will chalk up the "challenge" to be the first actor to play The Joker after Heath Ledger's iconic and Oscar-winning turn as The Clown Prince of Crime in THE DARK KNIGHT. Frankly, I'm sure that over the course of the next year and a half before SUICIDE SQUAD's release, we'll be inundated with "Jared vs. Heath" Joker stories just as we were with the "Heath vs. Jack" ones a few years back. However, I wouldn't expect an actor of Leto's stature to feel threatened in the least by that sort of fanboy-driven nonsense. I'm sure Mr. Leto believes it's too good of a role to pass up and be able to put his own unique take on the character.
Leto also revealed that he's "... trying to gain a lot of weight" to play The Joker in SS.
Cue the fanboy "Teh Leto Joker is gonna be FAT!" rage.
*rolls eyes*
Remember, this dude is usually a rail-thin rocker as the frontman for 30 Seconds to Mars, so I'm sure he needs to put on a tad bit of weight for the role. And trust me, this cat is working with a trainer and nutritionist as well. Hell, maybe the Leto Joker will be a bit jacke-up and ripped. ANYWAY...
Click on the line provided above for the full interview (though I think you'll have to buy the latest copy of BILLBOARD to actually check it out).



comments powered by