Cara Delevingne Talks Enchantress
Author: Bill "Jett" Ramey (Follow @BATMANONFILM)
June 18, 2015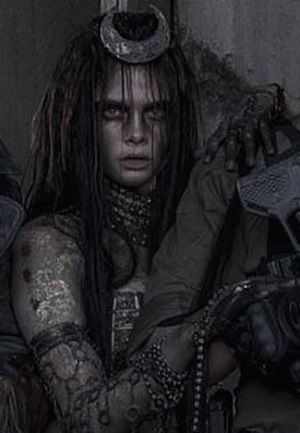 Apparently, Cara Delevingne's Enchantress is one bad mo-fo in SUICIDE SQUAD; so says the actress in a recent article with TIME.
"It's going to be freakin' awesome!
I kill people with my bare hands!"
Nice.
According to Delevingne, who is hot, the audition process was quite, well, "intense" and she was ready to "beat people up" at the end of it. "I was like, 'Honestly, if I go outside and punch people, you've got to come get me out of jail because I am so furious," she says. "[David Ayer] sparked a f*cking fury in me."
In the comics, Enchantress is a "powerful, but mentally unstable, witch who has fought as both a hero and a villain. Her true identity is the kind-hearted June Moone, although she becomes evil when possessed by the Enchantress entity" (via DC Comics Database).
This role sounds right up Delevingne's alley.
David Ayer is directing SUICIDE SQUAD, which stars Jared Leto as The Joker, Will Smith as Deadshot and Margot Robbie as Harley Quinn. Also in the cast are Joel Kinnaman, Cara Delevingne, Viola David, Adam Beach, Ike Barinholtz, Adewale Akinnuoye-Agbaje and Scott Eastwood. SUICIDE SQUAD hits theaters on AUGUST 5, 2016!

comments powered by