Jared Leto as The Joker on EMPIRE Cover, Part 2
Author: Bill "Jett" Ramey (Follow @BATMANONFILM)
Date: October 27, 2015

Here's the actual cover of EMPIRE featuring Jared Leto as The Joker...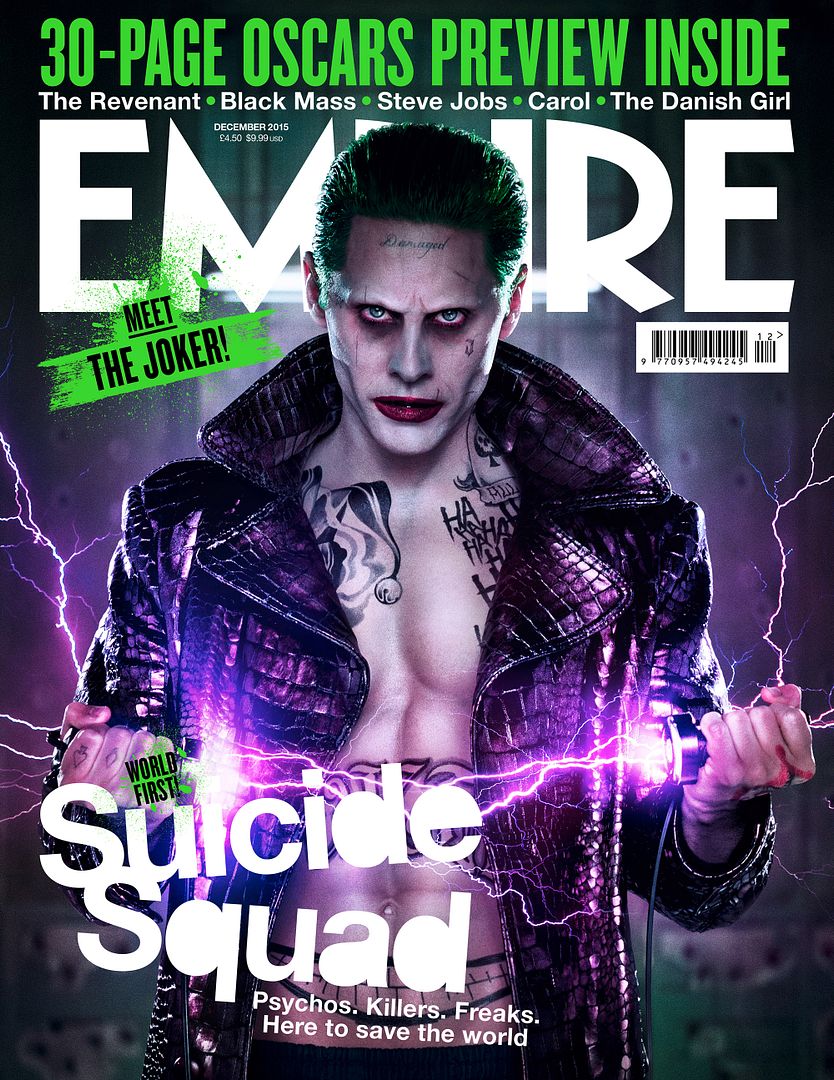 Nice. And here's a few quotes about Leto's Joker from director David Ayer and Leto. First up, Mr. Ayer...
"There's a power to [The Joker]. And by some freaking miracle, through the incredible things Jared has done and the photography and all the other things that went into it, we've cooked up something transcendent...he's scary"
And now Mr. Leto...
"There was definitely a period of...detachment. I took a pretty deep dive. But this was a unique opportunity and I couldn't imagine doing it another way. It was fun, playing those psychological games.
If you don't break rules, you're not going to strike new ground. You can bring your pencils out again -- although there'll be plenty of other ways for this Joker to inflict pain."
Well done Mr. Leto. The "pencil" quote was a nice nod to Heath Ledger's turn as The Joker in THE DARK KNIGHT; but Leto's right, this version of The Joker has got to be different from what we've seen before on film. Thus, there will certainly be plenty of ways for his Joker to bring the PAIN. For the full story, click on the link provided above.
David Ayer is directing SUICIDE SQUAD, which stars Jared Leto as The Joker, Will Smith as Deadshot and Margot Robbie as Harley Quinn. Also in the cast are Joel Kinnaman, Cara Delevingne, Viola Davis, Adam Beach, Ike Barinholtz, Adewale Akinnuoye-Agbaje and Scott Eastwood. SUICIDE SQUAD hits theaters on AUGUST 5, 2016!

comments powered by