Batman in BATMAN v SUPERMAN & the DCEU
Posted by: Bill "Jett" Ramey (Follow @BATMANONFILM)
Date: January 11, 2016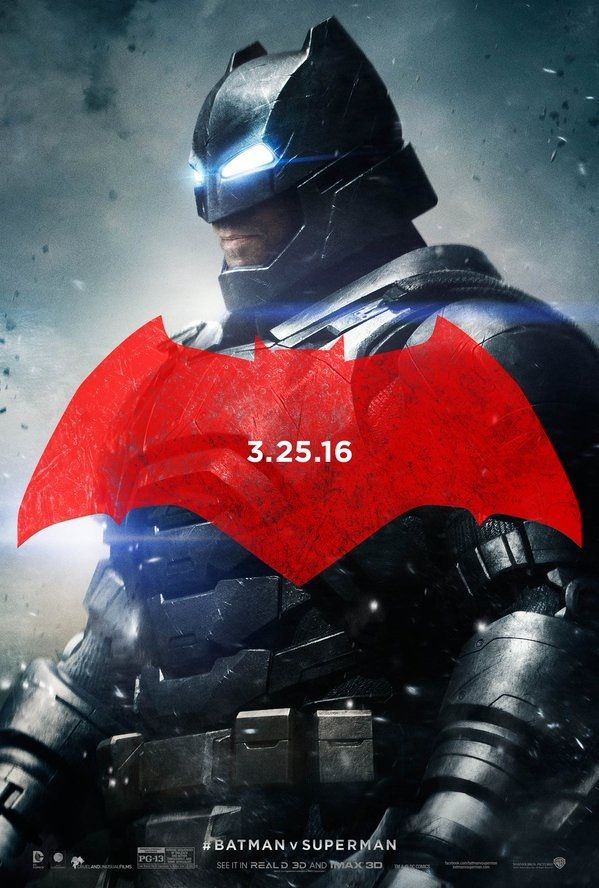 USATODAY.COM has a great article on BATMAN v SUPERMAN, SUICIDE SQUAD, and the future of the DC Extended Universe. Below, you'll find a few Batman-related things that I cherry-picked from the feature...
On how this DCEU Batman is different...
Over the years, Michael Keaton, Val Kilmer, George Clooney and most recently Christian Bale have entertained fans as philanthropist playboy/businessman Bruce Wayne and his vigilante Dark Knight alter ego, but Affleck brings an older hero to the mix: His is a Gotham City hero who has no patience for injustice in Dawn of Justice, and after watching the death and destruction caused by Superman's battle with the villainous Zod, he's determined to do something about it.
"You can see the idea of the innocent being victimized by whatever they are, aliens, he doesn't know — that's the thing that really boils his blood, as you can imagine it would," [director Zack] Snyder says. "Suddenly the innocent children of the world are all of us."
The director didn't want a younger Batman coming to terms with the murder of his parents and being inspired to wreak vengeance on the criminal element, Affleck adds. His caped (and often armored) crusader is "a guy who had been through that experience already for many years and was kind of burnt out and asking himself what the point of it all was and going through an existential crisis."
Ben Affleck on this new Batman/Bruce Wayne...
"Batman is covered up by a suit and sometimes a car and sometimes a lot of vehicles and weapons, whereas Bruce Wayne is much more naked — it's just you and a suit of clothes. You can't really play Batman because Batman is different things to different people. We project our own things onto the mythology of what Batman is, and he has to be able to be projected upon. With Bruce Wayne, you have to bring something distinct and new and different."
David Ayer on Ben Affleck's Batman in SUICIDE SQUAD...
When you have Batman's archnemesis, the hero himself can't be far behind, and one of Ayer's favorite days was filming Affleck's part in SUICIDE SQUAD. "We made him the director says with a laugh. "He's awesome (as Batman). You really sense that but for the grace of God he himself would be doing some really foul stuff out in the
Ben Affleck on SUICIDE SQUAD...
"It felt like I have such a cool cousin. This thing that is so awesome is somehow related to me, and that was really exciting because it started to feel like a constellation of things, and I've never had that feeling."
For the full article, hit the link provided ubove.
BATMAN v SUPERMAN: DAWN OF JUSTICE hits theaters on MARCH 25, 2016! CLICK HERE for all of BOF's BvS coverage!
Fearing the actions of a god-like Super Hero left unchecked, Gotham City's own formidable, forceful vigilante takes on Metropolis's most revered, modern-day savior, while the world wrestles with what sort of hero it really needs. And with Batman and Superman at war with one another, a new threat quickly arises, putting mankind in greater danger than it's ever known before. Directed by Zack Snyder, the film stars Ben Affleck, Henry Cavill, Amy Adams, Jesse Eisenberg, Diane Lane, Laurence Fishburne, Jeremy Irons, Holly Hunter and Gal Gadot. Snyder directed from a screenplay written by Chris Terrio and David S. Goyer, based on characters from DC Comics, including Batman, created by Bob Kane, and Superman, created by Jerry Siegel and Joe Shuster. The film is produced by Charles Roven and Deborah Snyder, with Wesley Coller, Geoff Johns and David S. Goyer serving as executive producers. Warner Bros. Pictures presents, an Atlas Entertainment/Cruel and Unusual production, a Zack Snyder film, "Batman v Superman: Dawn of Justice." The film opens nationwide in 3D and 2D and in select IMAX theaters on March 25, 2016, and will be distributed worldwide by Warner Bros. Pictures, a Warner Bros. Entertainment Company.

comments powered by