Founded in 1998 by Bill "Jett" Ramey, BATMAN ON FILM is the Net's #1, and longest-running, website for news and opinion on the Batman film franchise.
BOF's goal is to consistanly lobby Warner Bros. Pictures for the longterm continuation of the Batman film franchise with quality Batman movies.
BOF is enjoyed by not only Batman fans, but pros in the film and comic book industries all over the world as well.
Over the years, BOF has expanded to cover all incarnations of The Dark Knight -- comic books, video games, animation, etc. -- as well as review films in general.
Due to the respect that the site has earned, Jett has visited the set of THE DARK KNIGHT and THE DARK KNIGHT RISES, attended the premieres of THE DARK KNIGHT, THE DARK KNIGHT RISES, and MAN OF STEEL in New York City, attended the world premiere of THE DARK KNIGHT RISES PROLOGUE in 2011, and has interviewed several members of the cast & crew -- including director Chris Nolan, executive producer Michael Uslan, producer Emma Thomas, F/X supervisor Chris Corbould, screenwriter David Goyer, screenwriter Jonathan Nolan, actor Christian Bale and MANY others.
Jett has also been a guest on many top radio shows and quoted on various websites, newspapers, and magazines in the U.S. and worldwide.
BATMAN ON FILM is based in suburban Houston, Texas, USA.
For more on BATMAN ON FILM, please read the BOF F.A.Q..
THE BOF CREW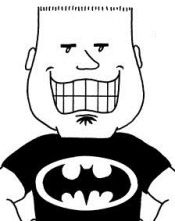 Bill "Jett" Ramey


Born, raised, and still living in the great state of Texas, Bill "Jett" Ramey is the founder and editor-in-chief of BATMAN ON FILM.
Jett created the site in 1998 for one reason and one reason only: The lobbying of the long-term continuation of the Batman film franchise and the production of quality Bat-Movies.
Via the 1960s BATMAN TV series and the Denny O'Neil/Neal Adams and Steve Englehart/Marshall Rogers Bat-Comics of the 1970s, Jett was reeled in and became a lifelong fan of The Dark Knight.
Jett's favorite Bat-Movie/Story/Animated Series/Video Game/Graphic Novel/Website are…
BATMAN BEGINS/"The Joker's Five-way Revenge"/BATMAN: THE BRAVE AND THE BOLD & BATMAN: THE ANIMATED SERIES (tie)/ARKHAM CITY/BATMAN: YEAR ONE/BATMAN-ON-FILM.COM.
Besides following all incarnations of The Caped Crusader, Jett enjoys spending time with his wife Rachel and their three kids, working out, traveling, Elvis, Howard Stern, Rock-n-Roll, The University of Texas Football, and The Dallas Cowboys. He is also a longtime high school/junior high school football coach and history teacher.
Email Jett at jett@batman-on-film.com and follow him on Twitter at @BATMANONFILM.

Rick Shew


Rick Shew is a lifelong Batman fanatic.

His love for Batman traces back to the ripe age of 5 when he became obsessed with the 1960's TV show and later a diehard Batman bomic book reader (THE KILLING JOKE remains his all time favorite).

As an actor, Rick has appeared in numerous films, local & national commercials and over a dozen theatrical productions. However, his favorite gig of all time was playing Superman, alongside Batman, Batgirl, The Green Lantern & Wonder Woman in the "DC Comics Live" show at Six Flags San Antonio, TX.

Although Rick attended The University of North Texas, he is a diehard Texas Longhorns football fan. He is a HUGE fan of THE Dallas Cowboys as well (#DezCaughtIt).

Other likes include cooking, reading and hosting his left leaning political page LeftShewPolitics.

Rick resides in Dallas with his 3 beautiful women (his wife and their 2 daughters), his kitty cat and his dog, Cooper.

Rick is a "Senior Performance Consulate" for several high end hotels throughout Texas. He also helped conceptualize a bar in Dallas (where he also sits as a financial investor), NICKEL AND RYE. So, when in Dallas, please come have a bite and a drink!

Follow Rick on Twitter @SHEWRICK.

Mark Hughes


Mark Hughes is a longtime BOF'er and comic book fan. He is a former media specialist. campaign ad writer, and now works as a screenwriter for film & TV. You can follow him on Twitter @MarkHughesFilms and read his "Reel Estate" blog at FORBES.COM.

Ryan Hoss


Ryan Hoss began writing for BOF in 2006 by contributing monthly comic book reviews for the Tim Drake-starring ROBIN title, which he still thinks is the best version of the character. Ryan's love of writing for BOF has expanded over the years to support his mission to highlight Batman's malleability as a character. His articles, reviews, and op-eds cover a wide range of topics from comics, movies, and television shows to video games and even cereal. When called upon, he'll join in on new episodes of the BOF Podcast.

Ryan is also the Founder and Webmaster of the Super Mario Bros. The Movie Archive Website, dedicated to the cult 1993 film.

When he isn't writing for BOF, Ryan spends his days as a VFX Artist in the video game industry. Check out his portfolio website at RYANHOSS.COM and follow him on Twitter @SMB_RYAN.

Justin Kowalski


Justin Kowalski is a life long fan of everything awesome. His memory banks are filled with power action punches and the smell of late 80's comic book pages.

Batman has been his favorite character since before birth (allegedly). Going all the back to the early 80's where he would pull the head off of Mego Pocket Hero Batman to today, where he re-attaches Batman heads to the multitudes of Batman toys of his children. He is paying for the crimes of his youth.

Justin has been following BOF since the early 2000's where he would eagerly await hearing news on Jeff Goldblum playing The Scarecrow or not. His favorite Batman films are none of Schumacher's. Being apart of the BOF roundtable is an honor to him. It's similar to the club of hero's; just without the tights and sidekicks.

He is the co-host of the Let's Go! Podcast with his best friend in the entire universe, Kelly Cairns! They talk about random pop culture happenings, live music, television, film and most importantly tasty beers.

Justin lives in Southern California with his wife and 2 sons. During the day he is a creative director and minister for an amazing organization. At night he spends his time trying to crack the code of passage to Earth 2.

Follow Justin Twitter, Instagram, and Facebook at J_ROCKA, JROCKA, and JUSTINKOWALSKI, respectively.

Robert Reineke


Robert Reineke reviews comics and films for BOF. He is a Civil and Environmental Engineer residing in Wisconsin. He earned a BS and MS degrees from the University of Wisconsin and has been reading Batman comics since the 1970s. He's of the firm belief that there are plenty of Batman comics written before Frank Miller that are worthy of discussion.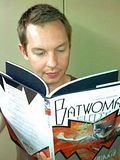 John Bierly
Lifelong Batman fan and longime BOF'er John Bierly was born in Louisville, Kentucky, in 1975. His favorite things are people, music, cooking, eating, movies, adventures, and afternoons when you can see the moon. He drinks enough Mountain Dew to kill a dinosaur. He'd like to get a job reading books on tape. His five favorite movies are Rushmore, Batman Begins, Pee-wee's Big Adventure, Raiders of the Lost Ark, and The Empire Strikes Back. He'd like to be Steve Martin when I grow up. And Bill Murray. And Luke Skywalker. He like to end sentences with prepositions.
John reviews comics, and occasionally, films for BOF. Check out JOHNBIERLY.COM to read about the other things he writes about. You can follow John on Twitter at @JOHNBIERLY.

Chris Clow


A Batman fan from a young age, Chris Clow was introduced to the character through Tim Burton's 1989 film -- the first film Chris ever saw at a drive-in theater in Bakersfield, California -- and attributes the characters of the JLA and Batman's profound effect on his youth with many of his passions in entertainment, social and political interests, in addition to providing him with an informed moral outlook.

Clow began writing for BATMAN-ON-FILM.COM in 2006 by contributing monthly comic book reviews for the NIGHTWING title, and has grown his participation in BOF by helping founder and webmaster Bill Ramey cover the San Diego Comic-Con for two consecutive years (2008-2009), writing opinion pieces on current Batman topics, and by being a "BOF Roundtabler" for periodic podcasts conducted by the site. He now regularly reviews DC's flagship title JUSTICE LEAGUE, BATMAN AND ROBIN, and Grant Morrison's BATMAN INCORPORATED on a monthly basis. Grateful to Jett for the opportunity to give his input on topics regarding his favorite comic book character on The Dark Knight's premiere web presence, Clow is an enthusiastic contributor to BOF.

To check out some of Chris' other writings, visit his blog, The Clow Context. Follow him on Twitter @ChrisClow.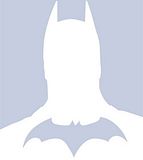 JoAnne Hyde


JoAnne Hyde is a retired English teacher who loves movies and likes to write.
She reviews films for BOF.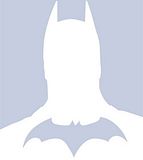 Mike Gallien


Mike Gallien is a retired educator, frustrated writer and film lover.
He reviews films for BOF.

Ricky Church


Richard Church reviews GOTHAM and writes op-eds for BOF. Richard is also an aspiring writer for short stories, novels and screenplays. He is also an avid fan of the superhero genre. Follow him on Twitter @RICHARDCHURCH16.
SOCIAL MEDIA


STATS
(APPROX. MONTHY)

HITS - 1,000,000
UNIQUE VISITORS - 517,000
AUDIENCE - 90% Male/10% Female
AGE UNDER 18 - 12%
AGE 18 to 34 - 70%
35 PLUS - 18%
COLLEGE GRADUATE - 51%
64% of BOF's audience resides in the United States (72% including Canada). However, we have a significant number of readers in Europe (17% - mostly the U.K.), Latin America (3%), Asia (4%), and Australia/Oceania (3%). Most of BOF's audience (71%) is between 18-34. BOF's stats are charted by EXTREME TRACKING. Our readers are more than just "Batman Fans." The average BOF patron is an avid movie-goer and sees many films from different genres each year. For more detailed stats, send us an EMAIL.