Last year, Marvel Comics imprint Icon launched a new ongoing, creator owned series by comic book superstars Mark Millar (
CIVIL WAR, OLD MAN LOGAN
) and John Romita Jr. (
AMAZING SPIDER-MAN, UNCANNY X-MEN
). It was called
KICK-ASS
, and followed a high school kid in the "real world" (or as close to our world as possible for a comic) and his obsession/journey with becoming a full-fledged, real life superhero. It was touted in advertising as brutal, sometimes lewd, and extremely violent. Having read all the issues of the book as they have come out, I can tell you, it succeeds at being all of these things and then some.
When a film adaptation of the book was announced as being in the works just a month after the first issue went to press, there was a vibe about the book that either screamed "incredible quality," or "so shocking you must see it." Honestly, I think the book has a bit of both of those traits, and as we've heard from director Matthew Vaughn and his upcoming adaptation, it seems like it's going to try and follow as closely to the book as humanly possible.
Thursday night, a panel was held for the film in the San Diego Convention Center's enormous Hall H, where all of the major panels/press events occur. Multi-million dollar franchises and films that have appeared in Hall H at Comic-Con include SUPERMAN RETURNS, IRON MAN, and WATCHMEN. To place the event in the hall means that the people behind the film want to give it's biggest possible promotional canvas, and as with most panels in Hall H, the one for KICK-ASS appears to be indicative of one, well, kick ass movie. That doesn't mean that the movie WILL be good, but they have definitely succeeded in making it LOOK good.
Hall H was still full of people from the PANDORUM and DOCTOR PARNASSUS panels, and when KICK-ASS was announced as being next on the docket, a loud cheer broke out. It began later than normal, but when it got started, the excitement was definitely apparent. The first person to be introduced was director Matthew Vaughn. Vaughn described the movie as having elements of GLADIATOR, and stated that this panel will help give the film a distribution deal. With that, he introduced footage. The first footage was straight out of issue #1 of the book, and started with a voiceover by the main character and a wannabe super hero trying to fly and falling into a cab. The mood was exemplified with the usage of 1978 John Williams SUPERMAN music, which cut out when the wannabe fell to the ground.
Jane Goldman was introduced next, she was the screenwriter, followed by comic creators Mark Millar and John Romita Jr. They were followed by actors Clark Duke and Christopher Mintz-Plasse. After the rest of the panel was introduced, more footage was rolled showing Nicolas Cage's character training his young daughter, Hit Girl, to take a bullett (or three). The next footage featured the main character's first time out as a "super hero," getting stabbed and hit by a car to music from THE DARK KNIGHT. The last piece of footage featured the main character trying to "warn" his love interest's boyfriend to stay away from her, when they all get ambushed by Hit-Girl (Chloe Moretz). The fight choreography for Hit Girl was fantastic, and the violence, as in the book, was BRUTAL. You got the sense that the choreography for young Moretz was something to behold, her fights were fantastic.
A trailer was then shown, montaging the main characters, and more phenomenal Hit-Girl work. The film looks to be as tongue-in-cheek as the book. The panel was then turned over to questions. Mark Millar says his inspiration came from the simple notion of acting on the imagination of being a superhero, and Mark Millar simply thought it'd be interesting to see something like that realized.
Someone asked what would be added or changed or removed from what was in the book, and Vaughn said that it was very collaborative, and that the screenplay was finished well before the comic. Millar followed up with, "Matt and Jane just took out the sh*tty bits." John Munn, proprietor of Comic Book Ink in Tacoma, WA just asked how something like Kick-Ass got financed and made so quickly, and John Romita Jr. just said that he went on a real comic book instinct and worked on it quickly, and Mark Millar said he got the idea from his daughter, who said, "When are you gonna make something I can see that's nice?" That's when the idea for Hit-Girl came to him. A fan asked if the film was locked, to which Matthew Vaughn said that he believes so, and will hopefully be out in the first quarter of 2010. He said that a studio, if they buy the film, will not "muck around with it." John Romita Jr. said that working on the animated sequence for the film was very much like working on the book, and was a complete pleasure. A fan asked Mark Millar when the comic story will be completed, and Millar said that he hoped it would be three complete graphic novels when completed. Romita Jr. divulged that he was "halfway through the final issue." Young Chloe said she had three months of training on the film, and that she had an "amazing opportunity" being in the film. The trailer was shown once more, and the panel was exited.
Before the roundtable sessions began, I had a chance to chat with writer Mark Millar about trying to work on his own projects as opposed to more established properties like Superman or Batman. "I love those characters, that's still a dream." He said. "But over the course of working on [KICK-ASS], I find that I love it just as much. And one of the best parts about working outside the studio system with this film and those properties is that they don't screw with it. You can pretty much do whatever you want. You can't do that with Superman or Batman."
Then came the roundtable session. I was able to speak directly with the director and castmembers Chloe Moretz, Clark Duke, and Christopher Mintz-Plasse. Here are the questions and answers!
MATTHEW VAUGHN
BOF/CC: Does this film give you any desire to try and reach for other comics properties, or does this seem like the one you're most comfortable with doing?
MV: "I'd love to do more comic movies, love to. Superman would be great, it needs to be done and I think it's time to be done. I wouldn't mind a shot at the Avengers, either. But if Warner Bros. asked Mark [Millar] and I do to Superman, I would have to remind myself to ask to get paid. That would be incredible."
BOF/CC: How easy or hard was it to direct a 12-year-old with all of this intense violence?
MV: "Chloe was SO talented. She never dropped a line, never missed her mark, and she's as good an actress and a human being as you can find."
CHLOE MORETZ
BOF/CC: How easy is it to develop and make a character that is so brutal and violent, did you ever have to calm down after shooting any scenes for the film?
CM: 'Well it is a role, and when Matt says Action, I have to be in that mindset. But when you go home for the day, I'm Chloe! I'm not Hit-Girl, I'm not Mindy, I'm just me and it was incredibly fun. And it helped that my dad was into comic books too, but I love them all. Superman, Wonder Woman, and Batman , and I think when you love the material, that helps with this."
CLARK DUKE AND CHRISTOPHER MINTZ-PLASSE
BOF/CC: I really enjoyed the improvised comedy you did in the footage!
CMP: "Oh, thanks man!"
BOF/CC: When you played the Red Mist, how did you improvise the more comedic aspects? Was it something that came naturally, and did the book help you find that part of him?
CMP: "Matthew wanted a lot of that improvisational stuff through it, and I got to play through that pretty much on my own. Since we didn't have a big studio in on this, we really got to do our own thing. And that made it pretty free."
BOF/CC: Clark, were you a comic book fan before this?
CD: "Yeah, I'm the real comic guy in this cast, I think. I've read practically everything that Mark's done, and I love this book. It was cool to do this, I hope it gets picked up."
BOF/CC: What're you reading right now that you enjoy?
CD: "Well, I just got back to L.A. after three months, and I actually just last week went and bought literally a box of comics to catch up on. I love all of Grant Morrison's Batman and other stuff, his BATMAN AND ROBIN is just…awesome. I liked FINAL CRISIS, and I just got David Mazzuchelli's new hardcover. So yeah, I'm into it."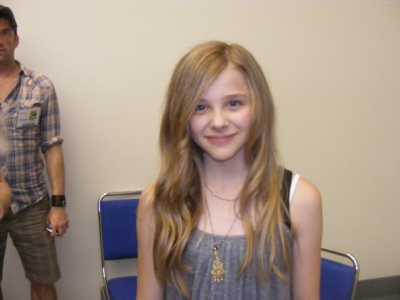 And that about covered my time with KICK-ASS. For those that haven't read the book, they'll be floored with the concepts the story plays with. And for those that HAVE read the book, I think you'll be pleased with the effort that the creators gave to the film to faithfully recreate this story. - Chris Clow