Christan Bale, June 8, 2007
Today Chicago mayor Richard M. Daley held a brief press conference welcoming director Chris Nolan and crew back to Chicago for production on the upcoming Batman Begins sequel The Dark Knight. As the event began and Daley approached the podium, a clearly excited Nolan, Christian Bale and producer Chuck Roven filed into the room.
"[Chicago], I believe, is one of the greatest places in the world to make a movie," Daley said in his opening statement. It's apparent that Nolan agrees.
In the summer of 2004, Nolan and crew spent three weeks in Chicago filming scenes for Batman Begins; this time around they're scheduled for an astonishing continuous twelve-week run. Because of that, TDK is set to be the biggest movie ever shot in Chicago in terms of money and jobs. The production will see the hiring of over 250 day-players and several thousand extras.
Given the length of the shoot here in Chicago, "…much of the cast will be making their way in and out of town," said Nolan. "Heath Ledger is here... and Gary Oldman will be here soon. As will Maggie [Gyllenhaal]," he continued.
"We're really trying to get an expanded vision of what we presented first in Batman Begins," Nolan said. He estimates that this time around he will be making use of five times the number of locations used in the previous film. "We're trying to do a lot more on location here... many of the stunts will be shot on location," he said, citing a desired "tone of realism" as the rationale. "Filming on location adds a great energy and vitality to movies," Bale added.
When asked about his "black suit", Bale commented that he's "...not quite looking forward to wearing [the] suit in the humidity." "If you see a long trail of sweat through the city, follow it, and you will find me at the end of it," he said with a grin.
As the press conference came to a close, the three guests exited the room, exuding a sense of anticipation and purpose. They have their work to do. - Lane Fujita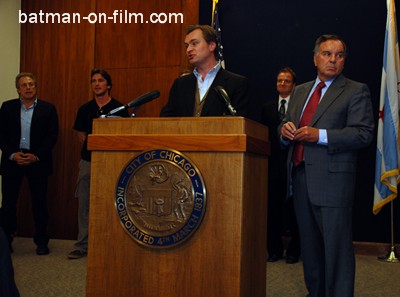 Chris Nolan, June 8, 2007