Book Review: BATMAN'S ARSENAL
AUTHOR: Bill "Jett" Ramey (Follow @BATMANONFILM)
Date: January 27, 2016

SYNOPSIS: Learn about the coolest gear used by the Dark Knight. For the first time, the entire scope and history of the Bat arsenal, from the famous cowl, the awesome Batmobile, the catacomb-like Batcave to the tank-like Tumbler is documented in this encyclopedic chronicle. Matt MacNabb unravels the how and why of each significant piece of the Batman toolbox, along with intimate behind the scenes stories and knowledgeable commentary by the people who designed them.
Written by my friend Matt McNabb (the founder/editor-in-chief of the wonderful Bat-Site LEGIONSOFGOTHAM.ORG), BATMAN'S ARSENAL is one of the best books on Batman that Iíve ever read. (Full Disclosure: I was asked by the author to contribute to the book and my comment on Batman's utility belt is included.)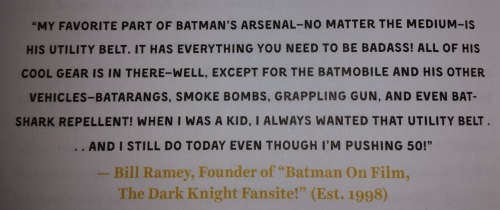 In it, the author literally covers ALL of Batmanís cool stuff and gear; such as the Batmobile, Batwing, utility belt, Batboat, Batsuit, Batarang, Batsignal, and, well, Bat-Everything!
Also, BATMANíS ARSENAL gives the reader a quick, but thorough, rundown on the history of Batman and his gear in just about all media incarnations Ė comics, film, and animation.
BATMANíS ARSENAL is a must-read for all fans of The Dark Knight and should definitely be added to any Bat-Fans Bat-Library. Furthermore, itís a great book for kids! So, if youíve got a budding Batman enthusiast running around the house with Batman action figures in hand, Iíd suggest picking up BATMANíS ARSENAL for Ďem.
Remember, we need to pass the Bat-Torch down to the future generations of Batman fans! - Bill "Jett" Ramey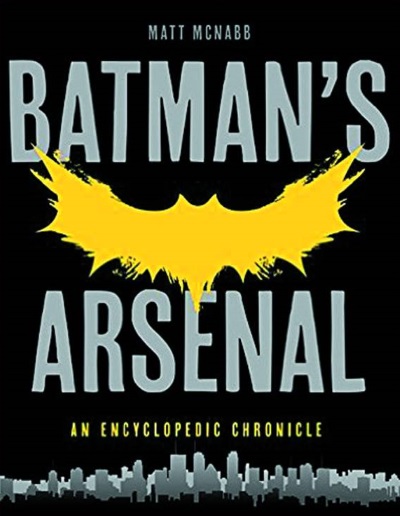 A life-long Batman fan, Bill "Jett" Ramey
is the founder of BATMAN-ON-FILM.COM.
He likes Elvis, Rock-N-Roll,
The University of Texas, cold beer,
Dallas Cowboys Football, and of course...
THE BATMAN!
He resides in the GREAT state of TEXAS with his lovely wife, three kids, and two Boston Terriers.

comments powered by