OFFICIAL SYNOPSIS
In The Dark Knight, Batman raises the stakes in his war on crime. With the help of Lieutenant Jim Gordon and District Attorney Harvey Dent, Batman sets out to dismantle the remaining criminal organizations that plague the city streets. The partnership proves to be effective, but they soon find themselves prey to a reign of chaos unleashed by a rising criminal mastermind known only to the terrified citizens of Gotham as "The Joker".

CAST
The Batman/Bruce Wayne - Christian Bale
Alfred Pennyworth - Michael Caine
LT. James Gordon - Gary Oldman
D.A. Harvey Dent - Aaron Eckhart
The Joker - Heath Ledger
Rachel Dawes - Maggie Gyllenhaal
Lucius Fox - Morgan Freeman
Sal Maroni - Eric Roberts
The Scarecrow - Cillian Murphy
Gotham National Bank Manager - William Fichtner
Gotham Mayor - Nestor Carbonell
Commissioner Loeb - Colin McFarlane
Mike Engel - Anthony Michael Hall
Detective Ramirez - Monique Curnen
Barbara Gordon - Melinda McGraw
James Gordon, Jr. - Nathan Gamble
Gambol - Michael Jai White
Lau - Chin Han
Coleman Reese - Joshua Harto
Chechen - Richie Coster

CREW
Directed by - Christopher Nolan
Screenplay - Jonathan Nolan and Christopher Nolan
Story - David S. Goyer and Christopher Nolan
Producers - Charles Roven, Emma Thomas, Christopher Nolan
Executive Producers - Benjamin Melniker and Michael Uslan, Kevin De La Noy
Studio - Warner Bros. Pictures
Cinematography - Wally Pfister
Film Editing - Lee Smith
Costume Design - Lindy Hemming
Production Design - Nathan Crowley
F/X Coordinator - Chris Corbould
Music - Hans Zimmer

INFO
Length - 2 hours 30 minutes
Rating - PG-13
US Release Date - July 18, 2008
UK Release Date - July 25, 2008
Australia Release Date - July 17, 2008

BOF's TDK COVERAGE
BOF's TDK Set Report (6 Parts)
BOF's Interview w/Chris Nolan
BOF's Interview w/Emma Thomas
BOF's Interview w/Jonah Nolan & David Goyer
BOF's Interview w/Gary Oldman
BOF's Interview w/Chris Corbould
Jett on "THE ROD RYAN SHOW" (6/30/08)
Jett on "THE ROD RYAN SHOW" (7/15/08)
Jett on "THE FILM FREAK SHOW" (7/19/08 & 7/26/08)
Jett on Dublin's SPIN 103.8 (6/13/08)
Jett on "NIGHT WATCH" (6/3/08)

BOX OFFICE
$534,858,44 (Domestic)
+
$469,700,000 (Overseas)
= $1,004,558,444

REVIEWS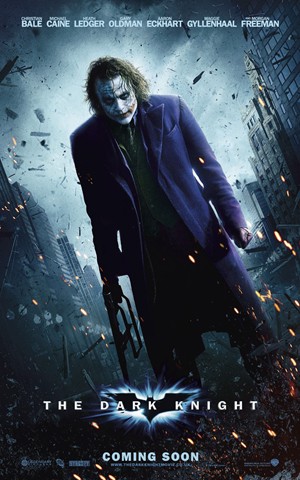 TDK Joker banner exclusive to BOF!