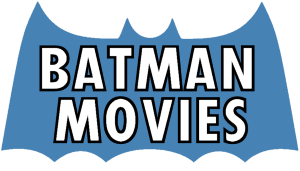 1995's BATMAN FOREVER is the second sequel to BATMAN '89. This time there is a new director, with Joel Schumacher taking over for Tim Burton. There is also a new Batman -- Val Kilmer -- and Robin (Chris O'Donnell) finally makes his appearance in a Batman film.
In this lighter, more heroic and action-oriented film, Batman is pursuing Two-Face (Tommy Lee Jones) -- former Gotham D.A. Harvey Dent gone bad -- and the new super criminal in town, The Riddler (Jim Carrey). And of course, they are trying to kill him (standard procedure by now).
While not as dark as many Batman fans would have liked, and prone to a few moments of camp, FOREVER is fun and still the second best of the Burton/Schumacher Bat-films. In fact, it may the best at staying true to the comic book spirit of Batman than any of the four.
JETT'S GRADE: C+
CAST/CREW/FILM INFO


BATMAN/BRUCE WAYNE - Val Kilmer
Harvey Dent/Two-Face - Tommy Lee Jones
Edward Nigma/The Riddler - Jim Carrey
Richard Grayson/Robin - Chris O'Donnell
Dr. Chase Meridian - Nicole Kidman
Alfred - Michael Gough
Commissioner Gordon - Pat Hingle
Directed by - Joel Schumacher
Screenplay - Lee Batchler, Janet Scott Batchler, Akiva Goldsman (Story by Lee and Janet Scott Batchler)
Music - Elliot Goldenthal
Length - 122 minutes
U.S. Release Date - June 16, 1995
BOX OFFICE
United States: $184,031,112

Overseas: $152,500,000

TOTAL: $336,531,112
REVIEWS
The Official BOF Review by Bill "Jett" Ramey

External Reviews @ IMBD.COM
TRAILER
SUGGESTED READING

comments powered by