OFFICIAL SYNOPSIS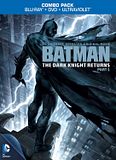 PART 1: It's been a decade since Bruce Wayne hung up his cape, following most of the other superheroes who had been forced into retirement. Facing the downside of middle age, a restless Bruce Wayne pacifies his frustration with race cars and liquor -- but the bat still beckons as he watches his city fall prey to gangs of barbaric criminals known as The Mutants.
The return of Harvey Dent as Two-Face finally prompts Wayne to once again don The Dark Knight's cowl, and his dramatic capture of the villain returns him to crime-fighting -- simultaneously making him the target of law enforcement and the new hope for a desolate Gotham City. Particularly inspired is a teenage girl named Carrie, who adopts the persona of Robin and ultimately saves Batman from a brutal attack by the Mutant leader. Armed with a new sidekick, and re-energized with a definitive purpose, The Dark Knight returns to protect Gotham from foes new…and old.
PART 2: The Dark Knight and the brave, young Carrie Kelly at his side as Robin have finally reclaimed Gotham City and allowed a ray of hope to penetrate the reign of terror that The Mutants cast upon their city. With Batman back in the spotlight, the extended media coverage has awoken a far worse evil at Arkham Asylum – The Joker! Destined to be Batman's mortal enemy, The Joker has a diabolical scheme that may pull Batman down to the darkest levels of insanity.
Meanwhile, on the horizon, a global catastrophe races toward Gotham, and with it comes a familiar face, The Man of Steel, though this time he has Batman in his sights. A returning voice cast, headed by Peter Weller, Ariel Winter and David Selby, delivers the epic finale of this DC Comics legend. Watch as the aging Dark Knight wages a tireless war against crime while proving that courage and will are indeed timeless.
THE FILMS

THE DARK KNIGHT RETURNS, Part 1 (left)
THE DARK KNIGHT RETURNS, Part 2 (right)
CAST/CREW/FILM INFO
Ariel Winter - Carrie Kelley/Robin
Peter Weller - Bruce Wayne/Batman
Michael McKean - Dr. Bartholomew Wolper
David Selby - James Gordon
Wade Williams - Harvey Dent/Two-Face
Michael Emerson - The Joker
Mark Valley - Clark Kent/Superman
NEWS/VIDEO/IMAGES
RETURNS, Part 2 - "Tunnel of Love Preview Clip

RETURNS, Part 2 - Michael Emerson Interview (Video)

RETURNS, Part 2 - Peter Weller Interview (Video)

RETURNS, Part 2 Preview Clip #3

RETURNS, Part 2 - 3 Video Interviews

RETURNS, Part 2 Preview Clip #2

RETURNS, Part 2 Preview Clip #1

RETURNS, Part 2 Trailer

David Selby Talks "Comissioner Gordon

Preview Clip #7 ("Robin")/New Images

Preview Clip #6/New Images

Preview Clip #5 ("Alfred")

Preview Clip #4/New Images

Preview Clip #3/New Images

Preview Clip #2/New Images

Michael McCean Talks "Dr. Wolper"

Preview Clip #1/New Images

1st Trailer/Blu-ray Cover Revealed

Cast Announced/1st Images Released
REVIEWS
THE DARK KNIGHT RETURNS, Part 1 Review by Bill "Jett" Ramey

THE DARK KNIGHT RETURNS, Part 2 Review by Bill "Jett" Ramey
TRAILERS
Trailer - PART 1

Trailer - PART 2
OFFICIAL WEBSITES
DARKKNIGHTRETURNSDVD.COM

FACEBOOK.COM/THEDARKKNIGHTRETURNS
THE DARK KNIGHT RETURNS MERCHANDISE