Got Bat-news? The skinny? Inside info?
Send it to: BATMANONFILM@MSN.COM
BOF's DISCLAIMER & NOTICE:
Unless otherwise noted, all BATMAN movie news
should be considered rumor and treated as such.
Please, INCLUDE A LINK back to BATMAN ON FILM (http://www.batman-on-film.com)
when using news originating from this site.
BOF's spoiler policy is we do not post information that would ruin the enjoyment of the film,
but does get people excited and interested in the BATMAN film series.
TDK 101, Foxx as Dent update
Author: Jett
Tuesday, February 6, 2007 - 5:00 AM, 1:47 PM CENTRAL TIME: My friends over at IGN sent me a link to their great rundown of all TDK rumors and news. CLICK HERE to check it out...
I usually don't plug reviews for THE BATMAN here, but I'll so so for the episode "ARTIFACTS." You can also check the episode out there as well...
IGN's "Stax" caught up with Jamie Foxx's reps and here's a bit of there lates report:
There have been many rumored candidates in the last year. One reported contender has been mentioned by several (and reliable) sources: Oscar winner Jamie Foxx.
The multihyphenate Foxx has been linked to the role for over a month now. IGN was able to navigate its way through the network of reps and flacks who collect around a star of Foxx's magnitude to get an answer on whether or not the Bat-rumor is true.
"No truth to it whatsoever," according to Foxx's publicist Alan Neirob.
Both BOF and LATINO REVIEW sources have indicated that there was some interest in Foxx to play Gotham's D.A. in THE DARK KNIGHT. IGN also contacted CAA in regards to the Aaron Eckhart rumor, so head on over there and get filled in on the latest...
The results of the latest "Bat-Poll" are as follows: 24% wanted Katie Holmes to return, 33% don't care, and 43% are glad Katie will not reprise her role as Rachel Dawes. Make sure to check out THE NEW POLL and vote.
Eckhart for Dent? Phillippe Talks Two-Face
Author: Jett
Friday, February 2, 2007 - 5:00 AM, 5:47 PM: Back in July, BOF reported that Ryan Phillippe was in the Harvey Dent/Two Face mix. Here's what he had to say recently about the role via IGN:
"'I think they may have talked at different times to my representation, but no decision has been made. It would be fun.' When asked if he was shutting the door on that possibility, he replied 'no.'"
Looks like Ryan would love to land the part, but...
My friends over at LATINO REVIEW are reporting that 38 year old Aaron Eckhart may have recently emerged as the front-runner to play Harvey Dent in THE DARK KNIGHT. They also mention another candidate for the recast Rachel Dawes: Maggie Gyllenhaal.
Eckhart, who was once linked to the role of Jim Gordon during the Darren Aronofsky/Frank Miller YEAR ONE days, would be a HELL of a choice for Dent if this comes to fruition. I like Eckhart for Dent over Jamie Foxx or Ed Norton -- I certainly give it a thumbs up! As far as the 29 year old Gyllenhaal as Dawes, I think she'd be OK. She sort of favors Katie Holmes, err, "Rachel Dawes" in a way, as pointed out by several BOF'ers.
Rachel is Blunt?
Author: Jett
Thursday, February 1, 2007 - 5:00 AM: The guys over at CINEMA BLEND shot BOF an email to inform me of a Rachel Dawes rumor they dug up. According to their source, Emily Blunt may be up for the role of "Rachel Dawes" in THE DARK KNIGHT, replacing Katie Holmes who left (or was not invited back as is widely believed) the series. Click on the link for more info.
TDK Chicago News
Author: Jett
Wednesday, January 31, 2007 - 5:00 AM, 2:26 PM: I checked in with an "insider" in Chicago and was told that the THE DARK KNIGHT shoot in Chi-Town "...will be a summer shoot just like the last one...I believe the end of May is when they will set up camp." FYI...
According to the CHICAGO TRIBUNE, THE DARK KNIGHT will shoot in the Windy City for 13 weeks! "Warner Brothers will be in Chicago for 13 weeks for its next 'Batman' project, starring Christian Bale," says columnist Terry Armour. I can't believe that they will have the cast there that long. Perhaps they've "reserved" Chicago for that length of time for several sessions of filming. Thanks to "Gothamite" and "Matt S." for the link to the story...
Here's more info from REELCHICAGO.COM:
"'Actually, the year is starting off with great promise,' said Chicago Film Office head Rich Moskal. Moskal also has talked with Warner's about a major film, whose secret subject is hidden under the title of 'Rory's First Kiss.' It could shoot here for 80 days over the summer."
"Rory's First Kiss?" Sounds familar. Hmm, where have I heard that before? Thanks "Behind The Cowl."
TDK Cast News
Author: Jett
Thursday, January 25, 2007 - 6:54 PM: One of my favorite sites, LATINO REVIEW, has scored some inside scoop on THE DARK KNIGHT's casting process:
"'HARVEY DENT' is in THE DARK KNIGHT. Matt Damon passed on the role. The filmmakers met Josh Lucas and there is an interest in Jamie Foxx and Ed Norton. I'm pretty sure there are other actors that I'm not aware of up for the Harvey Dent role. Now the big news is that the character of 'RACHEL DAWES' is back...but Katie Holmes won't be playing her!"
OK, let's dissect this. LR says that Matt Damon passed on Harvey Dent. Is this why there was not announcement last Fall/early Winter? They mention Jamie Foxx, Ed Norton, and Josh Lucas -- all of those names were first brought to you by...yeah, that's right, yours truly. BOF also told y'all that Katie Holmes would not return -- it just wasn't clear whether or not the "Rachel Dawes" character was gone too.
LR also says that there are roles for: "Eastern European Heavy - tough bad guy mobster, 40s-50s, Female Cop - Latin, 30s. 'Elizabeth Pena' type, and an Asian Accountant - male, 40s." Latin female cop? Rene Montoya no doubt! Click on the link provided to read the entire report from my friends at LR! Oh yeah, LR has the scoop on The Penguin/Oswald Cobblepott in TDK -- head over there to find out.
UPDATED: VARIETY is confirming that Katie Holmes is not returning to TDK:
"Holmes, who is making her return to acting after maternity leave, has dropped out of 'The Dark Knight,' Warner Bros.' Christopher Nolan-directed sequel to 'Batman Begins.' Christian Bale, Michael Caine and Gary Oldman are locked for returns, and Heath Ledger is set to play the Joker in the pic, which begins shooting this spring."
The now confirms what BOF reported weeks ago: Katie Holmes would not be back. Now, if she dropped out, is the role being recast as reported by LATINO REVIEW? The scuttlebutt is that Rachel McAdams is set to take over the role. Now, I have heard McAdam's name mentioned in conjunction with TDK. We'll soon see if she is the "New Rachel" or not I guess.
SEMI-EDITORIAL: All you Katie Holmes fans can stop with the emails, OK? Yes, I did say that she was the weak link of the cast in BATMAN BEGINS. But I also said that was more due to the other actors and not her performance. I also said that I was all for Katie and the "Rachel Dawes" character returning -- as long as she served an important role in THE DARK KNIGHT. Frankly, I've yet to see why "Rachel" should return -- and no, not because "Rachel and Bruce make a cute couple." Puh-leeze...
THE DARK KNIGHT: 6 BURNING QUESTIONS.
TDK Production Begins?
Author: Jett
Tuesday, January 23, 2007 - 10:13 AM: According to PRODUCTION WEEKLY, THE DARK KNIGHT has been in production since January 11th -- which should be no surprise to anyone. Anyway y'all, it's here and it'll be with us until TDK hits screens in July of '08. Let's just get on with announcing that cast, shall we? ;) Thanks to "J.T." for the link!
Update on Foxx, Bailey rumors & Baltimore, UK
Author: Jett
Monday, January 15, 2007 - 6:00 AM: It looks as if Sir Michael Caine was referring to a Baltimore in Ireland/UK, not Baltimore, Maryland here in the U.S. And according to "SC in the UK," it will possibly be the location of a Batmobile chase scene. Thanks to the aforementioned "SC in the UK" and "Tom" for the info...
According to the fansite LACK-OF-SURPRISE.COM, Bailey himself says he knows nothing about these Harvey Dent rumors...
As far as Jamie Foxx is concerned, dude is on tour through April 5th (Staples Center, Los Angeles, CA). And according to the site JFTOUR.DECOSTAINC.COM, more dates will be added to his schedule. So, does this prevent him from working on TDK? Of course, there's the matter of him actually being up for the part in the first place...
Looks as if a key scene from THE DARK KNIGHT was going to be set in Paris, but has been moved to London to acquire tax rebates. Check this out from THE TIMES ONLINE:
"Already, producers are coming up with canny solutions to get round the rules. I hear that the next Batman movie, THE DARK KNIGHT, is moving a key setting from Paris to London to qualify. And I innocently thought Batman lived in Gotham City."
Bascially, films need to chalk up points on things such as setting, characters and "reflection of British life" to get those tax exemptions. Thanks to "JT" for the lead.
TDK Shooting Locations (UPDATED) and Dent Rumors
Author: Jett
Wednesday, January 10, 2007 - 5:37 AM, 3:44 PM: Thanks to the always talkative, and great, Sir Michael Caine, shooting locations for TDK are to include: Hong Kong, London, L.A., Baltimore, and Houston -- OK, I'm kidding about that last one. BOF was the first to report the Hong Kong location (October 22, 2006), although at the time it could not be 100% confirmed. Baltimore, eh? I love Baltimore! Been there several times. There was this bar down at Fell's Point, and...uh, sorry. Hmmm, no Chi-Town? Source: ARMYARCHARD.COM...
Oh, here's more of what Caine had to say: "I love doing it [the BATMAN movie series]. Even though (director) Christopher Nolan doesn't let me keep the script once I've seen it -- and only in his presence." And on Baltimore: "Baltimore!" he exclaims. "What will happen in Baltimore?" OK, all you Baltimore BOF'ers keep me posted...
FYI: It looks like I'll be heading to San Francisco in March for Wondercon. Doubtful if there will be anything TDK-related there, but I'll certainly beat the bushes...
UPDATED, 1/11.06: Rose Green, the administration manager at Baltimore's division of film and televison, spoke to BOF contributor Cary Ashby late Thursday afternoon. "The only thing that we know is that we were scouted for it. Nothing has been confirmed, or to my knowledge, really negotiated. There is no story here," Green said.
The scouting happened "a couple months ago. That's all I know. Other people know more about it than I do," she said. When asked to clarify, Green said "just average Joes" had called the agency over the last two days.
The next step, if there is one, would be for THE DARK KNIGHT crew to get information about using things such as office space in Baltimore, but Green said there has been no such discussion. She also mentioned that the film crew "would have to come through us for permits." -- Cary Ashby
Thanks to Cary Ashby for the scoop -- good work my friend...
OK, I'm going to let loose with a bit of the Dent scuttlebutt I've been hearing. I've done some checking -- asked some friends and colleagues to check as well -- so here goes. I've heard three names -- let's say "more than once" -- and here they are: Eion Bailey, Edward Norton, and Jamie Foxx.
Bailey's name came up last fall from a couple of people and then again this past week. With Bailey, you could have a "Cillian Murphy" situation. Bailey, like Murphy, tested for the part of Batman/Bruce Wayne in BATMAN BEGINS which went to Christian Bale. IF Bailey is up for Dent, perhaps Nolan liked what he saw in the actor back in '04 and brought him in for a Dent look-see.
As far as Norton is concerned, a friend and colleague of mine checked into this rumor and was told by his reps that he's not in the mix, not been offered anything, etc. -- a total denial by his peeps.
Alright, Jamie Foxx. Not a "conventional" choice for Dent per se, but he is an Oscar winner (for RAY) and a pretty big "name." This would meet the "aiming high" talk that's been going around, IMO.
So what's my take on this? Of these three, I think that Eion Bailey makes the most sense -- mainly due to the fact that he was a finalist for Batman/Bruce Wayne in BEGINS. But who the hell knows? Well, Nolan does, but he ain't talking.
Happy New Year! And some casting news?
Author: Jett
Sunday, December 31, 2006 - 4:51 AM: FYI: The BOF MYSPACE PAGE is back up. Had a little "glitch" and had to do a reboot...
According to AICN, actor Alan Dale is up for an unspecified role in THE DARK KNIGHT. Mr. Dale (who is nearing 60) is best known for his TV roles on 24, THE OC, and THE WEST WING Thanks to "Shannon T." for the link...
"Amy" sent BOF a link to CASTING-AMERICA.COM in which their scroll advertises for THE DARK KNIGHT...
I found a cool article about how The Joker should be portrayed in THE DARK KNIGHT RETURNS. It's actually dated May 2006, so mention of Heath Ledger's casting. CLICK HERE if you are interested in checking it out…
San Diego Comic Con is only 7 months away, so let me take time to remind everyone involved with THE DARK KNIGHT of that fact. Got to be there guys…
Happy New Year y'all -- Oh yeah, check out BOF's 2006 BAT-RETROSPECTIVE.
Dent Talk
Author: Jett
Saturday, December 23, 2006 - 3:06 PM: Our friends over at IGN FILMFORCE ran a blurb they've heard regarding the casting of Harvey Dent. Seems we've heard the same thing:
"While sources won't allow IGN Movies to name names, we have heard that several well-known actors are under consideration to play the man who would be Two-Face and, like Heath Ledger as The Joker, none of them are conventional choices."
If the choice isn't "conventional" and they're allegedly "aiming high," what about Denzel Washington? He's a little old for the part (IMO -- DW is in his early 50s), but he's one hell of an actor. Remember this...

That's Denzel as Dent by Lee Bermejo (click on the pic to enlarge) -- he did that for BOF a couple of years ago when I interviewed him. Don't read anything into this BOF'ers, this is just my suggestion and nothing more...
Happy Holidays to all -- even the haters! ;) I appreciate your patronage and support! 2007 is going to be a FUN year for Bat-fans.
Dent "Candidate" Eliminated
Author: Jett
Thursday, December 21, 2006 - 6:58 AM: Hugh Jackman has put to rest any talk of him playing Harvey Dent in THE DARK KNIGHT. "Same thing [as SUPERMAN RETURNS because I had worked with Bryan Singer]. I think because I'd worked with Chris Nolan. I think it was just fanboy stuff." BOF thought the same thing when the Jackman rumors first surfaced -- they were due to the fact that Jackman was in Nolan's THE PRESTIGE. With that said, Jackman did help fan the flames when he said that if Nolan called him to work on TDK, he'd be there. Let's don't put all of this on the Batman fanboys.
So who will nab the role of Harvey Dent? Even though BOF has imposed a moratorium on Dent rumors, we should find out soon enough since filming is only 3 months away. Remember, the last we heard was that Nolan and co. were "aiming high" in regards to casting Dent and the choice may be "unconventional." We shall see. Source: MOVIEHOLE.NET and thanks to "Rick" for the lead.
Ledger on The Joker's Nationality & A Return to the Windy City?
Author: Jett
Sunday, December 17, 2006 - 10:00 AM: For all of you who were curious as to where The Joker would hail from, no need to wonder any longer. I'll let Ledger tell you himself:
"The Joker...is definitely an American."
Actually, I've heard that not only is he an American, but a Texan as well! Can't wait to hear Heath's Joker say "I'm fixin' to kill y'all, HAHAHAHAHA!" ;)
Thanks to "J.T." for the lead! Source: STLTODAY.COM...
According to "Armor & Co." in the CHICAGO TRIBUNE, Warner Bros. has committed to shooting part of TDK in Chicago.
Some Costume Info
Author: Jett
Tuesday, December 12, 2006 - 10:07 AM, 6:27 PM: Not too long ago, BOF was told that the Bat-suit for TDK would be "sleeker" than its predecessor and show how Bruce would make advancements to his gear. Well, an insider is back to offer a bit more insight into The Batman's new threads.
Our guy tells us to look for a suit that's "athletic" and be more "fabricky" -- if I can use that as a description. There will still be an element of the sculpted "body armor" on the suit, so don't expect something totally rubber-free.
My take is that the suit is not going to look drasticly different from the one seen in BATMAN BEGINS. But one would expect Bruce Wayne to tweek and improve the suit, so we'll see that in TDK. Now, as far as The Joker is concerned…
We know that Heath Ledger's portrayal will be nothing like we've seen before on screen -- i.e Cesar Romero and Jack Nicholson. Consequently, don't expect TDK's Joker to be "costumed" as we've seen in the past either. While he will still clearly look like and be The Joker, expect him to be "less cartoony," if you will. Our source told BOF, "[Since The Joker is] much more dark, sinister, and threatening [in TDK], his costume is very much going to reflect that." He added, "It's not going to be a suit that is tailored for him, but more something he acquired. I mean, what tailor would actually make a suit for The Joker?"
Last week, several websites, namely my friends over at MOVIEHOLE.NET, mentioned that Rachel McAdams has been rumored for a part in TDK. McAdams was also said to be up for the role of "Pepper Potts" in IRON MAN. Well, according to McAdams fansite RACHELONLINE.NET, McAdams' publicist has shot down the IRON MAN rumor. What does this have to do with TDK? Probably nothing, but since 2007 is fast approaching, we'll find out soon enough...
Just speculating here, but IF McAdams does snag a role in TDK, what part will it be? What does this mean for the Rachel Dawes character and Katie Holmes returning?
Ledger: The Joker's a "pure anarchist"
Author: Jett
Tuesday, December 5, 2006 - 11:32 AM, 8:00 PM: Here's a bit from Heath Ledger about his upcoming turn as The Joker in TDK:
"[He's a] pure anarchist....I still feel like it's a character I've never done before,and I'm going to be donning a mask. I'm not really thinking about the commercial consequences. Maybe I should be. But at this point, it's just an exciting next step."
Source: MERCURYNEWS.COM. Thanks to "JT" for the lead, and please, no "Why is The Joker going to wear a mask?!" emails. He doesn't mean that literally...
There's some talk that Rachel McAdams may be up for a role in TDK (The "new" Rachel? Silver St. Cloud? Julie Madison? Vicki Vale? Selina Kyle?!). I will admit that I've heard nothing of this myself -- not that that means anything. McAdams is rumored to be up for the female lead in IRON MAN as well. Sources: MOVIES.GO.COM and MOVIEHOLE.NET...
Several UK BOF'ers who live near the location of the Cardington Hangers continue to email in saying activity is picking up in the area. Thanks to "Mart S." and others for the info.
Saliva to pitch songs for TDK?
Author: Jett
Saturday, December 2, 2006 - 2:13 PM: OK, y'all remember that rumor that got loose back in 2005 that several rock bands, Metallica for example, had songs on a BATMAN BEGINS soundtrack? Of course, that was total BS, but BOF'er "Jeff in Seattle" tells us that the band Saliva mentioned on radio station KISW 99.9 FM on a December 1st appearance that they were going to pitch some songs "...for the new BATMAN movie." The station puts their interviews up on their website, but had yet to post Saliva's as of this writing. Take that for what you will...
Quick editorial: I pointed out in my REVIEW of the SUPERMAN RETURNS DVD
that the "making of" documentary of the film was fantastic. Here's hoping (and kinda suggesting) that we get that sort of documentary on the "making of" TDK when the DVD hits stores in the fall of '08. Hey, they're in pre-production as we speak, let's hope all of that behind the scenes stuff is being put "on film." Anyway...
If you have a Batman fan film that you produced and would like for BOF to link to it, CLICK HERE and read the 12/2/06 update.
Page to work on Costumes
Author: Jett
Friday, December 1, 2006 - 4:39 PM: According to two online sources, Gary Page will have somthing to do with costumes on TDK. From SHOW AND STAY:
"Gary Page who is currently designing for the new HARRY POTTER film and will soon be working on the next BATMAN."
And from THE INDEPENDENT:
"As the fabric buyer for the BATMAN sequel, he is busy sourcing stretch fabrics for the outfit worn by the man in black, played by Christian Bale, buying only the very finest materials in Paris."
It looks to me that Mr. Page will be working for costume designer Lindy Hemming, who will return for TDK, I've been told. Thanks to "Bambang" for the links.
UPDATE: A BOF source has confirmed that Mr. Page is working on TDK and promises more details if he can get them...
"...he is busy sourcing stretch fabrics for the outfit worn by the man in black." Hmm, interesting. Remember a while back, a sourced informed BOF that the costume would be tweaked a bit to be "lighter and more streamlined?" I wonder if they'll be using some sort of fabric/rubbrer "armor" combination this time around? No doubt, the suit will be approved upon for TDK (But PLEASE, no spandex/DEAD END-looking Bat-suit!). It does seem that the rubbery "body armor" can be done away to a certain degree as lightweight, cloth-like armor exists. Check this out: "Liquid Body Armor" and Fabric Armor." Thanks to "Mike J. in MN" for the link to the latter article.
Bat-Studio
Author: Jett
Saturday, November 25, 2006 - 8:56 PM: According to BOF contributor "PJW," TDK is currently being prepped at Leavesden Film Studios just outside of London. (For all you non-USA readers, the tern "outside" of a city means right in the vincinity, not anywhere. But to be specific, It is situated south of Wellwyn Garden City in north Hertfordshire and approximately 45 miles northwest of central London, just outside Watford.) It would make sense as all the HARRY POTTER movies have been filmed there and those are also Warner Bros. films...
Sort of an editorial: Guys, you can't have it both ways. I've got all the emails complaining about the lack of updates and the bottom line is that it's simply quiet as hell right now. If you complained about the all the rumors that were floating around, you can't complain now that news and scuttlebutt is few and far between. It's coming -- obviously -- so chill...
For all of you BOF'ers who celebrated Thanksgiving this past Thursday, I hope it was a good one! And as always, I'm thankful for your patronage!
Williams wants in on TDK, Release Date: 7/18/08
Author: Jett
Thursday, November 16, 2006 - 2:25 PM: Check out LATINO REVIEW's video interview with Robin Williams where he states his desire to be in TDK. Williams says he'd like to have any role that's "unusual" and makes several references to "Arkham Asylum."
Hey, I know he wanted to be The Joker, but I suggested him for Oswald Cobblepot a while back -- if The Penguin ends up in the movie as was rumored. I actually think he could play just about anything and would dig seeing him show up in a Bat-flick. Thanks to "Anjow" for the heads up...
Per Warner Bros., the release date for TDK will be July 18, 2008.
Ledger's looking forward to playing The Joker
Author: Jett
Tuesday, November 14, 2006 - 6:29 AM: Heath Ledger has spoken again about his upcoming turn as The Joker in an interview for his film CANDY:
"I think [getting the role] was tougher for other people to comprehend than it was for me. I'm looking forward to it. A part of me feels like I've been warming up to [playing the Joker] for years. In THE BROTHERS GRIMM, [director] Terry Gilliam helped me put on a sort of clown act and adjust to that sort of pace. And I feel it's something within me I know how to do. I like putting on a mask. It'll be dark and sinister and exciting."
"Not being a huge comic book fan, and not one to really follow comic book movies, I'm relaxed about it. The kids in the neighborhood are on to me, though."
Source: NYDAILYNEWS.COM -- and thanks to BOF'er "CurseofCapistrano" for sending me the link!
Nolan Talks TDK Secrecy
Author: Jett
Sunday, November 12, 2006 - 10:41 AM: Director Chris Nolan spoke about why he's so secretive about TDK:
Relations with Batman fanatics have, however, been frayed by the film-makers' refusal to release information about either BATMAN BEGINS or THE DARK KNIGHT, its upcoming sequel, in advance.
What can he tell me about the new film? "Nothing." So why the secrecy? Why not feed the internet with delicious gossip? "I think we live in an age where there is too much information about the process of making a film out there too early. When you are constructing a film it is a little like a magician creating a trick. Everything must be finished and ready to present to the audience before they see anything. Nobody takes novelists to task for not reading out chapters of their books in advance. It's a visual medium. You are spoiling the experience by showing too much too soon."
Ah yes. But look how successful Peter Jackson has been in his attempts to keep the fans informed at every step. The filming of KING KONG was recorded in bewilderingly comprehensive detail on the Kiwi's website.
"I guess you go one way or the other," he concedes. "I don't know where these guys find the time, frankly. I suppose you either have complete transparency or conceal everything you can. Maybe in some perverse way they are similar approaches."
"Frayed relations" with Bat-fans? I don't know about that -- at least from my POV and the feedback I get from BOF'ers. If one's is PO'ed due to the lack of news and spoilers, then BOF ain't your sorta place. That's due to the fact that BOF is a non-spoiler site and I completely agree with Nolan's take that "You are spoiling the experience by showing too much too soon." However, I'd like them to get on with announcing the cast -- "Dent, Dammit!" ;)
Source: IRELAND.COM...
"Faint Pariah" sent us a link to a BBC AUDIO INTEVIEW with Chris Nolan you all may be interested in checking out.
Jack Palance Dead at 87
Author: Jett
Saturday, November 11, 2006 - 8:11 AM: Jack Palance, "Boss Carl Grissom" in 1989's BATMAN had died of natural causes at the age of 87. Source: UPI...
I have imposed a moratorium on Harvey Dent casting rumors until I receive official word of who got the part. I'm tired of them (I can't tell you how many I've heard that didn't make it onto BOF!) and I'm sure y'all are as well.
Dent, Dammit!
Author: Jett
Thursday, November 9, 2006 - 12:29 PM: In regards to the casting of Harvey Dent, it looks as if none of the rumored candidates will end up with the job -- not to say that they were not in the mix. In addition, there are whispers that they are "aiming high" in terms of the actor who will ultimately portray Dent. There is also been some strong indication that the casting of the future Two Face may not be considered "conventional."
"Crewing"
Author: Jett
Wednesday, November 8, 2006 - 6:05 AM, 11:00 AM: UK insider "Mr. J" tell us that the word is that TDK will not be "crewing" until March. He's not sure if that meant that principle filming wouldn't start a bit later than the March date we've been hearing...
And, BOF'er "JT" sent links to more Ledger interviews: MTV and IGN UK.
Ledger Talks Joker
Author: Jett
Tuesday, November 7, 2006 - 5:46 PM: Heath Ledger recently talked about his upcoming turn as The Joker in THE DARK KNIGHT:
Does he have an idea how he'll play The Joker? "I definitely have an image in my head. I definitely have something up my sleeve. I want to be very sinister."
Did he ever read any Batman comics? "No and I think that's kind of helping me a little bit. I was never really a fan of comic books or comic book movies. I never despised them but I was never one to read them."
Regarding which comics has he been given to read: "THE KILLING JOKE
was the one that was handed to me. I think it's going to be the beginning of The Joker. I guess that book explains a little bit of where he's from but not too much. From what I've gathered, there isn't a lot of information about The Joker and it's left that way."
Any tests with The Joker makeup? "No, but I did do 3-D image scanning. I don't know what they're doing with it."
Visit NEWSARAMA.COM and check out the entire interview...
The guys over at LATINO REVEW sent word of their interview with Ledger. He told LR that he has read the script once, at Nolan's house, and Chris wouldn't let him leave with it! Click on the link to give it a read.
A TDK Dent Candidate?
Author: Jett
Sunday, November 5, 2006 - 6:31 AM: Hey ya'll, Jett here. With production of TDK in lockdown mode for a while now, news and scuttlebutt has been few and far between of late. But a FOBOF ("Friend of BATMAN ON FILM") that I've known for a few years sent the following the other day:
"Hey man! I thought I'd pass along a rumour I heard the other day from a colleague at lunch. We were discussing casting talk around town and he brought up THE DARK KNIGHT. So we're chatting and he tells me he heard Ethan Hawke may be up for a role in the film. Naturally, I asked him 'What part?' He says 'A lawyer, I think.' I figure 'A lawyer' is Harvey Dent, perhaps? I've got nothing to back up his claim, but I figured I'd pass it along to you anyway. Keep up the great work!"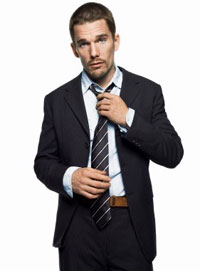 Ethan Hawke
Ethan Hawke? I guess we can add him to "The Dent List" that includes Josh Lucas, Liev Schreiber, Jake Gyllenhaal, etc., etc. Anyway, dude's almost 36 and a pretty good actor, so I'd be OK with Hawke as Dent. But remember BOF'ers, this is JUST A RUMOR. Hawke as Dent, Hmmm....
Hans Zimmer Talks TDK
Author: Jett
Thursday, November 2, 2006 - 8:09 AM: Longtime BOF'er "Anjow" sent me a link to an interview with Hans Zimmer. Here's what he had to say:
You mentioned before that you were probably going to be working on The Dark Knight, but it's not certain...
"Nothing is ever certain. They haven't even finished the script yet."
Assuming you do it, though, would you be able pull James Newton Howard back in?
"Absolutely! I should say we are doing Batman. I wouldn't leave home without him!"
In the score to the first film, the main "Batman" theme only shows up towards the end, kind of like a springboard for the second film...
"Absolutely, that's the whole idea. It's Batman Begins! There's a whole theme that's written and on purpose not in the movie. We were basically betting that this movie might work out alright and there would be another one, so we wanted the character to develop. He hasn't earned that theme yet!"
As I said before, I loved the score from BEGINS (especially that closing theme that runs during the credits) and can't wait to see what they have in store for TDK. Source: SOUNDTRACK.NET...
OK, I blew this off because it's BS, but I guess I should give a blanket answer to the hundreds of emails I've gotten. The so-called picture of Heath Ledger as The Joker in a certain British gossip rag, IS NOT real. That's a fan manip of Conrad Veidt as Gwynplaine in the 1928 film THE MAN WHO LAUGHS -- which was the inspiration for The Joker by the way.
TDK to film at Leeds?
Author: Jett
Wednesday, November 1, 2006 - 3:33 PM, 9:00 PM: A poster on the BOF FORUM says that there is scuttlebutt around the University of Leeds (located in the UK) that TDK may do some location filming there. The building of interest is said to be the Roger Stevens Building. Not much, but at least it's something...
A LATINO REVIEW scooper tells the site that pre-production has started in London and director of photography Wally Pfister, production designer Nathan Crowley, costume designer Lindy Hemming and art directors Simon Lamont & Kevin Kavanaugh are all back. The report also states "The crew have been working on top-secret designs and storyboards for about two weeks now," and they are scouting filming locations as well, including Chicago in the U.S. Click on the link provided and check out the entire report...
BOF has heard that another important member(s) of the crew will be announced soon as well -- think "F/X."
WB Intent on a BATMAN/SUPERMAN Film?
Author: Jett
Sunday, October 29, 2006 - 6:00 AM: According to my friend Clint in his "Caffinated Clint" blog at MOVIEHOLE.NET, a Warner Bros. insider told him that the studio is still intent on making a "BATMAN/SUPERMAN" film. Allegedly, the desire for such a film was one of the main reasons that WB will OK another SUPERMAN flick (even though it way under performed).
Now this jives with what I've been hearing for a few years, so I totally believe it. While Clint says he'd dig such a film, I myself leaning towards the "Hell NO!" contingent. Yeah, yeah, I was all about that Wolfgang Petersen/Andrew Kevin Walker thing a few years ago -- frankly, because I wanted another damn Batman film so dang bad. But in retrospect, I just don't think it would make for a good film -- It's gimmicky and contrived, IMO. The "It'd be like, super cool, to see Bats and Supes on the big screen together" argument doesn't sway me either. But hey, what do I know? Thanks to "Rick" for the link!
A Bat-Cycle?
Author: Jett
Saturday, October 28, 2006 - 7:00 AM: Could there be a Bat-Cycle tooling around Gotham in THE DARK KNIGHT? According to an "anonymous scooper" over at CBR, a dude in Kentucky may have been hired to make one for the film. Click on the link provided to read their Bat-blurb.
Chicago - Bats' Kinda Town?
Author: Jett
Wednesday, October 25, 2006 - 4:28 PM, 8:01 PM: If you hear or read a "press release" that Christopher Nolan is not directing THE DARK KNIGHT and Jonah Nolan is, know that this is complete BS. And this is a take it to the bank/set it in stone bit of info from BOF...
From SUNTIMES.COM:
Holy location shoot! Will the Batmobile be back on the streets of Chicago in early 2007 for the upcoming feature film THE DARK KNIGHT starring Christian Bale as The Caped Crusader?
"I sure hope we return to Chicago," says screenwriter and former Evanston resident Jonathan Nolan, who is working on the script.
His brother, BATMAN BEGINS director Christopher Nolan, echoes the good feelings for this city. "Shooting in Chicago again is something we're definitely thinking about because we had a truly remarkable experience shooting there the first time."
"I think Chicago is the best place in the world, and it was my childhood dream come true shooting the first Batman film with Christian there," Jonathan Nolan said. It was my fantasy to have car chases on Lower Wacker."
Maybe BOF will need to make a trip up to The Windy City this coming summer. Thanks to "Mark B." for the link...
In regards to that Chicago post earlier today. "Batman, Damnit!" shot me an email telling me that there may be some $$$ issues with filming in Chicago again, although the Nolan Bros. would like to film there. Another city could be used this time around, but it's sort of up in the air right now. Here's hoping that they go back to Chi-Town since they filmed there for BATMAN BEGINS.
Jonah Talks TDK, Chris Talks Katie -- kind of
Author: Jett
Tuesday, October 24, 2006 - 4:28 PM: I found the following in my inbox this AM thanks to BOF'er "JT" -- a little interview with TDK screenwriter Jonah Nolan:
Jonah doesn't rule out directing someday, but for the time being, he's busy scripting "Dark Knight," the sequel to Chris Nolan's 2005 hit "Batman Begins." "I just finished writing the first draft, so Chris is now fixing all my mistakes on that, as we speak," he says. Above Jonah's desk, clusters of scribbled-on index cards are pinned onto three bulletin boards marked "ACT I," "ACT II" and "ACT III." Might that be the "Dark Knight" outline?
Not unlike a magician protective of his trade secrets, Jonah practically spits up the Diet 7-Up he's been drinking. "That's super-secret. If I were foolish enough to leave a breakdown of 'Dark Knight' up on the office wall," he jokes, "there's a squad of ninjas that follow me around ready to cut my throat."
The article also states, "...his brother [Chris Nolan] is in Hong Kong on undisclosed business." Source: SFGATE.COM...
"Lillian" sent BOF a link to the following where Chris Nolan has a small blurb about Katie Holmes' return:
"The script is coming along. It's not at all based on Frank Miller's 'Dark Knight' comics. We have access to the entire history of Batman in the comics, so before we start work we bury ourselves in all the different work of a lot of great writers and artists — including Frank Miller, obviously, but many more as well."
On the return of Katie Holmes: "I hope so. We don't yet know exactly what's going on with all of the returning characters and actors. But as soon as I finish the script, I'll be making calls and knocking on doors and things."
Nice PC answer there Mr. N! Source: PASADENASTARNEWS.COM.
TDK in Hong Kong?
Author: Jett
Sunday, October 22, 2006 - 5:47 AM: A few weeks ago, I was told by an "anonymous scooper" that TDK may do some filming in Hong Kong. I sat on the news unitl I could get some more info, which I have. And as a result, there are some rumblings it may be true. Now, I don't believe that part of the story takes place in Hong Kong, but whatever shot there would substitute for some part of Gotham (or it could be part of a flashback). It's also been said that some shooting may take place in Liverpool, UK.
More TDK talk from Nolan
Author: Jett
Friday, October 20, 2006 - 12:47 PM, 3:07 PM: Mostly the same 'ol same 'ol, but Nolan has spoken again about TDK while doing press for THE PRESTIGE:
About being excited to do another BATMAN: "Yeah, I mean it's a pretty dumb thing of me to do, to go back and try and do it again. But you like the challenge. I just found the world and the characters pretty fascinating. And we felt that you just wanted to push with on the story really. But it'll be a huge challenge. We were very happy with the way the first film worked out and then was perceived. So yeah, it's an enormous risk. That's really what you have to be doing as a filmmaker, I think, is taking enormous risks."
The "casting" of Jake Gyllenhaal: "[Laughs] Not very close at all. I mean, I haven't thought about casting at all. Other than Heath was a particular case in point because he just became a possibility and I jumped on that because he was the guy I needed. But I haven't finished the script yet. There'll be plenty of time for that."
The ease of preproduction this time around: "There are certain things that obviously you're not having to worry about and spend time on. We've already made the Batmobile. We already have the main members of the cast. So, yeah. But frankly, the new film poses all kinds of new challenges so it'll be just as tricky in its own way."
Thanks to all the BOF'ers who sent in the lead. Source: JOBLO.COM...
Friend of BOF "Stax" sent word of his red carpet interview with Chris Nolan. Nolan was asked about the look of The Joker, and Nolan was coy yet again. Go figure. CLICK HERE and check out the video...
Here's what the great Tim Burton (Yes, I said "great" -- even though I hate BATMAN RETURNS, BATMAN remains one of my favorite films of all time) had to say about the upcoming THE DARK KNIGHT:
Speaking of things you've done that are now being done a different way: Are you interested to see what Chris Nolan and Heath Ledger do with The Joker (in the upcoming sequel The Dark Knight)?
You know, these things are like folk tales. Everybody has their version — which is good. I think that's what these things require and deserve. There's a reason why they stay around.
Did you think 16 years later people would still be making new Batman movies? After a certain point, don't you want to claim the definitive one and tell everyone else to go away?
No! Look it: The franchise world is a lot bigger than us puny humans. [Laughs]
Who did this interview? 16 years? BATMAN was 17 years ago! And the definitive Bat-Film? I don't know about that -- the most important one to date, no doubt. Nonetheless, TB's place in Bat-History is more than secure. Thanks to "Evil Twin" for the link. Source: EW.COM.
TDK Talk
Author: Jett
Thursday, October 19, 2006 - 5:16 AM: Knowing that the press junket for THE PRESTIGE was talking place last weekend, I figured that there would be a ton of TDK info online this week. And I was correct. Several BOF'ers sent us a link to an article over at VH1.COM. Here's a few blurbs:
Bale: "It's all top-secret stuff. Chris will call me in due time, and I trust him completely. On that, I know I'm in very good hands. All I know is that we will be improving upon a pretty damn fantastic first BATMAN BEGINS."
Caine: "I spoke to [Nolan] about [The Joker] and said, 'This is how I think The Joker should be.' I said a certain thing about how it should be done, and he [Nolan] says, 'I've got a better way than that one.' And I went, 'Whoa,' because my way was good — my way was really good. Because, I mean, you have got to top Jack — and not a lot of people can top Jack....Christopher is very tight with everything. He won't tell you anything, even though I know him so well. But I think it will be incredible."
Nolan on BOF - errr - The Net and Bat-Fans: "I really don't look at any of that stuff, because when you work on something like 'Batman,' it's simply too confusing with all of the different amounts of interest in it. It's very gratifying that there is such a loyal fanbase and that they are interested. But I'm a bit of a Luddite when it comes to technology; I don't really use the Internet. I'm aware of some [rumors]; my wife tells me about the more outlandish ones and so forth. It is fun that people are so interested, and it's really a great thing that the fans are so passionate."
As you can see, everyone -- sans Caine -- was very coy about everything TDK related. Anyway, THE PRESTIGE hits theaters Friday and I'm sure Nolan and company will go full speed ahead with TDK.
Caine Talks TDK Script
Author: Jett
Tuesday, October 17, 2006 - 9:27 AM: Michael Caine (like me) believes the script for TDK is finished. Here's what he had to say:
"I'm just waiting to get the script. Every time I ask him for it he says, 'I haven't finished it.' I know he's finished it, otherwise [Warner Bros.] wouldn't have given it [TDK] the go-ahead."
Caine has also suggested to Nolan that he should include a scene where Alfred dons the Bat-suit. Don't worry Bat-fans, I doubt we'll see Sir Michael do an Alan Napier, OK? Source: SCIFI.COM (Thanks to "Skip" for the lead)...
Got this in this morning from an industry friend of mine. I found it interesting and thought y'all would too:
Bill, I can tell you the following with complete confidence, so pass it along to your "BOF'ers" if you'd like. There are two things that "The Powers That Be" are particularly concerned about right now.
One, casting (especially for Harvey Dent) will get leaked and end up online like Ledger getting the role of The Joker. Secondly, they [WB, Nolan, the producers, etc. -- Jett] are making every effort to ensure that the script does not end up online as it did with BATMAN BEGINS -- although I'm not completely sure that that didn't happen intentionally. This is at the root of all the coyness of late."
Interesting. Moving on, "JT" sent us a link to an interview where Nolan talked about his decision to cast Ledger:
"I didn't think it was something he would be remotely interested in. I'd been a great admirer of his so I thought I'd ask."
Emma Thomas chimes in about HL:
"Every film I see Heath in he's somebody who is completely different. He's very much like Christian (Bale) where he commits his body to whatever role he is playing."
Source: THEAGE.COM.AU.
Nolans, Bale Talk TDK
Author: Jett
Monday, October 16, 2006 - 9:06 AM: The Nolan brothers talk a little -- and I mean a little -- about THE DARK KNIGHT with COMINGSOON.NET...
And our friends at IESB.NET sent us word about their interviews with Christian Bale and the Nolans.
TDK Scouting Liverpool
Author: Jett
Friday, October 13, 2006 - 11:16 AM: According to icliverpool.icnetwork.co.uk, THE DARK KNIGHT may shoot in the English city Liverpool. The article says that they are scouting waterfront areas. Thanks to "JT" for the link...
"JT" also sent BOF a link to a ESQUIRE Q&A WITH CHRIS NOLAN in which he poo-poos the scuttlebutt that Philip Seymour Hoffman was up for The Penguin -- or that The Penguin is in TDK...
And finally, get on with the Dent casting announcement already!
Nolan on BEGINS and TDK
Author: Jett
Wednesday, October 11, 2006 - 12:11 PM: As I said, Nolan wil be doing more and more press for THE PRESTIGE, and here's another example. An interview with Nolan by INFOCUSMAG.COM is very insightful -- the most Nolan's talked about THE DARK KNIGHT yet. And he confirms that that is the title -- no "BATMAN:" before it. Here's a bit of what he had to say about The Joker:
Are you drawing any inspiration from Alan Moore's "Killing Joke" — which made a point of grounding The Joker not in this "Clown Prince of Crime" stuff, but more in sadness and failure?
NOLAN: We're drawing from the entire canon. I don't want to talk too specifically about it. The thing I will say is that if you go back to the very first appearance of the Joker in the comics …
Which I've read. And he's a bastard.
NOLAN: [emphatically] Yeah. And there's a very clear direction … It's pretty surprising how clearly drawn that character is in that book.
If you've read those early stories, Heath Ledger makes sense as a casting choice.
NOLAN: It certainly makes sense to me.
Great stuff there. Be sure to check out the entire interview. Thanks to "JT" for the lead.
Nolan Speaks about Ledger and The Joker
Author: Jett
Tuesday, October 10, 2006 - 9:10 AM: Nolan talked to SCI FI WIRE about the casting of Heath Ledger as The Joker:
"He's just exactly the kind of energy I needed for the character...Everything about the risks that that performer is willing to take are the things I need for somebody to take on that iconic figure. It's going to be a huge challenge for us to create it, and he's exactly the guy you want to be in the trenches with."
"To be frank, I hadn't really thought about doing the sequel while we were doing the first one, but we wanted to end the first one with a sense of possibility. And, frankly, the dynamic of that scene and the sense of possibility that we tried to leave the audience with at the end of Batman Begins just stuck with me. And I felt it as much as I hope the audience did. So we really just want to carry on that story and see where it goes."
Nolan also commented that due to his work on THE PRESTIGE, he hasn't been able to focus on casting. However, the word is floating around the the part of Harvey Dent has been, or is close to being cast, and an announcement is coming soon...
Here's a heads up from BOF. I believe the press junket for THE PRESTIGE is this coming weekend. Consequently, Nolan and Christian Bale are virtually assured of getting tons of THE DARK KNIGHT questions thrown their way -- which of course will filter online almost instantly.
Phillippe Talks Dent...Sort of
Author: Jett
Monday, October 9, 2006 - 6:13 AM: Our friends at IESB.NET sat down with Ryan Phillippe at the FLAGS OF OUR FATHERS press junket and asked him about the Harvey Dent rumors. Phillippe stated that he didn't know where these rumors came from but was certainly open to the possibility of playing Dent. He also praised director Christopher Nolan and Christian Bale saying "they're putting together some great people for it [THE DARK KNIGHT]." "At this stage, there's nothing," said the actor. Click on the link provided to check out the video for yourself.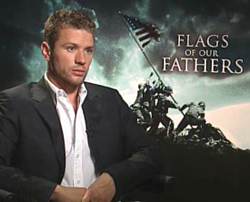 Ryan Phillippe
Zimmer to do TDK Score
Author: Jett
Saturday, October 7, 2006 - 8:13 PM: According to an interview with SOUNDTRACK.NET, Hans Zimmer will return to Gotham as he will score THE DARK KNIGHT. "Well, once I've done the next Batman movie, which will finish in early 2008, I thought I'd take a year off from writing film scores and just go and do some concerts," the composer told the website. And that's fine with me as I loved the BEGINS score. Thanks to "Bat Joe," "Vanessa," et al for the lead!
Harvey Dent Already Cast?
Author: Jett
Friday, October 6, 2006 - 12:54 PM, 6:15 PM: See below, then read THIS from IGN FILMFORCE. Politically correct denials from the camps of Jake Gyllenhaal and Guy Pearce. But when it comes to Ryan Phillippe, it's a bit different -- no responses, no comments, and "official" no's depending on whom one asks. As for BOF, I shot an email to Warner Bros. and was told that there is "nothing new" in regards to TDK. Here's what "Stax" reported about Phillippe --
The most curious responses came from Phillippe's camp. His management, The Schiff Company, had no comment. The actor's lawyer, David Weber, advised IGN that he didn't know the answer. Warner Bros. reps did not return calls for comment.
Phillippe's agency, UTA, initially insisted that, "We cannot comment on that." But during a follow-up call, a UTA agent advised IGN, "We've not been contacted by anyone. There's not a script yet. ... There's no story here."
Phillippe's publicist, Nanci Ryder, told us flatly, "No, he's not in it. No Batman. Official denial."
One thing I've learned -- denials mean nothing. I'm not insinuating that's it's RP, but I do KNOW that we're going to find out soon just WHOM it is...
Let me start out by saying that I don't have a name for Dent, so if that's all you want, then I don't know if I have something that'll interest you. Hey, it's like Ft. Knox with THE DARK KNIGHT right now! But what I do feel very confident in saying that the role of Harvey Dent has been cast -- or they know whom they want and it's down to formalities. And unless someone doesn't care about their job and/or position and leaks it, we're going to find out who the guy is in the trades. I also feel secure in telling you that an announcement is imminent -- like real soon. FYI y'all.
Dent Announcement Imminent?
Author: Jett
Wednesday, October 4, 2006 - 8:10 PM: OK, the Dent scuttlebutt is RAGING right now! Names are flying left and right -- some we've heard before, some we haven't. Trust me -- this is one of the most sought after roles in H-wood. Nonetheless, I'm thinking something will happen SOON. It could be here at BOF, another site, or in the trades. At any rate, I expect an official announcement regarding Dent shortly as several sources have indicated just that to BOF. Be on the lookout y'all! Trust me...
I have been told by a reliable source that Katie Holmes will not be back for THE DARK KNIGHT, but ALL other major players have signed for the sequel (Perhaps she just hasn't "officially" signed on???) . Now, don't take that to the bank -- yet. But it comes from someone who would certainly be in the know.
Nolan Talks TDK, Confirms Dent
Author: Jett
Tuesday, October 3, 2006 - 6:59 AM: Our friend "Stax" from IGN FILMFORCE sent me word that they attended "An Evening With Christopher Nolan" on Oct. 2 at the Egyptian Theatre in Hollywood, where Nolan's first feature, FOLLOWING, was screened along with the trailer for his next release, THE PRESTIGE. Nolan finally revealed what has long been suspected -- Harvey Dent is in THE DARK KNIGHT:
* Is Harvey Dent in the film - "I don't want to go into too many specifics. Yes, he is."
* Will Dent be played by an American, Aussie, or Brit, and has an actor been cast? - "You'll see" and "Not yet."
* Does it tie into BATMAN BEGINS? - "It does, absolutely. It's a pretty direct continuation of where the last film left off, and the last scene of BATMAN BEGINS suggests a strong direction we wanted to take the story in. It absolutely carries on with a lot of the thematic concerns and hopefully takes it someplace new."
As far as the casting of Dent is concerned, BOF has heard for a while now that it is one of the most sought after roles in Hollywood right now. Actors Jake Gyllenhaul, Josh Lucas, and fan-fave Live Schreiber have been tied to the role over the past year, with Lucas actively pursuing the part of Gotham's Asst. D.A. and eventual villain Two Face...
BOF'er "A.A." chimed in on Nolan's appearence with the following:
"I was at the [Nolan] screening last night. He did reiterate...that THEMATICALLY 'The Dark Knight' would continue from where 'Batman Begins' left off. He also talked extensively about how his films tend to be structured non-linearly [and how] you see this repeated in 'Batman Begins,' in the beginning. He [also] talked about how the scripts for his films teach the viewer how to read the structure of the film. But when it comes to the actual film, sometimes a scene that may be shortened on the page has to play out a bit more to allow the audience to gain a sense of mood, tone and attachment to the characters.
He [said] most of his films containing the same film 'grammar' -- a la 'The Prestige' still being "a bunch of actors standing near windows" as was his motif in 'Following.'"
As I've said, the buzz is that some official news should come down around the time of THE PRESTIGE's release, as Nolan and Bale are sure to be hammered with TDK questions on the press junket.