Got Bat-news? The skinny? Inside info?
Send it to: BATMANONFILM@MSN.COM
BOF's DISCLAIMER & NOTICE:
Unless otherwise noted, all BATMAN movie news
should be considered rumor and treated as such.
Please, INCLUDE A LINK back to BATMAN ON FILM (http://www.batman-on-film.com)
when using news originating from this site.
BOF's spoiler policy is we do not post information that would ruin the enjoyment of the film,
but does get people excited and interested in the BATMAN film series.
New Mailbag
Author: Jett
Friday, July 28, 2006 - 12:00 PM, 1:07 PM, 9:20 PM CENTRAL TIME: The latest BOF MAILBAG can be read by CLICKING HERE...
Comic Book Review: BATMAN #655...
DVD Review: V FOR VENDETTA...
I got wind of this rumor (and that's all it is right now, OK?) not long ago from one of my industry friends. At the time, he himself said I should sit on it as it was nothing more than scuttlebutt and couldn't be confirmed. So that's exactly what I did -- I sat on it and didn't mention it on BOF. Then today, I got an email from an emailer who has absolutely nothing to do with my insider amigo, but dropped the same bit of info the former had previously.
Both mentioned a name of a soon to be 32 year old actor who may, according to what both these guys heard, be being considered for the part of D.A. Harvey Dent. He's an actor similar to 27 year old Heath Ledger to a certain degree, although he's nearly five years his senior. Who is this actor you ask? Ryan Phillippe.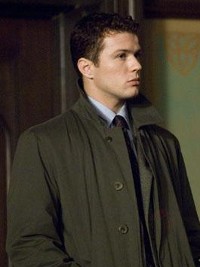 Ryan Phillippe
BAT 2 Update
Author: Jett
Wednesday, July 26, 2006 - 8:55 AM CENTRAL TIME: Well, it begins. From this point on, expect the news and rumors to really pick up. Here's our first report from one of our sources who has been tremendous for BOF in the past. Here's what he had to tell us:
As rumored and expected, The Joker is going to be nothing like Nicholson's version from B89. "What would be the point in trying to recreate something that was done so well then?"
Expect to see a back story for The Joker and we shouldn't expect to see him until the middle of the film. "Like Batman in BEGINS."
The Joker will not be the only villain in the film. "I know you've heard this before but trust me -- Nolan and his brother have a couple of surprises up their sleeves!"
"Heath Ledger is perfect for the role as he has never played this kind of part before which is what Nolan was after. Think about it -- if you see Sam Rockwell or Robin Williams or even Hugo Weaving, you'd know exactly how they would play the role before even seeing the film and that's not very intriguing for fans is it? I have a feeling Paul Bettany was out of the mix after his performance in The Da Vinci Code."
"From what I've heard about the direction of the film expect The Joker to be very creepy and very extreme."
"Whatever you've heard about titles for the film -- pay no attention as the title will most likely not be known until they've finished shooting."
He also told us that THE PRESTIGE is going to blow everyone away. "Think the vision of BATMAN BEGINS mixed with the suspense of MEMENTO," our source said...
Movie Review: THE ANT BULLY.
To WB, The Fan, And Mr. Nolan
Author: Jett
Tuesday, July 25, 2006 - 11:03 PM CENTRAL TIME: Hey y'all Jett here. Comic Con was a blast! I had a great time there and can't wait until next year! Got back late Sunday and then had to go to a movie screening Monday (THE ANT BULLY), so I've been on the go since last Thursday. Anyway, I'm back to my regular schedule and will be updating BOF and ON-FILM over the next few days. Right now, HERE's a little OPINION PIECE I hope you all will read. And to all of you I met at Comic Con, thanks for saying hello and I enjoyed meeting each and every one of you.
2007 -- Bat-Comic Con
Author: Jett
Sunday, July 23, 2006 - 1:42 PM PACIFIC TIME: After attending the SPIDER-MAN 3 panel/presentation Saturday at Comic Con, there is NO DOUBT in my mind that this needs to be done next summer for BATMAN 2. Nolan, Bale, Ledger, and the rest of the major Bat-cast all must be there. And if was up to me, which it isn't, I'd use that as my first opportunity to reveal Ledger as The Joker.
And while I'm at it, I'd market and hype the hell out of the next Bat-flick. I thought the low-key approach was brilliant for BATMAN BEGINS as the ghost of B&R was still haunting the franchise. But it's been exorcised, so let's kick up the buzz bigtime. I have no doubt that if the movie is done right (and I trust Nolan) and is marketed correctly, it has a chance to be a $300 million film.
If there is one thing I know, people are fired-up like hell for the next Bat-film -- Bat-fan and regular Joe alike...
I'll say this and speak up for the Bat-fans: A LOT of them are not happy about this news. On the new Bat-Poll (make sure to vote if you haven't already), there have been a total of 300 votes since I put it up and "Thumbs Up!" is winning 57% to 43%. So that tells me that all of Bat-fandom is split.
Mr. Nolan, you won our trust with BATMAN BEGINS -- we hope you are right about this.
Heath Ledger? It's TRUE
Author: Jett
Friday, July 21, 2006 - 8:26 AM, 1:50 PM PACIFIC TIME: I just got back from Comic Con and I'm sitting in a Mexican food joint updating my coverage of the event. So, I check my email and find that I have 1,000 plus emails about Heath Ledger as The Joker.
Really.
Everyone wants to know what I think about it -- why, I really don't know. But I'll tell y'all anyway.
I'm down with it.
Why, because I trust Nolan and have no reason to doubt him.
So there y'all have it, my initial reaction. Sure I had my favorite (Lachy Hulme) like everyone else did. And yeah, there's some "WTF" initially for me. However, methinks that getting the "WTF" thing out of everyone is genius.
Leaking it (and it WAS leaked) right as Comic Con was commencing was f'n brilliant.
And I'll say this, even though I had a "favorite" (WTF do I know about casting?), I've long said that this Joker has to be totally different than anything we've seen in the past, live-action that is.
So, let's get on board with this and reserve final judgment two years from now…
I usually don't go out on a limb unless I have have something confirmed, and it has been. Heath Ledger will be The Joker. From my BEST source:
"Nolan has been in secret talks with Ledger for some time....The fan favorites like Paul Bettany, Crispin Glover and your fave pick, Lachy Hulme, were just grist for the mill. Ledger will be playing The Joker. The offer was made last night, and it will be a done deal."
There you have it. Heath Ledger is The Joker.
The Joker Cast!? Heath Ledger?!
Author: Jett
Thursday, July 20, 2006 - 3:56 AM, 5:42 AM CENTRAL TIME: According to a report on LATINO REVIEW, 27 year old Heath Ledger will be cast as The Joker in the upcoming sequel to BATMAN BEGINS -- well, he's going to get offered the part. Ironically, Ledger is about to shoot I'M NOT THERE which also stars Christian Bale.
I'm heading to San Diego and I'll see if I can dig something up confirmation-wise for you all. Stay tuned...
A couple of things I'm going to throw out there for you all to ponder: 1. January 2007. 2. "Rory's First Kiss."
New Bat-Poll
Author: Jett
Wednesday, July 19, 2006 - 7:06 AM CENTRAL TIME: There's a new Bat-Poll over on the MAIN PAGE and I'd really like all you readers to vote. It concerns casting The Joker with an unknown or a "Name." Several have already voted since it went online yesterday...
Movie Review: LADY IN THE WATER.
No BEGINS Sequel at Comic Con
Author: Jett
Sunday, July 16, 2006 - 2:21 PM, 5:16 PM CENTRAL TIME: Just so no one gets bent out of shape, don't expect any Bat-Movie news at Comic Con this week. However, I'm going to do my best to find some for all you -- my Bat-Brethren...
Speaking of COMIC-CON, if you are going to be there Sunday (June 23rd) and can cover DC COMICS's "The Big 3" presentation at 10:30 AM (Room 5AB) for BOF/ON-FILM.NET, shoot me an EMAIL. This is a non-paying gig, but yoy'll get full credit for the article. Here's the synopsis:
For one year, DC's three finest heroes were gone. But now they've returned! Find out where they've been and what's in store for the World's Greatest Super-Heroes with the new iconic architects Geoff Johns ("Action Comics," "52," "Green Lantern," "Teen Titans"), Grant Morrison ("52," "Batman", "WildCATS"), Kurt Busiek ("Superman," "Aquaman"), Terry Dodson ("Wonder Woman"), Paul Dini ("Detective Comics"), and group editor Eddie Berganza and senior editor Matt Idelson.
How badass does that sound! I'm just not happy that it's on Sunday, as I have to jet (hehehe) back to Texas the first thing Sunday AM...
Movie Review: LITTLE MAN...
Comic Book Review: BATMAN: YEAR 100...
Part 1 of 2 of my -- let's see, what am I going to call this -- "It's Casting Time!" I'm focusing on the two biggest roles we're all talking about: The Joker and Harvey Dent. CLICK HERE to read Part 1.
BEGINS HD DVD
Author: Jett
Thursday, July 13, 2006 - 9:18 AM, 4:48 PM CENTRAL TIME: According to VIDEOBUSSINESS.COM, BATMAN BEGINS will be released on HD DVD during the third quarter of 2006...
BOF has been informed that BATMAN BEYOND, Season 2 will be released on October 24, 2006. It will be a 4-disc set. Here's a look at the cover art: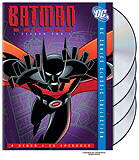 It'll have a MSRP of $44.98...
Comic Book Review: DETECTIVE #821...
BOF's Robin bio has been UPDATED a bit, as has the one for BATMAN. FYI.
Joker Casting Poll #1 Results
Author: Jett
Tuesday, July 11, 2006 - 9:29 AM, 2:50 PM 9:37 PM CENTRAL TIME: I replaced the last "Bat-Poll" with a new one and didn't report the results. The poll was titled "Of These 4, Pick The Joker," and the candidates were Lachy Hulme, Hugo Weaving, Jude Law, and Paul Bettany. I've got to say this was BOF's most participated poll, just a tad short of 6,000 votes. Here are the results: Law took in around 900 votes (15%). Hugo Weaving received a little less than 1,200 votes (20%). Paul Bettany raked in roughly 1,500 votes (25%). And Lachy Hulme topped the poll with nearly 2,400 votes (40%). I figure that casting will start sometime later this year, so we'll do two more polls down the line -- one for The Joker and one for Harvey Dent...
I'm still all about casting an unknown, albeit good actor for The Joker who will totally disappear into the role...
Not Batman, but Bale, Caine, and Nolan. A first look at THE PRESTIGE via YOU TUBE. Thanks to "Nathan" for the lead...
Comic Book Review: BATMAN #654.
Caine Confirms The Joker
Author: Jett
Saturday, July 8, 2006 - 11:47 AM, 2:59 PM CENTRAL TIME: In an interview at TURNER CLASSIC MOVIES, Sir Michael Caine confirms his return for the BEGINS sequel -- and the inclusion of The Joker:
"...there are three pictures I want to do, small parts. One [Children of Men, released September 2006] is with Alfonso Cuaron who directed Y tu Mama Tambien, I wanted to work with him and then Christopher Nolan who directed Batman is doing a smaller film called The Prestige about magicians and it's very interesting. And we're going to make The Joker next year."
And before anyone flips out, "The Joker" is not the name of the sequel. Thanks to "J" for the lead...
"History of The Batman" has been updated: BATMAN BEYOND...
Movie Review: POTC: DEAD MAN'S CHEST...
Comic Book Review: DETECTIVE #820.
Caine Talks BEGINS Sequel
Author: Jett
Friday, July 7, 2006 - 5:16 AM CENTRAL TIME: Sir Michael Caine appeared on the UK TV program called "Off Set" recently. Caine said he considered himself "retired" and that he comes out of retirement for good projects -- like the sequel to BATMAN BEGINS which he will work on in 2007. He also mentioned that they'll be dealing with The Joker in the next Bat-flick and Chris Nolan is directing.
Now I didn't see this myself, so if anyone caught Caine on this show, shoot me an email and confirm this for all of us. And thanks to UK BOF'er "Dave C." for the info...
Singer Directing BVS? Nope
Author: Jett
Thursday, July 6, 2006 - 2:54 PM CENTRAL TIME: People, let this die, OK? I'm sure that Bale, Singer, Routh, and Nolan are sick of being asked about it.
I guess Bryan Singer was asked recently about directing a Superman/Batman team-up film by MTV and here's what he had to say"
"I've thought about it for a long time — even a longer time ago, actually," the director revealed. "But I don't know who would be the villain. I guess Batman would be the villain, but then he can't be too bad, because he is Batman. So not quite yet….I think Superman needs to have his own movies for a little while before that happens."
Let me translate this for you all: It ain't going to happen anytime soon. This in nothing more than the media stirring the pot -- and trust me, I've been around personally to see it happen. These are all nothing more than politically correct responses to nonsense questions.
My take: Let both franchises ride for a while. They equally need several more good films under their belt before it is fathomable. I know all the fanboys would totally trip out over such a celluloid meeting, but the time ain't right y'all.
Thanks to all you BOF'ers that sent in the lead! It's very appreciated...
MY SCATTERSHOTS blog has been updated.
Goyer on BEGINS sequel
Author: Jett
Wednesday, July 5, 2006 - 11:47 AM, 1:31 PM CENTRAL TIME: "Dave From Toronto" gave BOF the heads-up to a TV GUIDE story featuring David Goyer. He's asked about the BATMAN BEGINS sequel and basically confirms what we've been saying:
TVGuide.com: How about the Batman Begins sequel?
Goyer: [That] is in the works as well. [Director] Chris Nolan is editing The Prestige right now, and as soon as that is finished, we're all talking about that going into much higher gear.
TVGuide.com: Is the cast returning?
Goyer: I believe that's the intent.
As you and I already know, work on The Sequel should kick into high gear this fall...
"History of The Batman" has been updated: BATMAN: THE ANIMATED SERIES...
Movie review: THE DEVIL WEARS PRADA.
Robin Williams really in the mix?
Author: Jett
Wednesday, June 28, 2006 - 2:04 PM CENTRAL TIME: Could Robin Williams really enter the mix to play The Joker? Could be. At first I dismissed it and figured RW was getting some run due to his prior association with Chris Nolan. But Williams seems to want the part -- bad.
As a result, I've been doing a bit of digging on this for you all and myself. I had one of my "industry insiders" tell me that if Mr. Williams wants the job, he'd certainly "be right there in the mix" for the role. "How could Warner and Nolan NOT seriously consider him," our source said. Anyway, I'm still on it and have made a few calls and emailed various sources and I'm waiting for a response -- which may not come until next week after the 4th of July…
I've updated my articles on TOP SUPER HERO MOVIES and BEST SUPERHERO MOVIE MOMMENTS…
Since I will have seen SUPERMAN RETURNS four times come 5:30 PM, I'm going to do an update/follow-up to my REVIEW.
Review: SUPERMAN RETURNS
Author: Jett
Tuesday, June 27, 2006 - 9:43 AM CENTRAL TIME: My review of SUPERMAN RETURNS...
Robin Williams has commented yet again on his desire to play The Joker. CLICK HERE to read the full article. Here's a bit:
"Oh God, I'd love to do that one. Well, you want to do a different Joker. You know, if they do 'Arkham Asylum,' it would be amazing. 'Arkham Asylum' is one of the greatest, nastiest comic books ever."
"Bat-Treasures" #2 and Superman Returns!
Author: Jett
Monday, June 26, 2006 - 6:23 AM, 4:46 PM CENTRAL TIME: I'm too fired up! Part 1 of Part 2 of my SUPERMAN RETURNS review is now up. CLICK HERE to keep up with my own personal geekness...
Author Mark S. Reinhart is back with another edition of "OVERLOOKED BAT-TREASURES"...
My review of SUPERMAN RETURNS will be posted later -- probably around midnight...
I was sent a link to an interview with BATMAN RETURNS (Don't get me started!) and HEATHERS scribe Daniel Waters I thought some of you BOF'ers may enjoy. Here's a rather startling quote from Waters -- at least from this Bat-fan's perspective -- regarding his CATWOMAN script:
"Yes, I did the first script. It was pretty outlandish. I liked Catwoman more than Batman as a character [WTF!? -- Jett]. So I basically wanted to remake BATMAN, only with no Batman, who was the most problematic character [WTF!? #2 -- Jett], which some people said I did with BATMAN RETURNS anyway."
I'd LOVE to interview Mr. Waters. Anyway, CLICK HERE to check it out y'all…
Saw NACHO LIBRE. So what did I think? CLICK HERE to find out…
And the main reason for this update is that I continue to hear whispers that there may be some BATMAN BEGINS sequel news at COMIC CON in July. As I mentioned previously, a Warner Bros. rep told me nothing is planned, but there's still scuttlebutt saying otherwise.
FYI: SR Special Screenings
Author: Jett
Tuesday, June 20, 2006 - 1:46 PM CENTRAL TIME: An FYI: There will be special screenings of SUPERMAN RETURNS next Tuesday, June 27th at 10PM and at midnight as well...
And it looks as if SR is getting some really good reviews. CLICK HERE for more on that story...
And speaking of reviews, mine for SUPERMAN RETURNS will be posted at 12AM Tuesday, June 27th...
Hey, it's not all Kal-El news today (Can y'all tell I'm proud of what Singer & Co. did?), I've got a new op-ed. CLICK HERE to read my favorite "Superhero Movie Moments" of all time."
Well, at least part one.
A BOF AT 8 Retrospective
Author: Jett
Sunday, June 18, 2006 - 4:34 PM CENTRAL TIME: It crossed my mind recently that BOF just passed the 8 year mark. So to celebrate, I've whipped up an article chronicling my top 7-plus moments since I started the site. CLICK HERE to give it a read.
Lachy Hulme on Aussie Radio - Again
Author: Jett
Friday, June 16, 2006 - 9:03 AM CENTRAL TIME: Actor Lachy Hulme was on radio in Australia recently according to several Aussie BOF'ers. The only thing of importance was that Mr. Hulme confirmed that he has yet to meet with director Christopher Nolan, who is still in post-production on THE PRESTIGE. Hulme also talked about how fast his last appearance on the radio showed up on the Net and that as a big Batman fan himself, he keeps up with all talk about The Sequel.
Hulme's affirmation that he has not met with Nolan is no shocker. It has been confirmed to me previously that he met with producers, most likely Charles Roven, about the role of The Joker in The Sequel.
Hulme and Brit thesp Paul Bettany are the two most discussed "candidates" for role of The Joker in the upcoming follow-up to BATMAN BEGINS. Also said to be "in the mix" are Hugo Weaving and Jude Law...
One year ago this weekend was BATMAN BEGINS weekend in the U.S. Two years to go until The Sequel...
A rundown of the animated series THE BATMAN has been added to BOF's "History Of The Batman." CLICK HERE to read.
SR Review Preview & Cusak Wants In Two?
Author: Jett
Wednesday, June 14, 2006 - 2:00 PM CENTRAL TIME: While my review of SUPERMAN RETURS won't go up until Tuesday, June 27th, I've got a little preview article up over at ON-FILM.NET...
For you BOF'ers of the female persuasion, a review of THE LAKEHOUSE...
We've a new sweepstakes beginning for SUPERMAN RETURNS! CLICK HERE to enter...
You have no idea how many casting "scoops" I get every day. I'd have ignored the one I'm about to report today if it hadn't come from an insider that I know and trust. Anyway, here goes --
"I was chatting with a friend of mine this past weekend who works for XXXXXX about 'Superman Returns' (the junket was here this weekend) and talked turned to [Chris] Nolan's 'Batman' sequel. We ran through all the casting rumors and he said to me rather matter of factly that he'd heard that John Cusak was interested in 'a villain role.' I asked him if he meant The Joker, and he said 'No, the lawyer [D.A.] that goes bad. Two Face.' I thought I'd pass it along to you as the guy is a friend of mine and doesn't talk BS. Cheers!"
John Cusak as Dent? I hadn't never even thought of that, but he wouldn't be bad IMO. Anyway, let me remind you that this should be taken as nothing more than rumor right now -- but it's certainly interesting. It also looks as if he'd have time. He's about to film 1408 and early 2007's open, according to IMDB PRO...
According to Warner Bros., there have been no new annoucements for the BATMAN sequel, so the Paul Reubens-as-The Joker rumor that made the rounds is nothing but, well, a rumor -- a bogus one at that. In other words, it's total BS...
Also, no "official" annoucements for The Sequel are planned at Comic Con, but it wasn't totally ruled out either. FYI...
"The History of The Batman" has been updated with a new villain. CLICK HERE to find out which one.
Levitz on BEGINS Sequel
Author: Jett
Friday, June 9, 2006 - 7:28 PM CENTRAL TIME: DC COMICS head honcho Paul Levitz said the following to SHH about The Sequel, "It's going to be really good." Yes it is, no doubt. And thanks to habitual emailer "Dave From Toronto" for the lead (I'm kidding dude)...
Check out my review of CARS.
No Jackman?
Author: Jett
Wednesday, June 7, 2006 - 8:28 AM CENTRAL TIME: Hugh Jackman has signed on for Bazz Luhrmann's untitled romantic epic, joining Nicole Kidman. What does this have to do with the BATMAN BEGINS sequel? Not much, but it pretty much rules out Jackman for Bat-work, as filming of both looks to take place concurrent (Source: MOVIEHOLE.NET). Thanks to "Dave From Toronto" fro the lead...
A little birdie told me that there might be some official Bat-Sequel news released at Comic Con. I'll be there, so we'll see come late July...
My SCATTERSHOTS have been updated. There's a Bat-campaign we need to get rolling...
ON-FILM.NET's review of THE OMEN...
It seems that IMDB.COM now has Paul Bettany listed as being "in talks" for the role of The Joker. My reaction is the same as it was when they listed Lachy Hulme the same: Big deal. Don't read to much -- if anything -- into that.
Bale Wins MTV Award - UPDATED, AGAIN!
Author: Jett
Tuesday, June 6, 2006 - 7:50 AM CENTRAL TIME: Hey BOF'ers, Jett here with yet other update of Mr. Bale's MTV Movie Awards win. Check out the pic below of Bale and Brandon Routh -- Superman and The Batman meet, sort of:

I'm just hoping that any other meetings between the two are off screen as well...
It seems that the "Big 3" from SUPERMAN RETURNS (Brandon Routh, Kate Bosworth, and Kevin Spacey) presented Christian Bale with his MTV Movie Award ("Best Hero"). Here's a bit of the exchange according to USA TODAY:
When the cast of Superman Returns presented the Best Hero Award to Batman Begins star Christian Bale, he turned to Routh and said, "Sorry Superman, but Batman's the badass." Bale also promised fans there will be more Batman films and called his wife, Sibi Blazic, "my personal Wonder Woman."
And yes there will be more BATMAN films as work on the BEGINS sequel will be gearing up very soon...
BATMAN BEGINS' Christian Bale has won the "Best Hero" award at the MTV MOVIE AWARDS (Which doesn't air until June 8th in the U.S.).
Source: REUTERS. Thanks to "Ryan" and "Gretchen" for the lead....
FYI: My review of THE BREAK UP...
And I'm/We're going to COMIC CON! Our coverage will be HERE -- bookmark it!
The Guy Pearce Stuff Can End...I Think
Author: Jett
Thursday, June 1, 2006 - 4:04 PM CENTRAL TIME: I'm sure that everytime Guy Pearce does press, he's asked about Chris Nolan and BATMAN. Remember how hard those rumors were while they were filming that Pearce would end up as Harvey Dent?! I think we can bury all that talk about Guy being in a Bat-flick. Here's a bit of what he told CHUD recently:
Q: There's one big studio film that your name keeps getting attached to, and I'm sure you've heard this a million times – Batman 2.
Pearce: [laughs]
Q: Is this just the kind of usual BS that goes around when a movie is getting prepared? Or have you been in touch with Christopher Nolan about it?
Pearce: There's certainly no talk on my end, and no one has approached me about it. It feels like a repeat of when Chris did the first Batman, because once people knew he was doing the first one they automatically associated any actor who'd worked with him before and obviously Memento is a fairly prominent film in Chris' history. So I seemed to come up. And literally it was one of those cases where a friend called me up and said, 'I saw on the internet that you're going to play Batman.' 'What? Really?'
It happened again a couple of weeks ago when I was in the States doing publicity for The Proposition. A few journalists mentioned it to me, but I hadn't heard anything about it.
Q: Your name is one that fans keep bringing up. Is that flattering to you, that you're someone they would like to see in one of the iconic villain roles?
Pearce: Oh, yeah. Absolutely. I can't ignore that the people respect stuff that I've done or what I could do. That's really flattering, absolutely. But unless Chris and the producers have talked about it and haven't gotten to me yet – which I don't think is the case!
OK, I believe him 100% - he ain't playing The Batman. ;)
Dent is another proposition altogether. As we all know, it's all up to Mr. Nolan. While I like both Schreiber and Lucas for Harvey, I could certainly see Guy as our favorite D.A. of Gotham. However dear readers, DON'T read "He's a Two Face candidate" into any of this at all. Make sure you head over to CHUD to check out the entire interview (Thanks to BOF'er "Mike" for the lead!)...
One last thing today y'all: GO MAVS! Adios for now, y'all! :)