Got Bat-news? The skinny? Inside info?
Send it to: BATMANONFILM@MSN.COM
BOF's DISCLAIMER & NOTICE:
Unless otherwise noted, all BATMAN movie news
should be considered rumor and treated as such.
Please, INCLUDE A LINK back to BATMAN ON FILM (http://www.batman-on-film.com)
when using news originating from this site.
BOF's spoiler policy is we do not post information that would ruin the enjoyment of the film,
but does get people excited and interested in the BATMAN film series.
Schreiber: "I'd LOVE to do a BATMAN movie"
Author: Jett
Wednesday, May 31, 2006 - 8:35 AM CENTRAL TIME: BOF'er "Dave From Toronto" gave us a heads up about a video interview with Lieve Schreiber (promoting THE OMEN - which I will be reviewing at ON-FILM.NET) over at LATINO REVIEW. Again, Liev says he has still haven't heard anything concrete but that he'd "love" to do the BATMAN BEGINS sequel. Click on the link provided to check it out...
BATMAN #653 has been REVIEWED, FYI.
A Thanks to UK BOF'ers!
Author: Jett
Tuesday, May 30, 2006 - 8:42 AM CENTRAL TIME: Just a note of thanks to all the UK BOF'ers that chipped in and helped set the record straight regarding the Paul Bettany "quote" that was reported as rumor last week. Total BS. I've got to say that it is a big disappointment when a longtime BOF'er sends in bogus info. I count on my readers to send in legit news that I otherwise would not have the chance to see for myself -- such as Bettany's talk show appearances in the UK...
I've ranked the top "Super Hero" films and you can read that article HERE.
Bettany on Ross' Show - "Youtubed"
Author: Jett
Sunday, May 27, 2006 - 5:51 AM, 9:38 AM CENTRAL TIME: "Sasquatch" was able to record and "Youtube" Paul Bettany's appearance on THE JONATHAN ROSS SHOW. No mention of The Joker. PART 1 & PART 2...
X-MEN: THE LAST STAND reviewed by me - FYI...
There is a NEW BOF MAILBAG for your reading pleasure...
Warner Home Video as released info for the upcoming season two DVD of THE BATMAN. Here's the cover (Click to enlarge):

Here's the official synopsis:
Riddle me this: who's the latest villain to set his sinister sights on Gotham City? Riddler, of course, and only The Batman has the answers to stop this enigmatic evildoer. In these 13 action-packed episodes from the hit TV series, Gotham's greatest protector stumps Riddler and other favorite villains like Joker, Mr. Freeze and Penguin, and his obsession with justice earns the trust of up-and-coming police detective Jim Gordon. When Gordon offers The Batman a tentative alliance ? "Just help me make this city safe for my daughter" ? another piece of the legend falls into place! Swoop onto this Deluxe 2-Disc Edition with All Season 2 Adventures plus Exciting Extras. See justice done as no other hero can deliver!
It'll be available on 9/26/06 - FYI.
Transcript of Bettany on Ross Show
Author: Jett
Saturday, May 27, 2006 - 12:04 PM, 4:47 PM CENTRAL TIME: Ask and you shall receive! Got THIS from BOF'er "ZC" regarding Mr. Bettany's appearance on that talk/chat show (And thanks to "Dee Dee" as well). This is the transcript from the show. We aim to be truthful here -- as well as bring you the rumors. And I've reviewed X-MEN 3 by the way...
Lachy Hulme Talks Joker, Part 2
Author: Jett
Thursday, May 25, 2006 - 6:19 AM CENTRAL TIME: Have you ever noticed that Bat-news seems to come in spurts? Anywho, "Aussie BOF'er" emailed me a detailed report of Mr. Lachy Hulme's rumored Australian radio appearance -- which isn't a rumor. Here it is:
I'm a Bat-fan and tuned in to hear Lachy Hulme being interviewed on "The Tony Martin Show" this morning. They have been promoting his appearance and I tuned in to hear what he might say about playing The Joker.
Hulme was the special celebrity co-host, and Tony Martin asked him about all The Joker rumours. Hulme said that he had met with the producers but said he wasn't really allowed to talk about it. He also said that he was a huge Batman fan and had been all of his life, and was now collecting Batman stuff because it was tax deductible for him now! Tony Martin then said that he had recently watched "Batman Begins" on DVD with Hulme, and that Hulme would pause the DVD and explain how certain shots from the film were based on Batman comics, and could even recite the comics that each shot was from! That made me think (although Hulme didn't say) that he was seriously researching the whole Batman culture, kind of like a "method" actor.
[Regarding The role of The Joker], Hulme said that big roles like The Joker normally go to much bigger stars than him, and Tony Martin responded that no one wants to see Paul Bettany do another villain after his crappy work in movies like "Firewall" and "The Davinci Code", to which Hulme just laughed and said he hoped Warner brothers agreed with him!
But he kept saying also that he wasn't allowed to say much about the rumours. He was quite secretive about it all. Tony Martin said that he really hoped that Hulme got the part. He also said that when he first heard the rumours, he didn't think Hulme could pull it off, but now that he knows Hulme and has seen his work, he thinks he would be awesome in the role. He also said how much Hulme looks exactly like The Joker from the comics. One funny bit happened when Tony asked Hulme how all the rumours started, and Hulme said he didn't know, and Tony Martin suggested it might have been The Riddler, or maybe Egghead! That made Hulme laugh.
For the rest of the show they talked about movies that they loved, and didn't talk about Batman anymore. I hope this helps for all of your readers.
There you go readers. So this Hulme is a big-time Batman fan -- like all of us? Makes me like him even more...
Another shameless plug for ON-FILM.NET - check us out if you haven't already. Got some good stuff coming up - including maybe an exclusive interview with one of the members of the LET US KNOW if there are any films you'd like us to give "special/extra treatment." Thanks for the support!
Lachy Hulme Talks Joker?
Author: Jett
Wednesday, May 24, 2006 - 9:12 PM CENTRAL TIME: I received several emails today regarding Lachy Hulme appearing on Australian radio recently, and talking about the role of The Joker in the BATMAN BEGINS sequel. Of course, I didn't hear this alleged interview but the emails indicated that Hulme acknowledged interest and/or the fact he's in The Joker mix, as well as confirming that he and his reps have met with producers (Yep haters, BOF was the first to report that too!). Lachy gave a rundown of the other actors that he may be up against in nabbing the part. He also said he's been a HUGE Batman fan his entire life, which is pretty cool. If you are an Aussie BOF'er and actually heard this, shoot me an email -- I'd like to hear more (if there is any more)...
I guess there is more. I just got an email telling me he was on the show TRIPLE M.
Addition to 5/15 Update; Lachy Hulme "In Talks?"
Author: Jett
Thursday, May 18, 2006 - 11:09 AM, 9:27 PM CENTRAL TIME: OK, ok y'all. I got all the email you sent me about Lachy Hulme being listed as "in talks" on IMDB.COM's UNTITLED BATMAN BEGINS page.
So what.
Look, I'm a Hulme Man all the way -- y'all know that. But don't read too much into that listing.
I know for a fact from several sources that Lachy (sounds like "lock-ee") met with the producers of The Sequel. But that doesn't mean he's "in talks."
Or maybe it does.
We'll find out in due time my friends. Chill out and enjoy SUPERMAN RETURNS this summer -- I know that I am. We'll get kicking with The Bat in due time...
Here's Jackman's full quote regarding a role in the BATMAN BEGINS sequel:
"More fanboy stuff. Probably joking around on-set. There's Christian and I .... I'll be honest with you. If Chris [Nolan] rang me, I think of him that highly, I'd do it; but I'm not laying down a sort of, 'I wanna be in this movie.' He's an amazing director."
Even with the additional dialogue, he's still saying the same thing: If Nolan asked him he'd do it. Just an FYI.
Source: IGN FILMFORCE.
Jackman: "If Chris rang me...I'd do it"
Author: Jett
Monday, May 15, 2006 - 10:18 AM CENTRAL TIME: While doing press for the latest X-MEN film, Hugh Jackman had the following to say regarding the rumors about him doing the BATMAN BEGINS sequel. "Fanboy stuff. [But] if Chris rang me to do something, I'd do it."
Source: LATINO REVIEW. Thanks to "Dave from Toronto" for the lead.
EXCLUSIVE: Chris Corbould Interview!
Author: Jett
Saturday, May 13, 2006 - 2:18 PM CENTRAL TIME: It's finally here! And well worth the wait my friends. to read the Paul J. Ware's interview with the great Chris Corbould! It's over at ON-FILM.NET -- and do check out our new site when you get the chance.
BEGINS Sequel to be "Darker"
Author: Jett
Friday, May 12, 2006 - 11:24 AM CENTRAL TIME: Got the following tidbit in today I thought may interest you all. A few tidbits from a friend of BOF that sort of comes straight from the horses mouth, so to speak (he explained how, I just can't tell you all the details). Anyhow, expect:
- "They" pretty much have got the plot for the film outlined.
- Nolan has been re-going over all of the various Batman comics even more to comb for fine details.
- They (Nolan and co.) want it to be even darker than BEGINS.
- The studio is supportive of creating something as accurate to the Batman comic books as possible and less about it being some kind of summer popcorn "mega-hit."
Sounds good to me people. And to WB, don't worry, just let Nolan and crew roll with it! I know I trust 'em...
Another plug for ON-FILM.NET. Got a new review of POSEIDON posted with more coming this weekend from other reviewers.
BEGINS ON HBO
Author: Jett
Thursday, May 11, 2006 - 12:37 PM CENTRAL TIME: FYI. The great BATMAN BEGINS will premiere on HBO on Saturday, May 20, 2006 at 7PM Central Time.
Latest Bat-Scuttlebutt
Author: Jett
Tuesday, May 9, 2006 - 11:39 AM CENTRAL TIME: What's up y'all? Jett here. Our 'ol friend "Jindrak" is back with some information for all of you Bat-fans. But first…
Let me preface by saying this: please read the disclaimer above. Did you read it? Good! Let me emphasize that part that says "unless otherwise noted, all BATMAN movie news should be considered rumor and treated as such." So please remember, we do report rumors. However, the buzz we report comes from sources that we've known for a long while and have been dead on accurate in the past. The rumors are simply part of the fun and the build up towards the next Bat-flick, right? When I tell y'all to chisel something in stone, go buy the damn hammer! And please don't think I'm being condescending here, OK? While I KNOW most of you get it, some of my dear readers don't -- and they let me know it in their emails.
Now, on with today's report…
I'm going to simply list several of his blurbs -- some will be quotes, others will consist of me paraphrasing "Jindrak."
"With the inclusion of the Joker & the general public's renewed interest, Warner know & appreciate more than ever the importance of listening to the fans & leaving Chris & David to get on with it!"
Paul Bettany is "in the mix" for the part of The Joker. As he himself recently, it's all about money and negotiating power. It's not lost on anyone that he's one of the fan faves for the role.
"As for Josh Lucas and the role of Harvey Dent, I've been informed that Christian is very much behind Josh, having worked with him on AMERICAN PSYCHO. If the fans are just as passionate about him getting the role of Harvey as Josh is, then its a very good chance he will be the new DA of Gotham City."
As it has been reported here and on other sites, work is "well underway" on The Sequel. In the coming months, "speculation will be rife regarding various roles within the sequel & it's plot, which is to be expected."
So strap yourself in boys, it's going to get wild!
Bettany Talks Joker
Author: Jett
Monday, May 8, 2006 - 5:46 AM CENTRAL TIME: While doing press for THE DA VINCI CODE, British thesp Paul Bettany was asked about the rumors linking him to the role of The Joker. Here's what he had to say:
"In truth I haven't heard anything officially. It's a rumour entirely made up by journalists. Or maybe it's a conspiracy by journalists to ruin my negotiation."
"So if they did offer it to me, I'd already have told the press I'd love to do it, so the producers would say, 'Wonderful. Now will you do it for $5 please?'"
Bettany, along with Aussie Lachy Hulme, have been rumored to be the "frontrunners" for the part. However, a source recently told BOF "As far as I know, Paul Bettany is not on this list [WB's list of potential Joker candidates]. His name holds some appeal with a section of the Batman fan base, but the idea is not exactly setting WB's world on fire. Too many creepy villain roles; been there, done that. He was never really in this race, as your site intimated recently."
From where I sit, it seems that Bettany wants the role and knows more than he's letting on in the press. However, whether "they" want him, is another thing all together. Whatever the case may be, Bettany's keeping his hand close to the vest. Thanks to all the BOF'ers who sent in the lead to this story...
FYI, it's a tad sparse, but ON-FILM.NET is up and running. I Hope you'll check it out and give us a chance as we grow.
Nolan & Goyer Talk Sequel; Lucas Still Campaigning!
Author: Jett
Thursday, May 4, 2006 - 5:50 AM, 1:17 PM CENTRAL TIME: From MTV.COM. Josh Lucas is at it again! Dude WANTS the role of Harvey Dent BAD. Here's a bit of the latest:
"'Yeah, please call,' he urged the BATMAN BEGINS team, before following it up with a message to fans: "I do want to do it, I love the rumor; please keep it up. What I like so much about it is that question, the duality of Harvey,' he insisted. 'The fact that you have someone who can be good, and then very bad, and then moving between these two sorts of faces and two sorts of charismas ... it intrigues me, to say the least.'"
Got to say he's the most passionate Bat-candidate -- at least publicly. Hey Josh if you are reading, this is the place to plead you case to the fans...
Chris Nolan and David Goyer were both on hand for the recent Saturn Awards (see yesterday's update) and talked a little BEGINS sequel to IESB.NET. Nolan and Goyer confirmed that they've come up with a good story for the next Bat-film. Besides that, they were very vague -- In fact, Nolan "jokingly" warned Goyer not to say a thing.
There has been a bit of speculation that Goyer wouldn't have anything to do with The Sequel since Nolan's brother Jonah is writing the screenplay. However, BOF has said not to read too much into that and Goyer would be involved (The story is based on an outline by both Goyer and Nolan).
Click on the link to check out the video interview. Thanks to "Kenneth" for the lead...
According to ASKMEN.COM, the BATMAN BEGINS sequel is the 9th most anticipated upcoming movie sequel. Thanks to "Farrah" for sending the story...
This just in: the BATMAN BEGINS sequel is ranked as the #1 most anticipated sequel by BATMAN ON FILM.
BEGINS Wins Big
Author: Jett
Wednesday, May 3, 2006 - 10:18 AM, 1:12 PM CENTRAL TIME: BATMAN BEGINS took home awards for best fantasy film, best actor (Christian Bale) and best writing (director Christopher Nola and David S. Goyer) at the recent Saturn Awards. BOF was the 1,075th to tell you that last year's Bat-film was up for several Saturn awards.
Source: SCIFI.COM...
BOF received the following press release from WIZARD
magazine. Thought I'd run it here as there is a bit regarding The Sequel:
Congers, NY – May 3, 2006 – Wizard: the Magazine of Comics, Entertainment and Pop Culture gives readers inside-Hollywood access with the release of its Mega Movie Issue, hitting stores and newsstands in the coming weeks. Complete with exclusive stories on next summer's most anticipated blockbusters, interviews with today's hottest stars and expert speculation on the future of comic book film franchises, Wizard goes inside Hollywood to answer everyone's burning questions about the most exciting upcoming comic book, video game and sci-fi films.
Exclusive Details and First Looks: First looks and information on next summer's most anticipated films, including…the sequel to BATMAN BEGINS…and more.
Probably won't get any Bat-info that you haven't heard here or elsewhere, but it sounds worth at least checking out.
Lucas Wants Dent
Author: Jett
Sunday, April 30, 2006 - 7:01 AM CENTRAL TIME: While promoting POSEIDON (and make sure to sign up for our sweepstakes for that film), Josh Lucas told the guys at IESB.NET they he does indeed covet the role of Gotham D.A. Harvey Dent:
"[When] asked about his rumored interest in the BATMAN sequel. He said the following:
'Absolutely, I want the role.'
I said, 'We are talking about the Harvey Dent role correct?'
'Yes.'
BOF was able to break the news that Lucas was in the mix for the role of Dent/Two Face back in January. Someone was interested in Lucas for the part, now obviously, Lucas is as well.
Bat-Villains Make List
Author: Jett
Thursday, April 27, 2006 - 9:26 AM CENTRAL TIME: "Stax" over at IGN FILMFORCE has put together a list of the top 10 comic book movie villains. Ra's Al Ghul (BATMAN BEGINS) and The Joker (BATMAN '89) are included. Click on the link provided to see where they rank.
Big Joker Scoop?
Author: Jett
Wednesday, April 26, 2006 - 5:44 AM CENTRAL TIME: Jett here. The following comes in from a LONGTIME source who has provided BOF with much dead on info regarding BATMAN in the past. Some news has been revealed/broken here at BOF (like Ken Watanabe and Katie Holme's casting in BEGINS); some has been kept secret to keep this source anonymous. This is a rather lengthy report, but it clears up a lot of stuff and reveals the Joker info I alluded to cryptically last week. (One note regarding news from BOF: If you copy and paste this on message boards -- cool; But PLEASE include a link back to BOF. Thank you.) Anyway, here goes...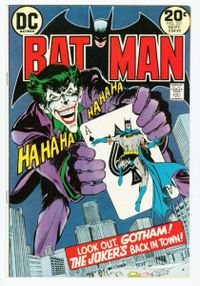 I first slipped you information many years ago that centred on the possible casting of Jude Law as Bruce Wayne/Batman. This was long before Christopher Nolan's involvement with the franchise. Law's name was also thrown about re: Petersen's BATMAN VS. SUPERMAN project. Now it seems we have come full circle. Your site has mentioned Law as a candidate for Harvey Dent. This is incorrect. Law is being [considered for The Joker]. He is a WB suggestion (one of a select few). WB do not have a "wish list," but WB has narrowed down a couple of names for Nolan etc. to consider later this year.
As far as I know, Paul Bettany is not on this list. His name holds some appeal with a section of the Batman fan base, but the idea is not exactly setting WB's world on fire. Too many creepy villain roles; been there, done that. He was never really in this race, as your site intimated recently – well done ;)
Lachy Hulme is on this list. He is not the "frontrunner" as many have suggested; he is the "dark horse." WB is concerned about his lack of profile in the US, but they are keeping a very close eye on him. Hulme's lack of profile could be remedied with two projects, MACBETH and an Australian comedy called BOYTOWN. The buzz for both films is very strong. Cillian Murphy landed his casting call for BATMAN BEGINS off the career boost 28 DAYS LATER gave him; likewise, Hulme only needs for one of these films to click. FYI: Hulme HAS met with the producers. He is the only actor not contracted for sequels to have done so.
I can confirm that The Joker role is a small and mysterious one in the sequel. It will be nothing like the Jack Nicholson-style showcase that the previous Joker provided.
Reps for Sam Rockwell were pursuing the role in the hope that this Joker would be on par with the 1989 Joker, but soon discovered otherwise. Hugh Jackman also expressed interest in The Joker. Upon learning the size of the role he explored the Harvey Dent option instead. Due to Jackman's association with Marvel, however, you can probably count him out of either role in the BATMAN BEGINS sequel. Probably.
Hugo Weaving is also on the WB Casting list; Johnny Depp is not. Guy Pearce has never been discussed for any role in the sequel; neither has Robin Williams.
The other issue perplexing WB is Katie Holmes. I can't confirm whether she will be in the sequel or not. This is not due to whether she was weak in BATMAN BEGINS; the consensus at WB is that Holmes delivered a fine performance. The issue is, what to do with her character? That is a problem for Jonah and Chris to resolve.
And that's the point: Chris Nolan now has the power to do whatever he damn well pleases. The "WB Casting List" has been compiled simply as some "helpful suggestions" for him.
So, Bettany's out (possibly), and Law is in. Hulme is in, but is a "darkhorse candidate." Weaving -- as reported here -- is a candidate. And when it is all said and done, it's going to be whomever Chris Nolan wants it to be. Oh, don't take "small and mysterious" as "cameo." Stay tuned!
Weaving In The Joker Mix?
Author: Jett
Monday, April 24, 2006 - 5:50 AM CENTRAL TIME: Hey y'all, Jett here. It seems that there is some buzz again about Hugo Weaving (THE MATRIX, V FOR VENDETTA) possibly getting some run as The Joker. Weaving's name has been mentioned previously for the role, then those rumors quickly subsided. Now they have returned over this past week and weekend. More on this and a few other things later.
Lucas Talks Dent With WB! Info on Glover as The Joker
Author: Jett
Thursday, April 20, 2006 - 8:56 AM, 3:02 PM CENTRAL TIME: For all you Crispin Glover-as-The Joker supporters, you are not going to like this. I was informed by someone who knows for a fact that Crispen Glover -- while very interested in the role -- has not been contacted or approached for the role of The Joker. This would confirm what other sources have told BOF that Mr. Glover is not a candidate...
Back on January 2nd, BOF was the first to tell you that we heard that Josh Lucas was getting some run as Harvey Dent/Two Face in the next, uh, TWO (Dent pun intended) Bat-films. Here is what I wrote then:
"This comes from a new scooper, who did check out. I don't know if it'll pan out, but I find it quite interesting. Here you go:
'A name that is getting a bit of run...for the BATMAN BEGINS sequel is Josh Lucas. The word is that he could end up as a candidate for Dent.'"
Lucas, while doing press for GLORY ROAD denied being involved, but said he was certainly interested. Now, word as come down via MTV that he IS in the mix for the role:
"I had heard that, when I was doing press on 'Glory Road,' (regarding the rumors he would play Dent and alter-ego Two-Face in the sequel(s)."
"Some of the people started asking about that, and [back] then I didn't know anything about it. I went and talked to Warner Bros. about it, because they're making it, and obviously I would love to do it. I think it's a great character. I like that someone could go from being bad to good and back and forth and light and dark, but also I think [director Christopher Nolan] did an amazing job. And Christian Bale did an amazing job too. Christian and I did 'American Psycho' together, so it'd be like a reunion of sorts."
So I'm going to assume here and proclaim Lucas as an "official" Dent/Two Face candidate -- and I'll have to update my new OP-ED PIECE. Thanks to "Dave from Toronto" for directing me to MOVIEHOLE.NET for the lead...
It seems that a "Lego Batman" event is coming to The Cartoon Network. CLICK HERE for more info. Thanks to "Scott" for the link…
If you are in the Tampa, Florida area (Seminole to be exact) on April 29th, there will be a free showing of BATMAN BEGINS in Seminole City Park (7464 Ridge Road) at 8:00 PM. Thanks to "Rodie" for the info.
Sequel Scuttlebutt for 4/17
Author: Jett
Monday, April 17, 2006 - 8:35 AM, 7:57 PM CENTRAL TIME: Friend of BOF, the great Michael Uslan, will be giving the commencement address at his alma mater Indiana University. Mr. Uslan of course is the man I credit for ultimately bringing The Batman to the big screen. CLICK HERE to read more. And if you haven't already, check out my interview with Mr. Uslan HERE…
I posted this over on my SCATTERSHOTS, but I like enough to bring it up here. I finally got to see the JLU episode "EPILOGUE" which is -- for all intents and purposes -- the series finale of BATMAN BEYOND. You can get a look at it HERE...
Update on the Katie Holmes not returning rumors -- they are still out there. As is the scuttlebutt of a new female lead. And that's the key part here, "female lead;" not "love interest" for Batman. As I usually say when it comes to casting, we'll find out soon enough…
Joker update -- and I'm going to have to be a bit cryptic here, sorry. I got to protect our insiders, so this is the best I can do right now. Just read between the lines. Anyway, it seems that one of the so-called "frontrunners" for the part, may not be in the mix any longer. Perhaps the Bat-folks aren't interested any longer, or maybe he simply doesn't want the role…
Speaking of The Joker, I've been told that another candidate has emerged. This actor has been rumored for a part in this film previously, but not for The Clown Prince of Crime. More on all of this later, so stay tuned!
Herzog on Bale
Author: Jett
Thursday, April 13, 2006 - 9:44 AM CENTRAL TIME: A new BOF MAILBAG has been posted...
According to STARPULSE.COM, director Werner Herzog calls Christian Bale "one of the greatest talents of his generation." Bale stars in Herzog's Vietnam prisoner-of-war film RESCUE DAWN. Bale is to begin filming the next BATMAN film sometime in early '07.
New Hulme Pic, Rachel Leaving Gotham?
Author: Jett
Tuesday, April 11, 2006 - 8:28 AM CENTRAL TIME: What's up y'all? Jett here with a little Bat-news -- can you believe it?! Anyway, Robin Williams recently spoke to LATINO REVIEW and told them he'd love to work with Christopher Nolan again:
Would you work with Christopher Nolan again?
Robin Williams: Oh big time. I would work with in a second, I'd love to work with him again, he has that very great English sensibility but yet still its dark and nasty but yet still has the tender and elegance.
Would you then consider taking a role like The Joker for Batman Begins sequel?
Robin Williams: Oh God Yeah!
Robin Williams was actually in the running to play The Joker back in '88 in 1989's BATMAN. It is rumored that he also met with producers to discuss portraying The Riddler in BATMAN FOREVER. Let me say that the 54 year old Williams is not a candidate for the role at this time (Thanks to "Dave from Toronto")...
"Cameron" sent in the following:
"Thought you may want a new pic of Lachy Hulme from a new Australian film called MACBETH which is out in June 1st (Australia)."
Yes, I do Cameron and I'm sure many BOF'ers would like to see a recent pic of Mr. Hulme. Here it is (click on it to enlarge):

If anyone can find a good pic of Paul Bettany as Silas, send it our way.
In other Bat-Sequel news, I'm starting to hear a few rumblings that Katie Holmes may not return to reprise her role as Rachel Dawes and there could be a new female lead -- more on this in a second (All you Katie fans don't need to send me hate email as I'm on the record saying that she should return)...
BOF has also been told by a couple of insiders that the new film will include a few "classic Bat-Rogues," which would seem to give the rumor of The Penguin's appearance some substance. Now back to the Katie Holmes scuttlebutt...
With rumors of her not returning making the rounds and talk that a few Bat-baddies may be included (in cameos for the most part I presume), I wonder if one Ms. Kyle could possibly in the mix? Perhaps THE LONG HALLOWEEN-style (That's just my suggestion dear readers). We shall see...
FYI: BOF will have some new Bat-items coming this week, so be looking for them...
FYI 2: Coverage of SUPERMAN RETURNS will get kicked up a notch as we move closer to June 30th. Make sure you visit BOF's SR SECTION.
Bat-Rumors Amalgamated
Author: Jett
Wednesday, April 5, 2006 - 7:45 PM CENTRAL TIME: The following is an amalgamation of things I have heard from three different "friends of BOF." One of these said "friends" is new, but proved to be legit. Now, these three unrelated sources gave BOF certain information that was similar and seems to confirm what the others said. OK, here's the scuttlebutt coming to you scattershots style…
Jonah Nolan is hammering out the script as we speak. Like that's a newsflash, anyway…
Chris Nolan is expected to go full-time Batman like late-summer/early-fall 2006. The script should be completed by then and he'll have something to present to Warner…
This I've heard and reported since last fall: The Sequel is much further along than what Warner/The Bat Team has let on publicly…
Lachy Hulme. Dude's for real -- although I've told y'all that for a while now, right? Word was from each one of these sources that Hulme was in LA recently allegedly on "Joker business." No word on whom Hulme may have met with (it wasn't C. Nolan), but I've been assured that it had to do with The Sequel. Did he do a screentest? Not sure; but that's been rumored since last fall…
The role of The Joker. There is a HUGE amount of lobbying by many actors for the role taking place as we speak…
And finally, BOF was told that unless Warner Bros. really pushes for a "name," an unknown/low profile actor may nab the role as The Clown Prince of Crime.
Another Joker/Hulme Update
Author: Jett
Saturday, April 1, 2006 - 7:39 AM CENTRAL TIME: Alright BOF'ers, more Joker stuff for you all this morning. One of our longtime insiders is back with a follow-up to the "Hulme is the frontrunner" scuttlebutt:
"I don't know who is keen on [Lachy] Hulme, but someone unquestionably is pushing for him. It could be Chuck [producer Roven], Warner, or even [director Christopher] Nolan himself. I stand by what I said in regards to Hulme being the 'frontrunner.' I'm not saying the role is already his or that he'll definitely end up with it. He's got some weight behind him, that's for sure.
What will be interesting to see is whether or not the studio [Warner Bros.] will actually go with a relative unknown for such a huge role. Come on, this is The Joker were talking about here! I'm sure their first inclination is to get a 'name.' But they let [director Bryan] Singer cast Brandon Routh as Superman and what role is bigger than that? Perhaps there is a move to go the complete opposite direction this time around from when [Jack] Nicholson was cast back in '88. Choosing Hulme would certainly be going that route."
Now, y'all know where I stand on this issue. I wholeheartedly believe that an unknown should play The Joker. You don't need a "name;" you need someone who melts into the role and is "The Joker." Perhaps that's why I'm a Hulme backer. We don't need a "Jack Nicholson" this time around. Nicholson gave BATMAN credibility -- BATMAN BEGINS restored credibility to the Batman franchise. But I digress. This is going to get really fascinating as things begin to heat up later this year.