BOF NEWS ARCHIVES 44

DISCLAIMER/NOTICE: Unless otherwise noted, all BATMAN movie news
should be viewed as rumor and treated as such.
Please include a link back to BATMAN ON FILM
when using news originating from this site.
BEGINS
DVD: Kicking Ass and Taking Names!
Author: Jett
Friday, December 31, 2005 - 8:28 AM CENTRAL TIME: So I leave Minneapolis yesterday in a snowstorm. When my plane lands in Dallas two hours later, it is clear as a bell and a nice 65 degrees. It's great to be back in the Lone Star State...
Anyway, I KNEW this was going to happen. I predicted that many people would see BATMAN BEGINS
for the first time on DVD, as the positive buzz for the film would help DVD sales/rentals. Check this bit of year end info out from DVD EXCLUSIVE:
"Warner Home Video...[was] led in the fourth quarter by the surprising opening week and legs of BATMAN BEGINS, which will generate about 90% of its $205 million box office gross on DVD (in 2005). Consumer spending on DVDs of the top summer theatrical hits typically reached 65% to 85% of box office grosses in the first few weeks of release."
That tells me that the BEGINS DVD has accounted for around $184 million or so in 2005. Not bad, eh? Thanks to "Alex" for the lead...
The BBC has ranked BEGINS #2 on their top 10 movies of the year! Thanks to "Monkey Chops."
Comic Review: BATMAN: YEAR TWO
Author: Jett
Thursday, December 29, 2005 - 11:41 AM CENTRAL TIME: BATMAN IN COMICS has been updated...
I'm working on my PHANTASM review. Really, I am! Not all that much to do up here in northern Minnesota! Ride snowmobiles and write. I'll be back in Texas tomorrow to finish it up, and should have it posted Saturday.
DVD REVIEW: THE BATMAN VS. DRACULA

Author: Jett
Wednesday, December 28, 2005 - 11:16 AM CENTRAL TIME: A review of THE BATMAN VS. DRACULA
can be read by CLICKING HERE...
One note about my can be read by CLICKING HERE...
One note about my BATMAN: MASK OF THE PHANTASM
review - I left the damn DVD back in Texas as we were leaving for the airport! I want to watch it one more time before I post my final review. Anyway, be looking for today's updates...
Thanks for all the holiday wishes via email! Happy New Year to all of our readers!
BIC updated
Author: Jett
Monday, December 26, 2005 - 11:25 AM CENTRAL TIME: Hey ya'll, Jett coming to you today from the "North Country" of Minnesota! Just a note that BATMAN IN COMICS has been updated.
BOF/BIC update
Author: Jett
Saturday, December 24, 2005 - 10:04 AM CENTRAL TIME: Just a quick FYI regarding the site(s). I'll have my two Bat-movie reviews posted next week (THE BATMAN VS. DRACULA
and MASK OF THE PHANTASM
). I will also have an op-ed piece/2005 Bat-retrospective available to check out before January 31st as well. 2005 was a great year for The Bat, and 2006 looks to be a great year for BOF...

New additions to BATMAN IN COMICS (BIC) will be posted next week - and on down the line as well. The new "sub-site" got off to a fantastic start and will continue to grow next year. I've got some cool things lined up for 2006 -- comic news/recaps, interviews, op-eds, etc. -- so be on the lookout for them...

And finally -- Happy Holidays to all of you BOF'ers! Thank you for supporting this site -- I couldn't do it without y'all!

All the best to all of y'all -- Jett.

Bale talks Bat Duece, BATMAN BEGINS: BOF's #1 Movie of the Year!
Author: Jett
Tuesday, December 20, 2005 - 4:21 PM, 8:32 PM, 9:51 PM CENTRAL TIME: Christian Bale has talked a bit about the next Bat-flick with the website IFMAGAZINE.COM. Here's a bit:

"It's all that kind of deal where I'll get it in the head if I talked," laughs Bale.

One thing Bale was extremely pleased with was the support fans gave him and director Christopher Nolan's dark, art-house-like superhero film and hopes the next film will continue in that vein.

"We know now that people have supported what we achieved," admits the actor. "I have to say though that I always like the idea of not knowing if people are going to like it and then that gives me a certain drive to improve what I believe the correct way of bringing the character about. I like the slightly self-destructive notion of like, 'You know what, I'm going to do this regardless and if people don't like it then well I'm out. That's it.' I'm kind of enjoying that possibility and that will always be there, but we can't help that recognize that we're probably on slightly safer ground now with the second one. But in doing that there's the great danger of becoming too comfortable and obviously with the second one you have to outdo the first one."

The key for Bale is progressing with the character and story.

"You have to keep on moving forward and pressing on and finding new and impressive character points and storylines, but I've got real confidence," says Bale. "I think that Chris is such a smart man and when I did finally get into the game I would have certain questions about why he was doing something and not quite understanding it. He would explain it to me and it would be like, 'Now that he's said it's so obvious. That really works. Yeah.' So I have great faith in him that he will be pulling something out of the hat that will be even better than the first one."

Very nice. Memo from BOF: Just don't make Bruce a total asshole that it seems that he's become in the comics. Hey, I'm all for the dark, brooding, serious-ass Dark Knight, but we need to be able to root for the dude -- y'all know what I mean. Just like he was in BEGINS -- a HERO...

Here's a shocker -- I'm announcing today that BOF's #1 movie of the year is none other than the great BATMAN BEGINS
. And that's the entire list! Hey what did you expect...
On a serious note (not that I wasn't dead serious about my rankings), BEGINS did rank #1 on a couple of sites than I dig and read regularly -- MOVIEHOLE and IGN FILMFORCE. Thanks to all of you who sent in leads to these stories! I couldn't do it without y'all...
An FYI: If you see that the site has been updated, and there is no new news here, then make sure to check the DC MOVIES and BATMAN IN COMICS sub-sites...
Alright y'all, I get up early. Like before 5 AM usually. Anyway, I'm watching TODAY earlier, uh, today, and Al Roker is interviewing a dude and another young lady (a Dr. of some sorts). And they are talking about how women try to change men (my young bros -- don't ever succumb). And dude (Roker) brings up "...the excellent" BATMAN BEGINS! Just a pop culture FYI for you all.
Introducing B-I-C!
Author: Jett
Monday, December 19, 2005 - 8:06 AM CENTRAL TIME: We're expanding yet again! Starting regularly in January '06, we'll be reviewing and recapping the various Batman comic books and graphic novels in our section "BATMAN-IN-COMICS" (There is an article there now - go read it!). If you responded to our request for writers, we've now got that covered and a big thanks to all of those who responded...
I'll have my review of THE BATMAN VS. DRACULA
posted sometime this week, so be looking for it. Plus, my long awaited review (well, by some of you at least) of MASK OF THE PHANTASM
will be posted by December 31st as promised. Really! I swear it's coming...
BATMAN BEGINS is officially up for Oscar consideration in the F/X category. CLICK HERE for the full story...
The DC MOVIES section has been updated.
Some critical acclaim for BEGINS!
Author: Jett
Friday, December 16, 2005 - 3:45 PM CENTRAL TIME: According to OSCARWATCH.COM, nominated for BATMAN BEGINS are Christopher Nolan (Best Director) and Cillian Murphy (Best Supporting Actor) by the London Film Critics. Thanks to "Corey" for the lead...
A NEW CONTEST is ready to be entered for RUMOR HAS IT. Yeah, yeah, yeah - chicks dig BOF too.
Book Review: "BATMAN BEGINS and the Comics" & Batman can outdrink Mr. Freeze!
Author: Jett
Wednesday, December 14, 2005 - 10:02 AM, 5:32 PM CENTRAL TIME: My review of "BATMAN BEGINS and the Comics
" has been posted. CLICK HERE and give it a read.
Good book - read the review...
I found THIS STORY a bit funny. Seems The Bat and Freeze had a little bet during the filming of BATMAN AND ROBIN...
BOF may include a monthly Batman comic book review/recap in 2006. I'm looking for a few writers. If you are: an avid reader of all the Batman comics, have a writing background, a college grad (not required, but prefered), and at least in your mid-20s plus, hit me with an EMAIL (FYI - this is a non-paying gig, sorry). Late, y'all.
Gotham not on the Globe, Hoffman/Penguin update
Author: Jett
Tuesday, December 13, 2005 - 10:55 AM, 5:55 PM CENTRAL TIME: It seems that a former teacher of Philip Seymour Hoffman may be confirming that he's indeed up for the role of The Penguin. Here's what a scooper sent us earlier today:
"I live in the Rochester, NY area, which is where Philip Seymour Hoffman grew up. The media has been covering his Golden Globe nomination for CAPOTE, and in a recent interview with his old high school drama teacher (who remains close to him) on a local news program, she confirmed that Hoffman has been in talks to take on The Penguin in the upcoming BATMAN sequel and is very interested in the role."
So there you have THAT! Looks like Mr. Hoffman may really be up for the role just as BOF first reported last week. HERE is a link to the online print version of the story. And thanks to "Jordan" for the lead...
I'm sure no one is shocked, but BATMAN BEGINS did not receive any Golden Globe Nominations - news that may foreshadow what is ahead for the film as far as the Oscars are concerned. In a related note - sort of - Philip Seymour Hoffman got a nomination for CAPOTE. Seymour is rumored to be a possible candidate for The Penguin in the upcoming BEGINS sequel (that is the character ends up in the film). The part is said to be a small one - almost a cameo of sorts.
Site update
Author: Jett
Monday, December 12, 2005 - 8:01 PM CENTRAL TIME: Got some stuff coming up here at BOF that may be of interest. I'll have a review of author Julian Darius' new book "BATMAN BEGINS and the Comics
." Also, Paul's interview with BEGINS F/X supervisor Chris Corbould should be ready very soon for your reading pleasure. Plus, we've got some other a few other "irons in the fire," if you will, for BOF in 2006. So be looking for these things and as always, THANKS for supporting BOF!
BEGINS #1 comic book film of all time?
Author: Jett
Wednesday, December 7, 2005 - 1:13 PM CENTRAL TIME: According to IGN's rankings, BATMAN BEGINS
is the #1 comic book based film of all time. Here's a shocker: I agree! A HISTORY OF VIOLENCE, SPIDER-MAN 2
, SUPERMAN
, and GHOST WORLD
are ranked 2 thru 5 respectively. My top 5 - "superhero movies" - would be BEGINS, SPIDER-MAN 2, SUPERMAN, X2, and BATMAN at number five...
The DC MOVIES SECTION has been updated.
An umbrella for Hoffman and Rockwell wants in on the Joke?
Author: Jett
Tuesday, December 6, 2005 - 8:35 AM, 2:50 PM CENTRAL TIME: This is how it usually works - no news/rumors for a while, and then they flow in one after another. Fresh on the heals of this morning's Rockwell rumor, comes more scuttlebut on who may play The Penguin. A trusted source has told BOF that Philip Seymour Hoffman (CAPOTE) may get a look as a potential Oswald "The Penguin" Cobblepot. Honestly, I know of the guy, but I'm not all too familiar with his work. Anyway, another name to add to the mix...
I have been told that actor Sam Rockwell (CONFESSIONS OF A DANGEROUS MIND) "...has been personally campaigning for the role of The Joker in [Chris] Nolan's [BATMAN BEGINS] sequel." Hey, I'm sure he is - he any just about every actor his age in Hollywood! I'm kidding - sort of. Anyway, I'm not saying that Rockwell is "officially" being considered, and I'm certainly not saying he isn't either. This info came in from a reliable individual who got it from someone close to Mr. Rockwell. Our sources adds, "This doesn't mean he is confirmed or unconfirmed or even under consideration, but I can definitely say that the man is pursuing the role."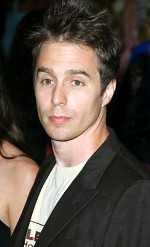 Sam Rockwell
Go over to EBAY
and check out item number 6578147764. It's a little pricey, but some of y'all may be interested in it (*cough* Kilmer's cowl *cough*). You may also want to check out item numbers 6578147580 and 6578147756...
The LEGIONS OF GOTHAM contacted BOF to let us know that the animated series THE BATMAN has been renewed for a fourth season.
New Mailbag
Author: Jett
Monday, December 5, 2005 - 1:55 PM CENTRAL TIME: MAILBAG 13 is available to read by CLICKING HERE.
Candidate for Cobblepot? PJW interviews Chris Corbould!
Author: Jett
Friday, December 2, 2005 - 11:32 AM, 5:55 PM CENTRAL TIME: Alrighty, I told y'all yesterday that the great Paul Wares interviewed a high-ranking member of the BATMAN BEGINS crew. Well, PJW talked with the fantastic F/X supervisor of the film, Mr. Chris Corbould! Paul says that Mr. Corbould - who is currently prepping for CASINO ROYALE - was a hell of a guy and that he's sure that you all will love the interview! Below is a pic PJW took while on his visit to Pinewood (Click on the pic to enlarge):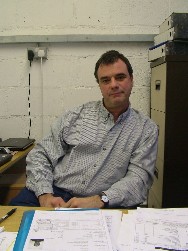 Chris Corbould by Paul J. Wares
Be on the lookout for the interview and more from PJW in the near future...
The following is NOT one of those "take it to the bank" rumors. However, it was sent to BOF by one of our longtime "insiders" that we trust quite a bit. This one pertains to who may be cast as British arms dealer Oswald Cobblepot - AKA "The Penguin." Here goes:
"I thought I would send this info your way as I'm sure you and your readers will find it interesting. I sure did. Now, this is nothing more than rumor, so make sure you provide your readers that disclaimer. I heard this from someone who has the proper connections and is usually on the mark. OK, the rumor is that The Penguin will appear as one of the villains in the next [BATMAN] film, right? Got a name for you: Bob Hoskins. Got to say that that Hoskins would be perfect for the role. So if true and pans out, it would be another bit of spot on casting by the Bat-crew."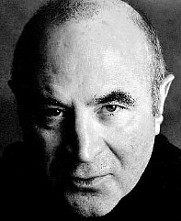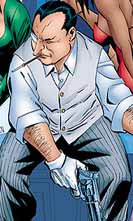 Bob Hoskin as The Penguin?
Hey, I agree with our source - Hoskins would be great! But remember what he said, this is only rumor and you should take it as such. But it's a cool rumor nonetheless.
New guest op-ed and a new PJW interview coming soon!
Author: Jett
Thursday, December 1, 2005 - 10:00 AM, 1:12 PM, 5:49 PM CENTRAL TIME: BOF's own Paul J. Wares has conducted an interview with a "high ranking" member of the BATMAN BEGINS crew. Paul said it went "fantastic" and is putting it together for us to read here at BOF! So stay tuned. Here's a little pic PJW sent our way as a teaser:

A longtime BOF'er out in LA recently had the chance to see BATMAN and BATMAN BEGINS back-to-back in a theater. His review/analysis can be read by CLICKING HERE...
A new MAILBAG is in the works and should be posted by Sunday...
THE OSCAR® IGLOO has a rundown on potential Oscar winners and gives BEGINS some run.
Want to read past BATMAN movie news? Click on the logo below!
N E W S A R C H I V E S