BOF NEWS ARCHIVES 40

DISCLAIMER/NOTICE: Unless otherwise noted, all BATMAN movie news
should be viewed as rumor and treated as such.
Please include a link back to BATMAN ON FILM
when using news originating from this site.
Sequels to film back-to-back?
Author: Jett
Wednesday, July 6, 2005 - 8:39 AM, 12:22 PM, 5:19 PM CST: A spot-on BOF source shot me an email today giving me a bit of scuttlebut that may be going on with the BEGINS sequels. This source has been correct with everything he has told me - including providing BOF with a REVIEW OF THE FILM (which was posted) weeks before it hit theaters. Here's what he had to say--
"... just a little rumour I heard, take it with a pinch of salt for now but I will try and get this confirmed from someone who will know (an industry insider).
'Batman 2 + 3' are to be shot back to back like the PIRATES sequels.
This makes sense as the 2 stories are going to be connected. Whether Mr. Bale will be able to handle all that time in the Bat suit is another matter of course."
I could dig that! Like I said, this guy has been correct with everything he has told BOF. He says take it with a bit of salt, so do that. And I'll update y'all as soon as I hear confirmation....
BOX OFFICE update. BATMAN BEGINS took in $2,535,317 yesterday - more than I was expecting to be frank....
WILD ABOUT MOVIES has an interview with Christian Bale that you might like to read....
"Mark" gave me the heads-up on the following links: CINEMAREVIEW.COM, VFXWORLD.COM - 1, and VFXWORLD.COM - 2....
"Andy" sent me THIS LINK (Windows Media Player) in which Carlos Mencia from "MIND OF MENCIA" (COMEDY CENTRAL) gives one hell of an endorsement for BATMAN BEGINS....
BATMAN BEGINS is still doing well at IMAX....
You know, I was going to blow THIS off. But it is starting to get some mainstream run. I don't believe it at all - although I can't confirm or dispell this for you all at this time. But just in case, HELL NO! Don't even consider it - get a real actor in there for that role. Liev Schrieber, Guy Pearce, etc., NOW we're talking.
Activity at the Cardington Hangers?
Author: Jett
Tuesday, July 5, 2005 - 6:46 AM, 11:28 AM, 2:00 PM, 3:47 PM CST: The box office has been updated. BEGINS took in $3.7 million yesterday - a bit more than orginally reported....
THIS is pretty clever....
If you are a BOF'er and want everyone to know, CLICK HERE! And there's more to come....
Yes there are a lot of names making the rounds as possibilities for the BEGINS 2 cast. Here's what a good source had to say--
"Like I told you last time [in the July 2nd, 2005 update - Jett], there are A LOT of actors who want a part in 'Batman Begins 2' and want to work with [Chrisopher] Nolan. Some are legit, such as that Aussie guy [Lachy Hulme? - Jett]. I'm pretty sure the Liev Schrieber stuff is on the level as well. Just keep in mind that many names will be out there just to be 'out there,' you know what I mean? This news you had about Isla Fisher may be an example of that."
An old, but very good source (not "old" in age mind you), "Spideytracer," has chimed in with some info about what's going on at the Cardington Hangers--
"'Spideytracer' here with a nugget of information. A friend of mine who lives in the Bedford area near the Cardington Hangars has been informed by someone who works nearby, that some activity has been going on there. I was there for the last day of filming last September, and the crews were taking down the sets built outside the hangars. These consisted of the upper floor of [Ra's] Al Ghul's training facility, and the window that Bruce and Ducard get blown out of in the explosion.
Well, all that has now gone, but I've got it on good authority that the interior sets are still standing, this primarily being tThe Narrows set. There's been a lot of traffic backwards and forwards of late."
I was told by a couple of cast members at the BEGINS press junket that the Gotham City sets were left standing - and this email seems to confirm that information. Now, I have no doubt at all that a sequel is going to happen - I'm not even concerned about it. Let's just say that the wheels are turning as we speak in regards to the next Bat-film. Perhaps this activity means that the sequel is coming sooner than 2008 as rumored? Or, maybe they are using the space where the League of Shadows sets were housed for another film? Whatever the case is, we've now come full circle and are back sorting through all the rumors about an upcoming BATMAN film here at BOF....
Final results for BOF reader's grades for BATMAN BEGINS--
A+: 67%
A: 24%
B+: 5%
B: 2%
C+: < 1%
C: < 1%
D: < 1%
F: 1%
Check out the new poll which involves the inclusion of Robin....
Another REVIEW I thought y'all might want to check out.
New cast candidate?
Author: Jett
Monday, July 4, 2005 - 7:08 AM, 11:44 AM, 5:22 PM CST: A new source who glossed himself "Dixie-Cup" tells BOF that Isla Fisher may be up for a role in the BEGINS sequel--
A new up-and-comer named Isla Fisher, winning raves for her role in 'The Wedding Crashers,' is someone Warner[Bros.] has their eyes on for the 'female love interest' role in the 'Batman Begins' sequel. She's an 'in' with the studio, as she did 'Scooby' for them a few years back.
And no, Katie was never EVER going to be in the sequel. She was a 'one off' deal, so all the news about Cruise and her relationship ruining her chances is BS."

Isla Fisher
You know the drill - new source, grain of salt, etc. I have no idea what role she may be up for (Silver St. Cloud?! Just a guess), but I'll check into it. Stay tuned....
"Craig P." sent me THIS LINK to a story that says that 73% of people prefer to watch a movie for the first time on DVD, VHS, or pay per view. Really?. With people having kick-ass home theaters, who in the hell blames them? Theaters need to kick it up a notch in what they have to offer - perhaps studios as well. Me, I'd like to see a bar a the 'ol cinema....
In all seriousness, watch BATMAN BEGINS kick ass this fall when it comes to DVD sales and rentals. And as I've said many times, many people will see the film for the first time at home. Once they see how good it is, combined with the fact that the greatest comic book villain in history will be in the next one, I predict the sequel will better BEGINS at the box office....
Box office update: $5.4 million on 7/3 (Sunday) and $3 million today. Both estimates according to BOX OFFICE MOJO....
"BummBlue" sent us a link to a REVIEW of the BATMAN BEGINS soundtrack....
Enjoy the 4th everyone - in the U.S. and anywhere else you may be celebrating!
BEGINS updates for 7/3/05
Author: Jett
Sunday, July 3, 2005 - 1:07 PM, 7:07 PM CST: $5,625,000 for BATMAN BEGINS yesterday (Sat. 7/2). It is safe to say that BEGINS will have taken in over $150 million at the end of the holiday weekend....
A new "SCATTERSHOTS" article is up for your reading pleasure - or to tick you off...
WOODLANDS VILLAGER - a review that gets that this is a restart....
Box office numbers will be posted a bit later. I'm anxious to see how it faired yesterday.
BEGINS updates for 7/2/05
Author: Jett
Saturday, July 2, 2005 - 8:05 AM, 3:16 PM CST: Looks like BEGINS took in about $4.5 million on Friday....
OK, I told y'all yesterday that I was heading down to my hometown to watch BATMAN BEGINS with a good, longtime friend of mine. Did that. Checked it out at a small, but nice, theater in a mall in Port Arthur, Texas. To my surprise, the theater was virtually packed! There were a few, single seats available, but that was about it. And again, same response at the end - clapping and cheering. Now, in no way to I think that BATMAN BEGINS is going to top WAR OF THE WORLDS (which I'm going to try to see this weekend), but I think it is going to do well over the holiday....
By the way, my buddy gave it a "solid B+." Said he liked it better than "...any of the others. It seemed real and wasn't all weird or goofy." This is from an "Average Joe," not a Bat-geek like me....
Don't worry about a sequel, trust me. The wheels are already in motion....
The following (which can be found HERE) is Roger Ebert's response to a reader's question of why wasn't BATMAN BEGINS more "kid friendly" --
"Trying to appeal to every possible age group is one of Hollywood's fatal errors. Batman is the darkest of the superheroes, and the recent graphic novels about his life have been intended for teenagers and adults. One of the reasons the movie was so good was because it dealt with the darker side of the character's early life and wasn't dumbed down with too many special effects or the clowning of the villains. The young Roger Ebert would, of course, have agreed."
And finally, thanks for all the support you all have given BOF over the years and of late. I appreciate it tremendously. Late.
BEGINS updates for 7/1/05
Author: Jett
Friday, July 1, 2005 - 7:20 AM CST: BOX OFFICE MOJO is projecting a $15.5 million take for BATMAN BEGINS - which I'm not sure includes Monday (July 4th holiday). I'm predicting that BEGINS will have made over $150 million (domestic) after Monday. I'm seeing it again tonight (#8) - traveling about two hours away to my hometown - with one of my best friends (an "Average Joe") with whom I grew up. Anyway, I'll get to see it on a Friday night and check out what kind of crowd it brings in....
I found a little article in the REDLANDS DAILY FACTS that you may find interesting....
BOF has a few more op-ed pieces coming over the next few days, so be looking for them. Don't worry, none of the next three are authored by me....
KCRW.COM has a fantastic interview with Christopher Nolan by Elvis Mitchell. CLICK HERE to listen, or use the previous link provided. (Thanks to Matt. S.) THIS IS A MUST-LISTEN....
I think y'all will find THIS VIDEO cool and worth a look (Thanks to Leo Quinones!)....
For all of you in the U.S. - and hey, outside the U.S. if you celebrate it - have a great and safe 4th of July holiday!
BEGINS updates for 6/30/05
Author: Jett
Thursday, June 30, 2005 - 8:02 AM, 12:00 PM, 6:49 PM CST: Several of y'all sent an article to me from THE CHICAGO SUN-TIMES about BATMAN BEGINS. It is dated June 12th, but I'd yet to see it. I'm assuming that the interviews came from the L.A. press junket. Anyway, Mr. Bale had a quote about the inclusion of Robin, which is getting a bit of debate in the BOF FORUM--
"'Thank God, there was no Robin,' Bale says. 'You really don't need him because Robin makes it campy and not dark.' Batman is just a man with his Batmobile."
$2.6 million at the B.O. on Wednesday....
And MTV has got into the sequel speculation--
"By now, comic book fans have had time to see BATMAN BEGINS once, twice or maybe even more. The ending of the film can't help but excite audiences about the villain of the next installment, and star Christian Bale says he's as excited as anyone else. 'I want to see the Joker, because I think it will be a very different kind of Joker than people have seen before,' he said. 'I think even the card that you see at the end of the movie shows that it is a darker, more sinister-looking Joker than anything I have seen depicted before. I think it would be a good adversary.' Names like Sean Penn, Paul Bettany and Crispin Glover are already ricocheting around Hollywood, but it's doubtful that the Joker card will be dealt anytime in the near future."
And don't forget, Lachy Hulme and Tim Roth are "in the mix" as well. If I had to bet, I'd expect casting news and details no later than the end of next summer....
I first heard of THIS yesterday. Total nonsense, in my humble opinion. But just in case, NO! Nothing personal, just no. Don't even think about it....
I asked a "trusted insider" I know about rumors such as these. Here's a bit of what he had to say--
"The movie [BATMAN BEGINS - Jett] has done well, and it is a quality film. People want to work with [Christopher] Nolan. You are going to hear a lot of 'names' I'm sure over the next year or so until the part is finally cast. There will be a scramble by 'certain people' to get 'their guy's' name out there. Especially for The Joker."
Interesting....
MY REVIEW of the PS2 BATMAN BEGINS VIDEOGAME
has now been posted....
Several BOF'ers sent me the following from YAHOO MOVIES - BEGINS is the top-rated film currently in theaters.
BEGINS updates for 6/29/05
Author: Jett
Wednesday, June 29, 2005 - 7:47 AM, 1:17 PM, 3:29 PM CST: $3,727,338 at the B.O. yesterday....
I found an interview with director Christopher Nolan over at LATINO REVIEW. I'm assuming this was done during the same press junket that I attended earlier in the month - many of Nolan's answers were the same as I heard when I attended the roundtables. But a few things he said here, that he didn't say during the session I attended. In particular, he wasn't has coy about a Bat-sequel as he was when I interviewed him (with others)--
This was Batman Begins for Christopher Nolan. Is this Batman ends as well?
Christopher Nolan: ďNo, Iíve enjoyed making this film very much and weíve tried to leave the film very open, with a real sense of possibilities in the audienceís minds as they leave the theater. As far as would I do more, I think that will probably mostly be defined by how people react to this one.Ē
If there is a sequel, do you think The Joker is the plan to come, or is that just a little wink to fans in the movie?
Christopher Nolan: ďI didnít want to get into specifics, but the truth is he is one of the great characters.Ē
Personally, I think it is just a matter of time before we get an official annoucement about a sequel, including Nolan returning to direct. As a very trusted insider told me not long ago, Nolan returning is one of the worst-kept secrets in "the business." Here's hoping he is indeed correct....
CNN has a feature on The Batmobile - aka "The Tumbler." Give it a read....
According to a poll conducted by WickedCoolStuff.com
, BATMAN BEGINS is the favorite Bat-film among fans. BEGINS was favored by 53% of the people polled, with 1989's BATMAN coming in second with 23% of the vote. CLICK HERE to read more about the poll. You may be surprised which Bat-movie came in third. You can take a look at the poll by clicking on the thumbnail below--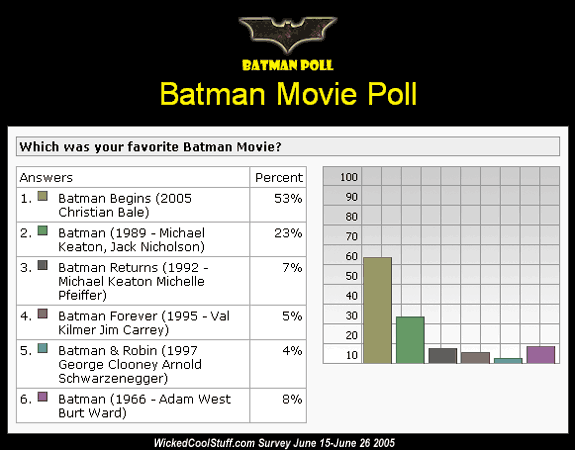 If you are interested, click on the Ebay
link, and find item #7527171189. A full-size Batmobile from BATMAN FOREVER.
BEGINS updates for 6/28/05
Author: Jett
Tuesday, June 28, 2005 - 7:20 AM, 2:12 PM CST: BOX OFFICE MOJO is reporting that BATMAN BEGINS raked it about $4,010,038 yesterday, which is a bit more than I was expecting for the second Monday. The thing I'm interested in is whether or not it can get to $200 million domestic by the end of the theater run. And you know sales for the DVD will be off the chain....
I found this over at COMICS 2 FILM. This is a name that I've heard of before, but only from fans - so keep that in mind. And take with the proverbial pinch of salt. The latest Joker "candidate" is alleged to be Vincent Cassel. "Bomb Voyage" perhaps, but The Joker? Hmmm....
Cary Ashby is back with another op-ed piece for your reading enjoyment. CLICK HERE to read his excellent, detailed analysis of BATMAN BEGINS....
If you missed it, check out BOF's very "colorful" INTERVIEW with actor Larry Holden....
Not Batman-related, but you all know I dig Elvis. If you are interested, check out my review of ELVIS BY THE PRESLEYS
that I did for the excellent MOVIEMAN'S GUIDE TO THE MOVIES.
Box office update and interview with Larry Holden
Author: Jett
Monday, June 27, 2005 - 5:20 AM, 11:56 AM, 5:53 PM, 8:25 PM CST: Check out the BOF interview with Larry Holden, who plays D.A. Finch in BEGINS....
The weekend box office has been updated over at BOX OFFICE MOJO, and BEGINS actually took in $27,589,389 this past weekend, uping the domestic total to $122,511,813. The overseas take was larger as well, as BEGINS' world total is now $207,111,813....
This surfaced online a while back, but it never was confirmed. Today, the guys over at DEVELOPMENT-HELL.COM say they got it straight from Hans Zimmer himself. CLICK HERE to listen (Thanks to "Ian.")....
BOX OFFICE MOJO reported the following--
"Perched at the top spot in its second weekend, the $150 million return of Warner Bros.' Caped Crusader captured an estimated $26.8 million at 3,858 theaters, lifting the total to $121.7 million in 12 days ($5.8 million of which from 55 IMAX screens). The 45 percent drop from its $48.7 million first weekend was a solid hold for a super-saturated summer blockbuster of today and was comparable to 'Batman Returns' in 1992 and 'Batman Forever' in 1995óto illustrate how the box office has evolved, those pictures' 45 percent falls were steep in their day. If 'Begins' continues to follow the path of 'Returns' and 'Forever,' it can top $190 million by the end of its run."
BEGINS also took in $26.7 million overseas, pushing that total up to around $83.4 million. BATMAN BEGINS has now made about $205.1 million worldwide since it opened....
USA TODAY's weekend box office report....
THE BOSTON GLOBE has an interesting article about the current state of movies. Here's a bit--
"...with the gradual shortening of time between the theatrical and home-video 'windows' - once it was a year before you could rent a copy; now the norm is four months - there's little incentive to see a movie early. Hollywood doesn't care, since the studios make almost three times as much money from DVDs than from movie theaters; while the box office has been sagging, DVD sales and rentals have increased 676 percent since 2000. In effect, the big-screen version now functions as an ad to raise brand awareness for the home-video release."
I expect BATMAN BEGINS to be huge when released on DVD later this year. Frankly, it will be the first time many people will see this film - and just how good it is. Because of that, I expect the sequel - particularly one including The Joker - to do better than BEGINS.
BEGINS updates for 6/26/05
Author: Jett
Sunday, June 26, 2005 - 6:59 AM, 11:00 AM, 12:31 PM CST: BOX OFFICE MOJO is estimating that BEGINS should pull in about $7.85 million today, which will push the domestic total to $121.7 million....
Look for my interview with Larry Holden in the next few days....
According to SHOWBIZDATA.COM, BATMAN BEGINS took in about $10.7 million yesterday (Saturday) and was still number one at the box office....
So I go see BATMAN BEGINS yesterday day for the, ahem, 7th time. While I really wanted to see it again, I was also interested in how many people would be in the theater. I head down there in the mid-afternoon as I was going to watch the Texas Rangers/Houston Astros game at Buffalo Wild Wings first. I buy tickets for a 6:45 PM showing from one of those automatic ticket machines they have now. Being curious, I go to the customer service desk and tell the dude, "I know this may sound bizarre, but how has BATMAN BEGINS been doing today?" So the guy starts typing on his computer and says, "It's been selling out all day. Why do you ask? Do you work for a ratings service?" I tell him that I run a website that reports on BATMAN movies and what-not, and the guy sort of looks at me funny. "Are you Jett," he asks. I tell him that I am. "I read BATMAN ON FILM all the time! Cool site," he informs me. Small world. Anyway, the showing I attended was indeed sold out and had cheering and clapping at the end yet again. I've also had several email reports from y'all saying basically the same thing as I just depicted. I'm anxious to see the numbers for yesterday....
Due to an overwhelming response, I'm going to stop taking "reviews" at the end of today. I've received 700+ emails overnight, and there is no way I can include everyone - but I'll do my best. Thanks for sending them....
Many of you (Thanks to all!) sent BOF THIS LINK about the BATMAN BEGINS Stunt Show at Six Flags. There is a park here in Houston and one up in Arlington (Dallas/Ft. Worth area) - I wonder if they are going to have this show there?
BEGINS updates for 6/25/05
Author: Jett
Saturday, June 25, 2005 - 8:35 AM CST, 1:25 PM: BATMAN BEGINS did about $8,250,000 yesterday at the box office and was still number 1. Not bad, and the overseas numbers have yet to be updated from last weekend. If last week's trend holds, it'll do better on today and tomorrow, and stay fairly strong during the week.... BOF has scored an interview with Larry Holden - "D.A. Finch" from BATMAN BEGINS. Look for it this coming week....
The "Stax" take on the Sean Penn-as-The Joker rumor can be found HERE.
Box office update, and yet another Joker candidate?
Author: Jett
Friday, June 24, 2005 - 5:33 AM, 8:08 AM, 10:00 AM, 6:19 PM CST: BEGINS took in another $4,475,440 yesterday - still #1. Listen, EVERYONE I've talked to who has yet to see it says the same thing: "Everyone said it was BADASS!" The word of mouth has been tremendous. And you can call me a "homer" or "sell-out," I don't care. BATMAN BEGINS is a hell of a movie and it needs to be seen. Do you NOT think I'd be all over it if they had churned out another B&R? You know the answer to that....
Thanks for all the reports from ALL over the world. Israel. Argentina. Eastern Europe. New Zealand. Australia. And everywhere else. I've received all your emails and I want to say "THANKS!" I loved reading what you had to say. Keep 'em coming....
IGN offers up some very interesting takes on what could happen in the BATMAN BEGINS sequels. The article is filled with SPOILERS, so don't read it unless you've seen the film....
Well I've got to say there looks to be quite a bit of interest in who lands the role of The Joker. We've now got Sean Penn "in the mix," so to speak, and I see that the Paul Bettany rumor is churning all over the Net. In fact, "Clem" emailed me this morning to say he was watching a show called THE DAILY BUZZ, and they reported that Bettany had already been cast! Whoa, hold on there. If this news originated somewhere else besides here at BOF, then it certainly ads weight to the rumor. If it started here, let me clarify - our source said that Bettany was a name he heard was possibly being considered. BOF has said nothing about the dude already securing the role or that he was an "official" candidate. Let's keep that in mind shall we....
Let me say this one thing about whomever they eventually cast - I want to hate him. Not the actual actor, but I want that thesp to actually make me hate the SOB. I disliked Cillian Murphy's Dr. Crane quite a bit - didn't y'all? But back in the day, did you really hate Jack Nicholson's Joker? Or Cesar Romero's for that matter? I want him to be a very evil person - someone you want Bale's Batman to kick the living crap out of at some point. You know what I getting at here? I'm sure you do....
You know, we are probably going to hear tons of names for this role until the thing is actually cast. And I'm sure many actors covet this part in the BEGINS sequel. Come on, it's the most famous comic book villain in history! Anyway, AICN has brought up another name for the role of The Joker, which was said to have originated in a "British rumor rag." So who is this actor? Sean Penn. Take that for what you will. (Thanks to "Jose M." for the lead.)
Box office steady, and a new Joker candidate?
Author: Jett
Thursday, June 23, 2005 - 6:33 AM, 2:48 PM, 8:49 PM CST: Our friend "Chaz" from KATIEHOLMESPICTURES.COM says that E! ran a story that mentioned Katie Holmes reportedly being dropped from a Bat-sequel. It included a response from a Warner Bros. rep who said it was "...premature to speculate about casting." FYI....
According to BOX OFFICE MOJO, BEGINS did better yesterday than on Tuesday, picking up $5,518,167. Obviously, word of mouth is doing the trick. I'm interested seeing how it performs this coming weekend....
"Stax" over at IGN FILMFORCE has a very nice rundown on on who might best to nab the role of The Crown Prince of Crime in the BEGINS sequel....
Got a new name to add into the mix for The Joker in the BATMAN BEGINS sequel: Paul Bettany. Bettany joins Lachy Hulme and Crispin Glover in the mix to play The Crown Prince of Crime. The same source who passed along Bettany's name informed us that there is "no truth" behind Mark Hamill being up for the role. He also told us that Mr. Hamill is "a little old" for this new take on The Joker. Mr. Hamill is in his mid-fifties I believe. I'm digging into more sequel rumors, so stay tuned....
I dig video games, but I'm a sports game guy - LOVE 'em! I'm addicted to MADDEN NFL FOOTBALL
and can't wait for the new '06 version. But I've been playing the BATMAN BEGINS GAME
here lately, and I got to say that it is really fun! If you don't have it, it is worth checking out. Perhaps rent it first to see if it your cup of tea. And thanks to the guys over at MADCATZ, I'm playing it with a BATMAN BEGINS controller, which is cool as hell!
BOF CONTEST update, Misc. BEGINS updates, and Nolan speaks!?
Author: Jett
Wednesday, June 22, 2005 - 12:00 PM, 5:14 PM, 6:55 PM CST: The BOF BATMAN BEGINS contest has come to an end. All winners have been notified by email. Thanks for participating and look for more contests such as this one in the future....
Here's a report that I found over on DARK HORIZONS. It seems Mr. Nolan may have spoken a bit about the BATMAN BEGINS sequel(s). Here's a bit--
"If David's writing it, Christian's still Batman, and everyone else is returning....me not returning would be like the only student of a graduating class skipping the big day to wash the car" said the British helmer.
He dropped some other hints such as "Like Begins, one clear cut villain isn't the plan [though]" and the likelihood of Robin appearing "The studio wasn't interested in Robin. We weren't either. This is a young Batman, so Robin's a few films....not for a few pictures anyway. Dick Grayson's still in a crib somewhere. I seriously doubt I will even be involved when Robin's in the franchise" says Nolan.
Good stuff - if he actually said it. Which I think he did by the way as it gells with the scuttlebut I've been hearing. Including NO ROBIN. Good thinking - no need for him in this series (go ahead and hammer me for that one)....
Did anyone else chuckle when The Overactor got a shot of water in the face? LOL...
According to BOX OFFICE MOJO, BEGINS made over $5.4 million yesterday. A flop? Yeah, whatever....
Former Batman Adam West has given the thumbs-up to BATMAN BEGINS according to USA TODAY....
IGN FILMFORCE has a BEGINS mailbag - the questions and answers include spoilers, FYI.
Misc. BEGINS updates for 6/21/05
Author: Jett
Tuesday, June 21, 2005 - 8:02 AM, 10:54 AM, 3:00 PM, 7:09 PM CST: I've heard this and reported it yesterday (IMDB.COM). And I've heard whispers from various sources - going back as far as to when I was in L.A. for the press junket. I've gotten a ton of email here today from people saying they saw/read a CNN reporting which says that Katie Holmes - Rachel Dawes in BATMAN BEGINS - has indeed been dropped from the upcoming sequel. Seemingly, Warner Bros. is not too happy about Ms. Holmes' lack of promotion of HER film this summer. And the report also says that that Mr. Caine and Mr. Freeman have joined Christian Bale for the next Bat-flick. Let me say that I've yet to see this report, so if you have, send me further confirmation....
No wonder there was a good crowd at the theater last night. According to BOX OFFICE MOJO, BEGINS did about $6.6 million yesterday. I'm not expert, but that's got to be considered good for a Monday. And this word of mouth thing must be working. Everytime I'm in the car, someone on the radio - be it sports talk or rock music - says something good about the film....
So I go to see BATMAN BEGINS for a sixth time last night. I went down to BUFFALO WILD WINGS to watch a bit of the TEXAS/TULANE baseball game and decided to walk over the theater and give it another look. I was curious about how many people would turn out to see it on a Monday. So I purchase a ticket to the 8:45 PM showing and was surprised to find the theater 3/4 full! And this was one of their larger auditoriums as well. And yet again, cheering and clapping at the end....
The more I see this film, the more I get out of it. There are some very subtle things in the film that one may not get at the first or second viewing. I know I somewhat criticized some of the fight scenes, but I think I understand what they were going for - what it would be like to be attacked by The Batman. And the more I see it, the more I appreciate how good the acting is in BATMAN BEGINS....
FORBES has a cool article about what it would actually cost to be The Batman....
Garth over at DARK HORIZONS has a nice op-edish article questioning whether or not there will be a Bat-sequel. Mr. Franklin, by the way, loved the film, giving it 4 1/2 out of 5 stars....
HOWSTUFFWORKS.COM has a feature on "The Tumbler," or better known as The Batmobile....
ENTERTAINMENT WEEKLY has a "Batman through the years" feature worth a look....
BATMAN BEGINS currently ranks #74 among IMDB's all-time top 250 movies....
SCIFI.COM has a nice story contrasting THE HULK (not good) and BATMAN BEGINS (very good).
$71 million for BEGINS, $42 million international
Author: Jett
Monday, June 20, 2005 - 5:33 AM, 9:37 AM, 2:03 PM, 5:29 PM CST: Memo to my friends at Warner Bros. - Thank you for BATMAN BEGINS! It is a hell of a film that finally got this great character right. Everyone that I've talked to - either in person or via email - absolutely LOVED it! Of course, almost all Bat-fans dug it - you all knew that was going to happen (I think), but the non-fans - the "Average Joes" out there think it is badass as well. Hell, every screening I've attended - at different days, times and theaters - were packed. And at each, people stood and clapped at the end!
So, DON'T CHANGE A THING! It doesn't need to be tweeked or messed with. Just get Mr. Nolan and Mr. Goyer back for the next go-around and let them do their thing. And I truly believe that the next film will be better and more successful than BATMAN BEGINS. You had to win people back after that travesty known as BATMAN AND ROBIN, and that is happening. People are coming out of the theaters saying how awesome the film was, and how they can't wait for a sequel. And many more people will see BATMAN BEGINS on DVD and realize that this is what the character is really all about.
And remember, a true Batman film - like BEGINS is - is not for kiddies. This isn't SPIDER-MAN, nor should it aspire to be. You have your "Spider-Man" coming: SUPERMAN RETURNS. Plus, you can make other quality DC-based films that will appeal to that demographic as well. Batman is for a more mature crowd, and it should stay that way.
Now, what are you waiting for? Go sign Nolan NOW and let's get the sequel ball rolling....
SHH ran a story that says both Warner Bros. and IMAX report that BATMAN BEGINS "debuted with record breaking box office results and outstanding moviegoer response this past weekend." The film made over $3 million at the IMAX showings Wednesday through Sunday....
More box office news from BOX OFFICE MOJO. Here's some of the most interesting bits-- "I think people love the character, and it's been eight years since the franchise unfortunately took a negative turn [with Batman and Robin]," Warner Bros.' head of distribution Dan Fellman told Box Office Mojo. "It took the vision of a filmmaker like Christopher Nolan to bring it back, with a great script and cast. We're well positioned moving forward with the summer. We're going to have a first week of $85 million, and [Batman and Robin] had $59 million. That's enough to bring Batman back for a sequel."
Moviegoers polled by CinemaScore gave Batman Begins an "A," while Fellman said it was rated the best of all the Batman movies in Warner Bros.' exit polling. The studio's surveys further indicated that 57 percent of moviegoers were male and 54 percent were over the age of 25....Banking on a public perception of quality and indirect competition from next weekend's "Herbie: Fully Loaded," "Bewitched" and "Land of the Dead," "Batman Begins" hopes to defy current trends with a strong hold in its second weekend.
And it will. To be frank, this will be a film and series that many discover on DVD. That's why I'm convinced that the sequel will be much more of a success than this one....
No Katie Holmes in the sequel? Not that I'm protesting - at all, but that's what PAGESIX.COM is reporting. Here's a bit more--
"Our source says, 'Everyone is in agreement that the movie's strength is with Christian Bale, Michael Caine and Morgan Freeman...[Katie Holmes] won't be in the sequel...the next romantic interest will be a much stronger actress,' we're told. 'Warner is happy that people are now focusing on who'll be playing The Joker rather than Katie and Tom [Cruise].'"
Now take it with a grain of salt, but the reportin also mentioned that Warner Bros. was very happy with the film's box office this weekend - just as a BOF source told us earlier. "The next love interest?" Hmmm, Selina Kyle anyone? Anyway....
BATMAN BEGINS did a very nice $47 million in the U.S. and Canada over the weekend, pushing the total to about $71 million since it opened last Wednesday - best 5-day haul of any BATMAN movie. The film also did well overseas, $42 million internationally (BOX OFFICE MOJO, ABC NEWS)....
I've been told by a "industry insider" that Warner Bros. is "very happy" with the numbers for BATMAN BEGINS--
"They are trying to re-establish the franchise - they knew that there was a lot of baggage with a 'Batman' film due to 'Batman and Robin.' Word of mouth and exit polls have been excellent, and the studio is ecstatic about that. You are right when you say that this film will have 'legs' this summer. They were already talking about a sequel before the film was released, so you can bet the house that sequel discussions are happening as we speak. Anyone who thinks that this film is a 'flop' doesn't know what the hell they are talking about."
Did Warner Bros. want BEGINS to make more? Sure. But I'm telling y'all they are more than happy with the performance of the film since it opened. Relax....
Dates are set for the long-rumored "Special Edition" DVD versions of the previous four Bat-films and BATMAN BEGINS. The SE's will hit the shelves on October 3rd, with BEGINS doing the same on October 24th (source: DVD TIMES).
Mark S. Reinhart reviews BEGINS, WB expects $85 million the first week
Author: Jett
Sunday, June 19, 2005 - 9:17 AM, 5:43 PM CST: From THE HOLLYWOOD REPORTER--
Warner Bros. expects "Batman Begins" to finish its first week with $85 million, compared to a range of $59 million to $77 million for the previous "Batman" movies in their first week.
Distribution boss Fellman said "Batman Begins" opened strongly enough that he expects the studio will push ahead with a sequel.
Mr. Mark S. Reinhart - author of THE BATMAN FILMOGRAPHY: Live-action Features, 1943 - 1997
- has reviewed BATMAN BEGINS exclusively for BOF! CLICK HERE TO READ THE REVIEW, and make sure to read the BOF INTERVIEW WITH MR. REINHART....
Well, I've now seen BEGINS 5 times. Saw it again last night at a 9:30 PM showing at the EDWARDS GRAND PALACE STADIUM 24 in Mid-Town Houston - nice theater by the way. We had actually gone out to eat with some friends at the THIRSTY CACTUS, and we were "talked into" seeing it again. Anyway, the theater was PACKED - sold out in fact. And yet again, clapping and cheering broke out at the end. The dude in the couple we went out with is a bit of a geek like me, so he really dug the film. The girl - a former NFL cheerleader just "retired" - knew NOTHING about Batman. She turned to me at the end and said, "That was REALLY good!" Just the thoughts from an "Average Josephine" regarding BEGINS....
For all of you out there tripping out, this movie is NOT a flop. And there was nothing wrong with the marketing for this film. Geez, chill....
After seeing BEGINS for the fifth time - yes, I've already seen it that much - it dawned on me just how much the previous films pale in comparison. BATMAN '89 still comes the closest in quality, but none of them are in the league of this one. In fact, take a whole letter grade off of my reviews of the previous films. Can BATMAN AND ROBIN be given a "G?" I don't want anyone to think I mean "good." Maybe nail it with an "H" for "horrible." Late.
BEGINS update for 6/18/05
Author: Jett
Saturday, June 18, 2005 - 7:25 AM CST: I think I can cover all the emails I've been getting right here--
"Jett. I/I've saw/seen BATMAN BEGINS (insert number) time(s) and it f###ing rocked! Best Batman movie ever! Everyone stood up and clapped at the end! There was a buzz in the theater as everyone walked out - talking about how much it kicked ass! Can't wait for the sequel! Thank you for BOF"
That about does it. Of course, I still get a few "It sucked. Burton/Keaton rules" emails - and that's fine. And I still receive a couple of "You and BOF suck" emails, but the description I gave y'all just about says it all. And no, "Thank YOU" all for supporting BOF all these years. And hang with me, we've got a sequel to get made.....
I saw it again last night at a 9:10 PM showing. The theater was packed completely - more so than when I saw it Wednesday at midnight and Thursday afternoon. Another huge response at the end, which I was glad to witness, as this was probably the first real "mainstream" crowd I watched it with. I asked the management at the theater what Bat-business was like, and was told it had been "huge" all day Friday. Exit polls and word of mouth for BATMAN BEGINS is off the chain good....
"Michael N." was nice enough to transcribe a Charlie Rose interview with Bale and Nolan for us. Here's a bit--
Nolan Ė Iíve enjoyed this tremendously actually. Itís taken a long time, itís two and half years of work, itís on a huge scale, itís quite an effort, but Iíve very much enjoyed it. I like the characters, and begin able to work with such great people on such a great film.
Rose Ė In the end thatís what make itís worth it, you know, great storytelling and storytellersÖ.
Nolan Ė Yeah, good people to work with, absolutely.
Bale Ė (eagerly listening to the answer, smiling) He didnít give a complete answer there and Iím always bugging him for a complete answer about is he going to be on board if we do a second oneÖ.
Rose Ė Are you going to be on board or not? (Laughing)
Bale Ė Listen, he ainít going to give you an answer. (Laughing) Iíve been asking, bugging him for weeks.
Rose Ė Itís hard, do you like it? Work with good actors, I meanÖ.
Nolan Ė You know why itís hard, I donít want to jinx this one, Iíve put everything I can into this film, and I want to see what people are going to think of this film. Iím very proud of the film and the work everybody has done on the film, Iím a little bit nervous and excited to know what people are going to say.
Rose Ė Launch this baby and see what happens.
Bale Ė From my point of view, Chris did such a great job with it, that I think if people embrace the style in which he has made this movie and the way we depicted Batman, it would be wonderful to reprise the role and take it further, and I just wouldnít want to see anybody else become involved and mess up what Chris has done so brilliantly to start with.
Rose Ė (To Bale) There you go, you sound like your on board if they want to go, did you sign some sort of contractÖ(Laughing)
Bale Ė (Laughing) It was one of those deals, if you sign on for one, weíve got you for a couple. Like you said, that doesnít worry me, because as I see it, and I donít think Iím being naÔve in saying this, that if people like what weíve done, than Iím more than happy to reprise it and would really look forward to it. If they donít like what weíve done Iím sure there not going to be asking me back anyway (Says with a smile). I feel Iím in a reasonable safe position.
To Warner Bros.: SIGN THIS MAN NOW! Can't wait for the next one....
A review from MOVIEMANSGUIDE.COM....
The movie did about $9 million on Thursday (from BOX OFFICE MOJO. Not bad. That puts it at a little over $24 million (U.S.) for the first two days - a Wednesday and Thursday. I expect huge crowds and numbers over the weekend....
JOBLO.COM has an interview with Nolan and Emma Thomas
BEGINS - $15 million opening day
Author: Jett
Friday, June 17, 2005 - 6:05 AM CST: According to several reports, BATMAN BEGINS did about $15 million and change on Wednesday (ROTTEN TOMATOES). Don't freak out, I'm sure WB was expecting a bit more, but this film was scheduled for a June 17th opening originally. And to be frank, people are leary of another Bat-film thanks to BATMAN AND ROBIN. This is a film that will be helped by all the positive reviews and good word of mouth. Speaking of that - and just to be safe - TELL EVERYONE YOU KNOW TO GO SEE THIS FILM THIS WEEKEND! Thanks for listening....
Another postive review - this one by "Stax" over at IGN FILMFORCE....
KRIS TAPLEY'S REVIEW of BEGINS.
Misc. BEGINS news for 6/16
Author: Jett
Thursday, June 16, 2005 - 9:05 AM CST: I've got a very good "Average Joe" review that you need to read. I think that it is very insightful into how the non-Batman fans will respond to this film. CLICK HERE TO READ....
ENTERTAINMENT WEEKLY has posted their review of BATMAN BEGINS - by Lisa Schwarzbaum - and gives the picture an A. "A triumph," they say. I agree....
I hope that if BATMAN BEGINS is the success that I believe it will be, Warner Bros. doesn't rush into a sequel. Rumor has it that 2008 is the tentative date circled for a follow-up film. Letís let BATMAN BEGINS sear itself into the minds and consciousnesses of people as what Batman is all about. Hell, 2009 wouldnít be bad either, as it will mark the 70th anniversary of this great character. There is no rush people. Let the anticipation build....
Another thing that I trust will happen is that Warner Bros. will do whatever it takes to secure Mr. Nolan for another Bat-film - or more. This dude gets it. Again Mr. Nolan - and Warner Bros. for hiring him - from a lifelong fan of Batman, "Thank You!" You made a tremedously good film....
I talked to my friend Jim Williams of WJBC RADIO in Bloomington, Illinois and he "loved it!" Jim shot me a call today to put his stamp of approval on the the film. I've been a guest on his afternoon radio show with Beth Whisman several times to talk BATMAN BEGINS. Jim informed me that everyone at the theater liked it - even his boss who he didn't think would....
I posted some info on BEGINS on a forum I frequent - COWBOYSZONE.COM. Here are a couple of takes from guys there who have seen it--
"Fantastic. Best Batman movie yet. About time someone realized that the comics are dark and the villains darker. I really liked the set-up and character development."
Simply AWESOME! Really blew me away. More a "film" that a "super hero movie" to be honest. I can't wait for a sequel!"
Looks as if these are the thoughts of many of the "non fans" out there. The key is getting them into the theater - which I think good word of mouth and reviews will do. This film will have legs.
It is finally here!
Author: Jett
Wednesday, June 15, 2005 - 7:05 AM, 9:17 PM CST: Well, I've now seen this film three times - twice within the last 24 hours. It is just that good. In fact, I just read another positive review by Garth Franklin over at DARK HORIZONS. It is a hell of a good read....
The talented Bat-artist Jim Lee LIKES BATMAN BEGINS. Thanks to ALL of you who sent in that lead....
My wife saw it with me this evening, and she really liked it. I plan on seeing in at the IMAX this weekend....
I've received all your emails. I've been able to get back to some of you, but not everyone. If I don't, please don't think I slighting you. I'm reading all of them, but it is just impossible for me to respond to all. FYI....
So, is it too early to get some serious sequel talk going? That is what BOF is really all about - pushing for a new Bat-film. One question I wanted to ask Bale and didn't get the chance, was would he like for the next film to pick up right where BEGINS left off, or would he prefer a bit of time has passed. Rumor has it that the latter will be the case and the sequel will feature a bit more established Dark Knight....
BOF will have a few more reviews posted soon. Be on the lookout for them....
Hey all. I saw it again last night - or this morning actually. It was better this time than last! This is a film that needs to be seem multiple times. I saw things in it that I didn't see last time. What a great film! And yet again, a standing ovation at the end. And this must be happening at almost every screening, as I'm getting reports of this from damn near everywhere....
Thanks for all of you who came out for the gathering last night. Those little flashlights are pretty cool, aren't they! Hope you all enjoyed BATMAN BEGINS....
Texas paper's grades. The HOUSTON CHRONICLE gives it 5/5 stars. THE DALLAS MORNING NEWS gives it a B+. THE AUSTIN AMERICAN STATESMAN gives it 3/5 stars. MYSANANTONIO.COM gives it "3 Jalepenos." Which is good - I think.
Jett's review of BATMAN BEGINS
Author: Jett
Tuesday, June 14, 2005 - 5:00 AM, 3:56 PM CST: OK, it here it is. My review of BATMAN BEGINS is now posted. I agreed to the Warner Bros. request that I hold off until the aftenoon prior to the release. Now, there's no doubt that my review will not be taken seriously by many, as most will think I would give it props no matter what. Not the case. If this film had bit, I'd have been the first to rip it. But I didn't because it doesn't. I LOVED this film! And I hope you will too. (CLICK HERE to read Jett's review)....
Speaking of reviews, I agreed 100% with ROGER EBERT's. Four stars....
I'm not one to hammer other reviewers, so this shouldn't be taken like that. I know that everyone isn't goint to dig this film. But it seems to me that the people who didn't like the film either 1) Just don't "get" Batman, or 2) Want something lighter and more "comic booky." Didn't we do the latter and it didn't work? Geez....
OK, it's on! For all you Houston BOF'ers, don't forget about the gathering tonight (details above and in yesterday's report)....
Got a few links to articles you may like to read - CANOE, CHICAGO TRIBUNE, FOX NEWS, and 7MPICTURES.COM....
Y'all have to check this out. From the HOUSTON CHRONICLE. You'll dig it....
I talked to "Meera" from KRBE RADIO here in Houston this AM. She hosted an IMAX screening last night and she told me that she "LOVED IT!" Plus, she said the audience really liked it - stood up and clapped at the end. This is happening quite a bit....
Paul Wares' review of the Newton/Howard score CD can be found HERE....
My review will be posted this afternoon. Late.
Misc. news bits for 6/13/05
Author: Jett
Monday, June 13, 2005 - 6:20 AM, 4:03 PM, 7:11 PM CST: Here's some more info for the BOF BATMAN BEGINS VIEWING PARTY tomorrow night. It will take place at Buffalo Wild Wings-Willowbrook and the public screening will be held at AMC 24-Willowbrook. I will be handing out some exclusive (and a limited supply) BATMAN BEGINS flashlights and key chains from Warner Bros. on a first come (and ask), first serve basis. I also have 8 tickets to the film. If you want one, you will have to find me and tell me that you are a "BOF'er", and the exact month, day, and year that BOF was created. I have 2 "Batman" T-shirts. To get one, tell me the title of the story in which Ra's Al Ghul first appeared, the year, and the writer and artist - on a piece of paper. I have 2 BATMAN BEGINS soundracks. To get them, bring me on paper the name of the comic book that introduced The Scarecrow and in what year. I have a few other BATMAN BEGINS-related items that will be available as well. Plus, you will be able to sign up for the BOF BATMAN BEGINS CONTEST if you haven't already. Just head on out to Buffalo Wild Wings around 7:30 PM tomorrow night. And you must be 21 to enter the bar area, but not to come or attend the movie. One last thing, you must secure your own ticket if you don't want to risk not winning one from BOF. EMAIL ME for more info....
THE BOSTON GLOBE has run a nice article about BATMAN BEGINS and The Batman in general. Click on the link provided to read....
An excellent interview with Christian Bale on CBS's THE EARLY SHOW (click on the link to view). Bale - interviewed by Harry Smith - said that they (the cast, filmmakers) wanted to make it clear that "this is not BATMAN 5," and that they were "respectfully ignoring the previous films." Here's a bit more--
"I like to say that it's more based on the graphic novels of Batman. But also of the intention of Bob Kane when he originally created Batman back in 1939, because he always meant him to be a dark character. And then everybody became accustomed to Batman through Adam West and the TV series. And he did that fantastically, but that's a spoof of what Batman was meant to be. And the movies kind of continued that, a little bit. They had these one-liners and quips. It was kind of campy."
FILM 2.0 has some behind-the-scenes video that's pretty cool. But be aware, there are some SPOILERS....
Tomorrow evening is the BOF gathering and screening of BATMAN BEGINS (details upbove). I have some cool stuff to hand out (first come, first serve), plus, you'll be able to sign up for the items that we're giving away in our contest (click on the link above). Plan on being at Buffalo Wild Wings Willowbrook around 7 to 8 PM. More info this evening here on BOF.
THE Z REVIEW's postive review....
JOBLO.COM's interview with Christian Bale - a bit different from BOF's.
Misc. news bits for 6/12/05
Author: Jett
Sunday, June 12, 2005 - 9:20 AM, 3:40 PM CST: BOF's Paul J. Wares is back with a review of "THE ART OF BATMAN BEGINS
." CLICK HERE TO READ....
Got several links to some articles and reviews. And from reading the negative reviews - yes, there are a few - it seems that 1) They just don't get Batman, or 2) They wanted something along the lines of the previous two films! Not that I expected everyone to like this film, but the reasons for disliking it are, well, questionable....
Test your Batman IQ with a quiz from MSNBC.COM. Even I missed one - it was a damn trick question...
Check out "BATMAN: RATING THE COOL AND THE DARK" from MSNBC.COM....
A B+ review from The CINEMA SOURCE....
An "It's OK" review from THE SPINNING IMAGE....
A postive review from LA WEEKLY....
A 4/5 star review from MOVIE GAZETTE....
A very postive review from NEWSWEEK....
So what do you all think the good review/bad review ration is? About 8 to 1? 10 to 1? Whatever it is, I know that people love this movie. Can't wait to see it Tuesday and again next weekend with a bunch of "Average Joes." Should be a fun week coming up....
You can hear what Ebert and Roper had to say about BATMAN BEGINS by CLICKING HERE, and then clicking on "BATMAN BEGINS." Or, just CLICK HERE and go directly to it. It is very positive - "BATMAN BEGINS is the fifth BATMAN film, but the first to get it right. Absolutely right!" I've read bits and pieced of what they had to say, and knew that they dug it. But the enthusiasm they have for BATMAN BEGINS is clear. They really loved it. "One of the year's best films" is how both described it. And "By far, the best BATMAN film....
"Shawn G." sent us a link to a review from SMART-POPCORN.COM. Another positive one....
If you are attending the BOF gathering this Tuesday night/Wednesday AM (Buffalo Wild Wings - Willowbrook/AMC 24 Willowbrook), shoot me an email and let me know. Plus, any stuff I'm giving away will be first come first serve. I'm giving away 2 pair of tickets - but there will be a question you'll have to give me the answer to. I'll tell y'all what that question is tomorrow.
(Thanks to "Mark J." for sending me several of these links.")
Misc. news bits for 6/11/05
Author: Jett
Saturday, June 11, 2005 - 7:39 AM CST: THEGLOBEANDMAIL.COM has a great story on the rebirth of the BATMAN franchise by Rob Shaw. Click on the link to give it a read. And you may recognize something in there....
Christian Bale talked to SCIFI.COM about Bat-comics he likes and the chance for BEGINS to be the "definitive" BATMAN film series--
"I liked the artwork of Alex Ross, but my favorites were the Jeph Loeb and Tim Sale stories. I've read a damn lot of them, all that DC sent me."
"I don't feel like Batman's ever really been defined in any portrayal, so I felt like this was an opportunity to finally do that, in regards to way that Bob Kane originally intended it when he wrote it in 1939."
Click on the link provided to read the entire article....
TIMESONLINE.COM has posted a review of BATMAN BEGINS. It's very postive - who would have guessed....
IGN FILMFORCE has an interview featuring former Batman Michael Keaton - who has yet to see BATMAN BEGINS....
OK, as soon as all the BATMAN BEGINSstuff dies down later this summer - and the movie has kicked major ass at the box office - we'll get back to what BOF is all about: reporting on upcoming BATMAN movie news and lobbying for a film. Which will be - hopefully - a Chris Nolan directed, David S. Goyer scripted film.
Interview with director Christopher Nolan
Author: Jett
Friday, June 10, 2005 - 12:39 PM, 7:50 PM CST: The FINAL REVIEW PREVIEW is now posted for your reading enjoyment - BATMAN BEGINS director Christopher Nolan. My (Jett's) review will be posted on the evening on Tuesday, June 14th - right before I leave to to attend the BOF gathering to watch BATMAN BEGINS....
I want to say thanks to Jim and Karli and Q102 in Rome, GA for having me on their show this morning. I had a great time talking about BOF and BATMAN BEGINS....
I also want to thank Merra and 104 KRBE in Houston for having me on - tape delayed - this coming weekend....
I've also got a couple of interviews I did coming up you may want to check out. Among those are THE BOSTON GLOBE, SALON.COM, and the GLOBE AND MAIL....
I've been waiting for THIS REVIEW by ABOUT.COM's Rebecca Murray since last week. I sat by her on the media bus - there and back - at the screening I attended. What she says is true - she wasn't much of a Bat-fan and she asked me numerous questions about "The Bat." We sat together on the way back to the Regent Beverly Wilshire, and I KNEW she dug it....
MTV has posted an article featuring former Batmen Adam West and Michael Keaton offering advice to BATMAN BEGINS star Christian Bale. "Don't get you cape caught in the wrong places," said West.
BEGINS roundup for June 9, 2005
Author: Jett
Thursday, June 9, 2005 - 6:12 AM, 10:46 AM, 6:48 PM CST: PART 5 is now posted featuring The Batman himself - Christian Bale! Give it a look....
PART 4 of the "Review Previews" is now up. Gary Oldman and Morgan Freeman....
If you are coming to the "Officially Unofficial" BATMAN BEGINS gathering next Tuesday evening, drop me an email and let me know. Warner Bros. has been kind enough to send BOF some goodies - and I may have a few tickets to the 12:01 AM showing. Details can be found above....
Peter Travers' review is up at ROLLINGSTONE.COM. 3/4 Stars. Not bad, but I don't think some of these reviewers "get" Batman based on some of their gripes with the film. Travers seemed to really like it though....
Check out the BATMAN BEGINS stuff from MADCATZ.COM. I've used the PS2 controller myself, and really liked it. Good stuff....
BOF is getting a little run in the mainstream press (radio, TV, and print). Be on the lookout and let me know if you read, see, or hear any of it....
I found a very good - and postive (aren't nearly all of them?) review of the film at TIMEOUT.COM....
MYSPACE.COM has a cool BATMAN BEGINS page - including a clip from the awesome car chase scene from the film. You may also want to check out these two links: 1 and 2. And trust me, it IS awesome (Thanks to "Linda" and everyone else who sent in the info!)....
IESB.COM sent BOF word of more video interviews (*SPOILERS*)....
Part 4 of the BOF BATMAN BEGINS REVIEW "PREVIEW" will be posted later today....
If you are wondering why I haven't posted my review of BATMAN BEGINS, or why Paul Wares hasn't either, that' because we are following the rules here at BOF. We agreed to wait until the 14th - so that's when mine will be posted. FYI.
BEGINS roundup for June 8, 2005
Author: Jett
Wednesday, June 8, 2005 - 6:21 AM, 4:48 PM CST: PART 3 of the BOF BATMAN BEGINS REVIEW PREVIEW is now posted and features interviews with Charles Roven, David Goyer, Katie Holmes, and Sir Michael Caine....
"Egar" from The Netherlands told BOF that the Tumbler is there on display. CLICK HERE to see some pics....
CHANNEL4.COM has a lengthy review of BATMAN BEGINS....
BADASS MOVIE NEWS has some reviews and misc. news on the movie....
I TIVO'ed the "ENTERTAINMENT TONIGHT" segment on the BATMAN BEGINS premiere last night, right. I wasn't going to be home when it aired. Anyway, I watch it, and there is no BEGINS news - just a bunch of Tom Cruise nonsense! I understand why they are following the whole Katie/Tom thing, but if you are going to cover a premiere of a film, then do just that! Come on ET! That was a very shoddy report and an insult to most everyone who watched - not just Batman fans. Don't bill something as a "BATMAN BEGINS premiere report," then show something else entirely. What a bunch of crap....
THE BATMAN will air new episodes on June 4th, 11th, and 18th. FYI.
BEGINS roundup for June 7, 2005
Author: Jett
Tuesday, June 7, 2005 - 6:01 AM, 4:49 PM CST: PART 2 of my review is now up. And for those who were so interested, I had nothing to eat on the plane and 2-ply....
The HBO "First Look" of BEGINS is on TV tonight. Don't forget....
IESB.NET sent BOF word of some video from the premiere....
Sorry about the broken links this AM. They should be fixed....
"Farid" sent word of THE GUARDIAN's recent BATMAN BEGINS article....
Several BOF'ers sent us THIS LINK to an interview with Caine and Bale about their work in the video game....
SOUNDTRACK.NET has a first listen article on the BEGINS soundtrack by Matt Scheller....
"Sasquatch" sent us word of THIS ARTICLE from "American Cinematographer" about BEGINS....
ENTERTAINMENT TONIGHT will have a story on last night's premiere. FYI....
Harry's REVIEW is now posted.
Part 1 of Jett's BB Review and Hulme "98%" confirmed as Joker in sequel?!
Author: Jett
Monday, June 6, 2005 - 6:00 AM, 4:04 pm, 7:08 PM CST: LATINO REVIEW has posted their review, giving BATMAN BEGINS an "A." Check it out....
"Jon A." sent BOF The BBC REVIEW of BATMAN BEGINS. 5 Stars! Here's a bit--
"A bold and brilliant superhero movie, Batman Begins is the best outing ever for the Caped Crusader.
This is easily the most engrossing and faithful screen adaptation of his adventures. It is also the most intelligent and entertaining. The franchise is reborn. Embrace the Dark Knight's return."
They are right. Enjoy every minute of the Bat's time in the sun this summer....
The first part of my stories from LA is now up (it is working now!). CLICK HERE TO READ. No review just yet....
AICN's "Moriarty" must have been at the same screening that I was last Thursday. I agree with virtually every bit of it, actually. Click on the link to read his super-positive review....
A lukewarm review from TIME. Again, they seem to want what didn't work the first time - over the top crap! Some peole just don't get it....
Part of a report from MOVIEHOLE--
"Australian radio presenter Chris Murray (MMM) is reporting that Lachy Hulme 'is now a 98% certainty to play The Joker' following reports back from the US that Hulme had to decline his invitation to the US premiere of BATMAN BEGINS because of his shooting schedule in the upcoming M for director Geoffrey Wright. Murray commented: 'They wouldn't be inviting him to the opening unless they wanted him for the part.'" Interesting stuff. Reps for Hulme responded with a very firm: "No comment."
BOF was the first to report that Mr. Hulme was up for the part of The Joker. BOF has also been told that WB has gone as far as to do some serious mock-ups of the actor as The Clown Prince of Crime - although I've yet to see them. BOF had also learned previously that Mr. Hulme had to decline an invitation to the premiere - which is tonight by the way - due to him working on M. So that part of the Australian part is true as well....
"Kevin" sent us THIS LINK which talks about what Mr. Ebert and Mr. Roper thought about BATMAN BEGINS....
Another very positive review from SFX. Click on the link to read.
Misc. BATMAN BEGINS links and news
Author: Jett
Sunday, June 5, 2005 - 9:34 AM CST: First of all, thanks to all of you who sent bits of news and links. Now here they are....
YAHOO MOVIES has a clip from BEGINS featuring Bruce Wayne and Carmine Falcone....
A negative review from VARIETY (subscription required). This guy doesn't get it. It seems that he doesn't like it because it isn't "comic book" enough and that it is not for kids! Give me a break. But hey, I know not everyone will dig it - even some Batman fans....
A very positive review (4/5 stars) from EMPIRE....
BATMANS.DE has some clips from the film's score....
A positive review (4 stars) from GROUCHO REVIEWS....
I'm working on my review - like you don't know what my verdict is - and should have it up this week (if allowed)....
If you are in Houston, around the area, or just want to come, I'm holding the officially unofficial (does that make sense?) BOF BATMAN BEGINS viewing party Tuesday, June 14th at BUFFALO WILD WINGS - Willowbrook (17195 Tomball Pkwy.Houston, TX 77064 - click HERE for a detailed map). This is to be followed up with a 12:01 AM viewing at the WILLOWBROOK AMC 24. Basically, it is just a chance for BOF'ers and Batman fans to get together, have a few "pops," and then go see BEGINS. Now, I'm not picking up the tab, so try to get your tickets for the showing that night early (FANDANGO.COM
). Just show up that night and wear your Bat-gear....
If you haven't already, enter the BOF BATMAN BEGINS GIVEAWAY. Please do not send more than one email entry. Winners will be picked AT RANDOM....
I've got to say that I was more than impressed with the cast when I had the chance to meet them this past Friday. I was concerned that someone would come off as an, well, a-hole - which would have greatly disappointed me. Didn't happen. All were very nice, cordial, and entertaining. I especially liked chatting with Michael Caine, Gary Oldman, and Christian Bale. More on those roundtables this week.
BATMAN BEGINS kicks ass, and some other stuff too!
Author: Jett
Saturday, June 4, 2005 - 1:58 AM, 5:46 PM CST: Several BOF'ers have emailed me a positive BATMAN BEGINS review from THE HOLLYWOOD REPORTER....
While doing roundtables yesterday, one of the reporters brought up BATMAN VS. SUPERMAN. Producer Chuck Roven said it was a "great script," but didn't confirm or deny that it was still a possibility. The project was also mentioned to Christian Bale, who said basically if it was to happen, it would be on "down the line." My take? I wouldn't be reading too much into it and I don't think it will ever happen. Frankly, I think it's a bad idea and hope that the powers that be keep the franchises apart....
Speaking of sequels, most everyone I spoke with seemed to be really up for them. Katie Holmes and Michael Caine both said they would love to return, "I want more screentime though," Caine quipped. Gary Oldman said that he still "has to become commissioner." Christian Bale spoke of sequels as if it was just a matter of time. In fact, he seemed quite enthusiastic about doing them eventually. All mentioned that they hoped that director Christopher Nolan would return to helm a second Bat-film. Nolan was very coy when addressing the subject of a sequel, as was screenwriter David Goyer (even though he said he wasn't being coy). Goyer mentioned again that he would return only if Nolan does. BEGINS certainly sets itself up for more films, but Nolan said that he really wants the film "to stand on its own." I wouldn't worry too much, a follow-up is going to happen. Even Michael Caine thinks so - he let it slip that the Gotham City sets were not dismantled and are still standing....
OK, I'm back in Texas where it is hot and humid, and I'm tired as hell from this trip. BUT, it was well worth it! BATMAN BEGINS is awesome! And I know what people will say, "Jett is Warner Bros.' bitch!" Well, say that away, it won't take away from the fact that this film is awesome - I couldn't care less! And mark my words, it is going to get some Oscar run. With that said, I've received several emails telling me that Ebert and Roeper have given BB "Two Thumbs Way Up!" And well they should. I'm going to check out their show and see for myself. But who gives a damn! I'm telling you how good it is. I can't wait to see it again....
I may go to this big BEGINS premiere party in Chicago. Let me know if you are going and what-not....
FYI. I spent the entire 3 hour plane ride from LA writing my reivew - and I'm still not finished. It'll be in several parts, the trip up there, what I did in LA, watching the movie, etc. Hopefully that's what y'all wanted from me - 'cause that's what you're getting....
When y'all see it, I do want to know what you all think. So send me your thoughts....Late, for now.
My new "ride," and BOF BATMAN BEGINS contest!
Author: Jett
Friday, June 3, 2005 - 8:25 AM, 1:14 PM PST: For all the work BOF has done over the years, WB has awarded me a new car. See below--

Just kidding! But pretty cool, eh....
BOF BATMAN BEGINS CONTEST!
Warner Bros. has supplied BOF some really cool BATMAN BEGINS gear to give to y'all! BOF will give away the following to some lucky readers--
1 Batmobile Replica
1 13" Christian Bale as Batman Deluxe Collector Figure
1 Christian Bale as Batman Mini Statue
1 Ken Watanabe as Ra's Al Ghul Mini-Statue
1 Cillian Murphy as Scarecrow Mini-Statue
1 BATMAN BEGINS Video Game for PS2
1 Time Home Entertainmentís OFFICIAL MOVIE GUIDE
Send your name and mailing address to BATMANBEGINSCONTEST@MSN.COM. We'll throw all entries together and pick the winners at random. Entries must be submitted by no later than June 19, 2005. All winners will be notified via e-mail by no later June 20, 2005. More info will become available once I leave LA and I'm back at the homebase this weekend. Also, make sure you are keeping up with BATMAN BEGINS and other Warner Bros. releases by clicking on the banner below. And visit the OFFICIAL SITE.
BATMAN BEGINS - keep checking BOF for my official review and press junket related stories.
WOW! And some BEGINS news
Author: Jett
Thursday, June 2, 2005 - 11:25 AM, 2:38 PM, 10:21 PM PST: I sort of poked fun at the guy earlier who claimed BEGINS was so good, it almost made him want to cry. I spoke way too soon. It's UNBELIEVABLE. It's DEFINITIVE. That's it until I'm able to post the entire review. I'm going out to have a beer and celebrate....
THIS REVIEW - and I told y'all this dude was more than legit - was spot-damn-on! The ultimate BATMAN film is here....
OK, I haven't seen it - yet (UPDATE - I have now by GOSH!). But I am in LA in my hotel room as I write this. Anyway....
THE MOVIE BOX (Click on the link to view) has posted the eleventh TV spot for BEGINS, and it is clearly aimed at chicks. But that's cool, they need to see it too....
EXTRA ran a very nice piece on BEGINS....
"Joerg-Rene" sent BOF THIS LINK - which is in Japanese I believe - from the premiere of BATMAN BEGINS over in Japan. It features the cast entering the theater, I think, and includes quite a bit from the official soundtrack. Man, does it sound good! Give it a look and listen....
I found it funny in an ironic sort of way that BOF started exactly seven years ago today - June 2, 1998....
More positive reviews - one from Japan and the other from Brazil. Warning, they contain SPOILERS, but they are VERY positive. Hell, it was so good, it almost made one of them cry! Uh, OK. Anyway, check 'em out over at AICN.
The journey BEGINS!!
Author: Jett
Wendesday, June 1, 2005 - 9:16 PM CST: Alright guys - and gals for that matter - it BEGINS! I'm off to LA to take part in the BATMAN BEGINS press junket. After seven years of doing this BOF thing, it all comes down to this. I'm seeing it tomorrow night and I'll be doing roundtable interviews with the cast and crew on Friday. I'll try to update y'all as best I can, so stay tuned....
Right now, BATMAN BEGINS news is going off! There is no way that I can report every single story and provide a link to all that is this film. Let's just sit back and enjoy the experience! BOF's main goal is to provide as much info as possible, but to focus on THE MOVIE. So I'll be bringing you stories and reports of my trip - and in due time - my detailed and official review of BATMAN BEGINS. With that said, here's to all of you who have suck with and supported BOF all these years. I want to thank each and every one of you all from the bottom of my heart. BOF would be nothing without you - the Batman fans! Again, thank you....
"Anthony 2099" has seen BATMAN BEGINS and says, "...this movie is a badass! The best adaptation of the Dark Knight to date!" This reviewer went on to describe in detail just how good this film is - and I don't doubt him. Can't wait....
Many BOF'ers have sent word that EBERT AND ROEPER will be reviewing our film this weekend. Check local listings for times. Thanks to all of you who sent in the news....
Alright y'all, the next time I talk to all of you, I will probably have seen it. It has been a long eight years, since we last saw a Batman film - if you want to even assign that lable to that one. But that's all about to change. To all of you - ENJOY the next two weeks! And I do want to hear what y'all think of BATMAN BEGINS. Late.
Want to read past BATMAN movie news? Click on the logo below!
N E W S A R C H I V E S