LEGENDS OF THE KNIGHT - Trailer World Premiere
Posted by: Bill "Jett" Ramey (Follow @BATMANONFILM)
February 21, 2013

And here it is, the WORLD PREMIERE of the trailer for the upcoming Batman film documentary, LEGENDS OF THE KNIGHT. Enjoy!
For more information about the film, visit KICKSTARTER.COM and its official site, WeAreBatman.com.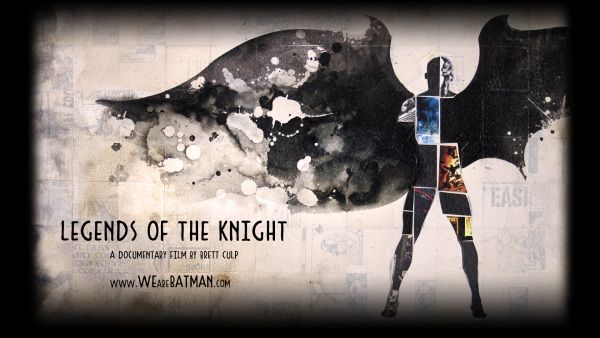 ABOUT THE FILM
"Batman has become contemporary mythology," producer/director Brett Culp said. "We want to show how enduring stories like this shape us. Our goal is to inspire everyone on the planet who loves Batman to embody his spirit, engage with the world, and make a difference. Together, we are Batman."
Culp is a life-long Batman fan. Over the past year, he and his team have film stories in 12 cities, filming 48 interviews. They captured the stories of individuals whose love of the Dark Knight has inspired them to overcome devastating obstacles, to motivate and encourage young people, and to contribute to their communities. Well-known Batfans who appear in the film include:
Michael Uslan - executive producer of "Batman", "Batman Begins", "The Dark Knight", and "The Dark Knight Rises"
Denny O'Neil - legendary Batman writer
Lenny B Robinson - visits children's hospitals around the country as Batman
Jill Pantozzi ("The Nerdy Bird") – Superhero journalist with the spirit of the Caped Crusader
Rabbi Cary Friedman - author, "Wisdom from the Batcave"
Dr. Travis Langley - author, "Batman & Psychology"; teacher of university course in psychology called "Batman"
Gotham Chopra - co-author, "Seven Spiritual Laws of Superheroes"; son of best-selling author Deepak Chopra
The film's production team is offering a unique opportunity for supporters to interact and ask questions via a free online video webcast on Saturday, February 23rd at 2pm EST. The webcast will be hosted on www.WeAreBatman.com.
"Human beings have always been stirred to greatness by the tales of heroes," Culp said. "We connect with Batman because he is the super hero with no super powers. Just as he has committed himself to making the world better, we can dedicate ourselves to a noble cause and make a difference. This type of inspiration is a core function of storytelling in society."
In the spirit of Batman, all revenues generated by the completed film that are beyond production, screening, distribution, and administrative costs will be donated to charitable organizations.
Release date will be Summer 2013.
www.WeAreBatman.com
Below you'll find a 4 minute featurette about the making of the film.
comments powered by