Cool Nod to BATAMAN BEYOND in BATMAN #20
Posted by: Bill "Jett" Ramey (Follow @BATMANONFILM)
May 8, 2013

In the latest issue of the the BATMAN comic book -- #20 for those of you scoring at home -- writer Scott Snyder and artist Greg Capullo included a cool little nod to BATMAN BEYOND. Check it out...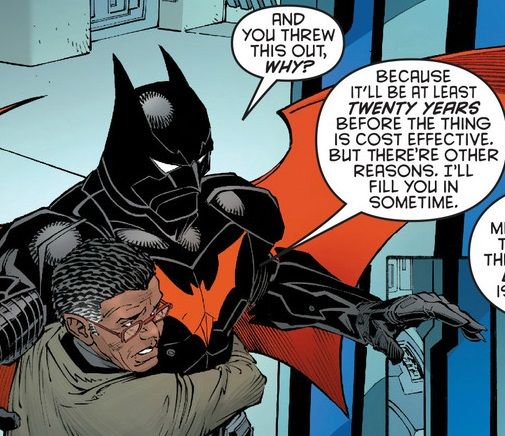 Scene from BATMAN #20 (&copy DC Comics)
Yes, that's Bruce in the suit, not Terry McGinnis. Apparently, itís a prototype Bat-suit created by Lucius Fox. So why is Bruce wearing it? Well, Iím not going to spoil that for you Ė youíll have to read the issue to find out. And if you can read the dialogue bubbles, the reason Bruce wonít be using it now is because the suit isnít cost effective. Thereís another reason too, according to Fox, which heíll tell Bruce Ė and us Ė later.
I wonder...is the future and fate of the New 52 Bruce Wayne/Batman the same as his animated BEYOND counterpart? Anyway...
I'm a fan of BATMAN BEYOND and have been advocating a live-action adaptation of the animated series (CLICK HERE to read an op-ed on the matter!) for some time now. I know that the great Michael Uslan is also KEEN ON A LIVE-ACTION BATMAN BEYOND. So, maybe one day it'll come to fruition.



comments powered by