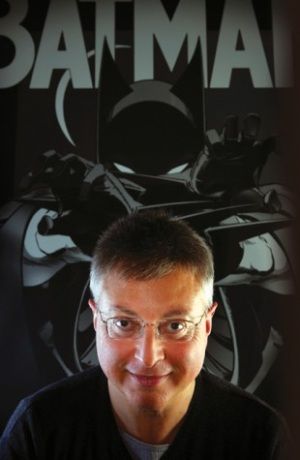 If you are a longtime or regular reader of this-here website, you know that Michael Uslan – the "Godfather of the Modern Comic Book Movie" – is one of my personal heroes. Running BOF in the manner in which I have over the years has allowed me not only to meet Mr. Uslan, but to be able to call him a
friend
as well. Anyway…
Though I was unable to attend the world premiere of BATMAN: THE DARK KNIGHT RETURNS, Part 2 in New York City, I was able to watch the pre-screening panel discussion featuring Mr. Uslan via a live video stream.
Y'all know that Mr. Uslan is the executive producer of all the Batman films, right? But he's also a HUGE Batman fan – just like you and me – as well. And guess what he'd dig seeing as a live-action Batman flick in the future…
BATMAN BEYOND.
Here's what he had to say about that last night when asked about the future of Batman on film...
"Now if I could put my 'fanboy hat' on, not my 'producer hat.' How cool would it be to see a BATMAN BEYOND move? Bruce Wayne in his 80s training a young Batman. And how cool would it be to see Clint Eastwood as Bruce Wayne in his 80s?!"
If you're a regular or longtime reader of this-here website, you know that I'm banging the drum HARD for the next Batman on film trilogy be an adaption of BATMAN BEYOND.
See, sometimes great (Mr. U) and lesser (Yours Truly) minds think alike.