Not long ago, we found out that Warner Bros. -- who owns Batman -- and 20th Century Fox -- who owns the 1960s
BATMAN
TV series and film -- had came to an agreement so that products based on the show could be produced.
LICENSE GLOBAL
(via
COMINGSOON.NET
) today confirms that the first wave of merchandise -- produced by Mattel -- will hit in 2013...
"The 1960's Classic BATMAN TV Series line...is based on the original television series starring Adam West and Burt Ward."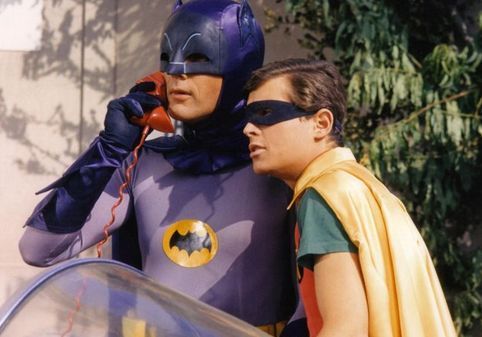 Adam West as Batman and Burt Ward as Robin
As I've said many times, I'm a Batman fan today because of that TV show. Yes, it's certainly not "My Batman," but I'll always have a special place in my heart for it. Hopefully, we'll be getting the entire TV series on DVD/Blu-ray as a box set soon. As far as this merchandise, I'll certainly be buying...though I don't think my friend Michael Uslan will be collecting any of this stuff, HA!